Who Is Buying Luxury Goods In Asia?
What is the difference between luxury and mass market today? As premium brands grow and deliver constantly new experiences and personalised services, they are redefining the frontier between the two worlds, which is now more blurred than ever.
Even as the luxury goods sale have cooled down in mainland China (due to anti-corruption laws and the triple devaluation of the Yuan in August 2015), Chinese shoppers are still buying luxury items.
Some headlines from the report:
They are more informed on price differential between markets and they seek better bargains abroad. More and more are doing their shopping abroad, in Asia and in Europe.
At a worldwide level, globetrotters boost the luxury goods markets, in particular the Chinese consumers, shifting to Europe, South Korea or Japan in response to currency fluctuation.
More than 109 million Chinese travelled overseas in 2015, up from 100 million the previous year. By 2020, this figure is set to rise to more than 200 million.
The main demographic driving spending growth in the next five years will be Chinese millennials. The 25-34-year-olds, already represent 35% of all outbound Chinese travelers. Younger travelers aged 15-24 are another vital demographic, accounting for an additional 27%.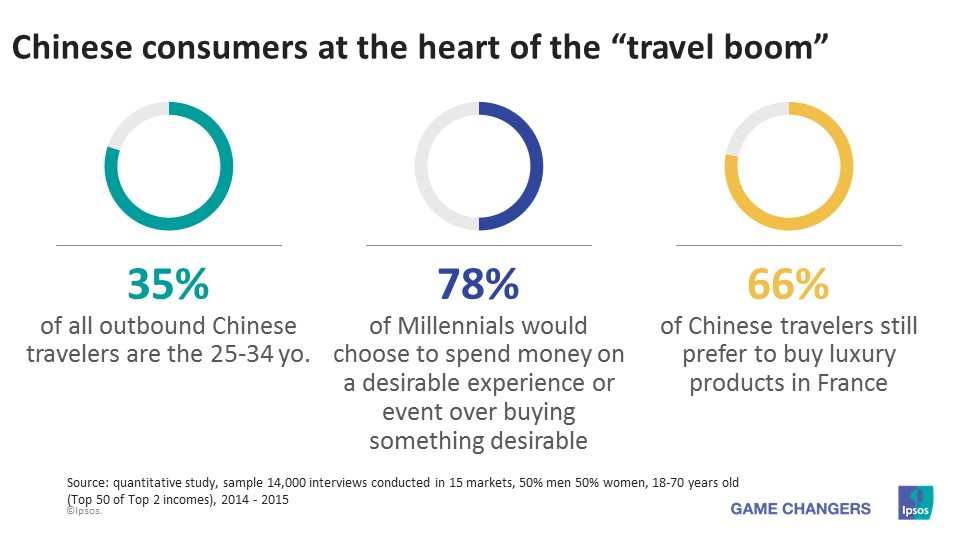 The World Luxury Tracking, launched by Ipsos in 2007, is an international tracking survey offering dynamic quantitative data on luxury customers over the years.