Confidence in the vaccine growing, even among the most hesitant in people tracked in new Ipsos UK KnowledgePanel poll
The latest findings from the new Ipsos UK KnowledgePanel poll shows the changing attitudes towards the COVID-19 vaccine.
A new Ipsos UK KnowledgePanel poll has found that in January 9 in 10 UK residents said that they would either probably or definitely take a COVID-19 vaccine, up 7 points since December, with people's opinion shifting since the vaccine rollout's very earliest stages.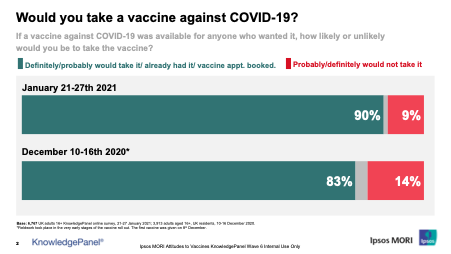 The UK KnowledgePanel allows Ipsos to return to the same participants, allowing us to track people's shift in vaccine confidence over time. The chart shows that most of the movement is people shifting one step up the spectrum to become more positive about the vaccine, but there have also been some more dramatic shifts – for example, one in six (16%) of those who previously said they were unlikely to take the vaccine now say they definitely will or already have.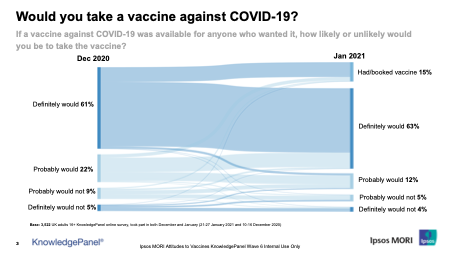 Overall, three in five (60%) of those who were not already 'definitely' sure they would take the vaccine in December 2020, have either already taken or become more positive about the vaccine (although the biggest movement has been among those who were already feeling they would probably take the vaccine). For example, half (52%) of those who previously said they 'probably would' take the vaccine, now 'definitely would'.
The biggest shift is seen among 16-24 year olds. The proportion who now say they would take the vaccine has risen from 67% in December 2020 to 83% in January 2021 (including those who have already had it).  
When breaking down our UK KnowledgePanel results further, we also see important differences around vaccine take-up between ethnic minority Britons and white Britons.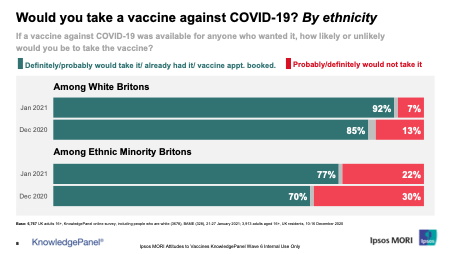 Our findings highlight the importance of tailored public information campaigns and community engagement when it comes to ensuring sufficient vaccine take up. Over half of Britons from a BAME background feel they need more information on the COVID-19 vaccine to make a decision on whether to get it, compared with just 24% of white Britons.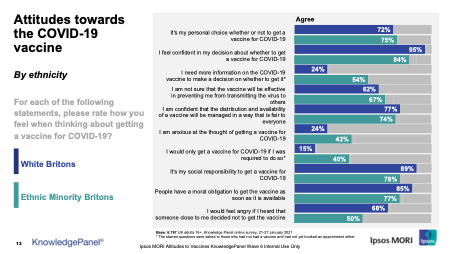 Kelly Beaver, Managing Director of Public Affairs at Ipsos said:
These figures from our UK KnowledgePanel show the light at the end of the tunnel for coming out of lockdown successfully. But we cannot risk leaving some communities behind in the race to vaccinate the nation, drilling down into the data highlights the huge importance of community engagement and tailored public information campaigns to ensure we move forward together out of lockdown.
Notes to Editors
This data has been collected by Ipsos's UK KnowledgePanel, a random probability panel which provides gold standard insights into the UK population, by providing bigger samples sizes via the most rigorous research methods
Ipsos interviewed a representative sample of 6,767 people over 16 in the UK. Interviews were conducted online from 21-27 January 2021. 3,913 UK adults 16+ took part in the December survey from 10-16 December 2020.
Data are weighted to match the profile of the population. All polls are subject to a wide range of potential sources of error.