Ipsos Political Monitor - Britain sees surge in economic optimism
This month's Economic Optimism Index score of +2 is the most optimistic the British public have been about the economy since 2015.
Nine in ten say government has done a good job on vaccinating the public quickly
Ratings for Keir Starmer are less positive with Labour leader dipping into negative territory in his leader satisfaction scores for the first time in the series
Ipsos's latest Political Monitor reveals 43% of Britons think the economy will improve over the next 12 months (up 14 points from last month), 14% say it will stay the same (up 5), while 41% think it will get worse (down 19), giving an Economic Optimism Index score of +2 (compared with -31 in February). This is the most optimistic the British public have been on the economy since 2015 and the largest month on month improvement (a swing of 16.5 points) since our polling began in 1978 – although the fall in optimism at the start of the pandemic was even greater (when our Economic Optimism Index fell from -13 in February 2020 to -54 in March).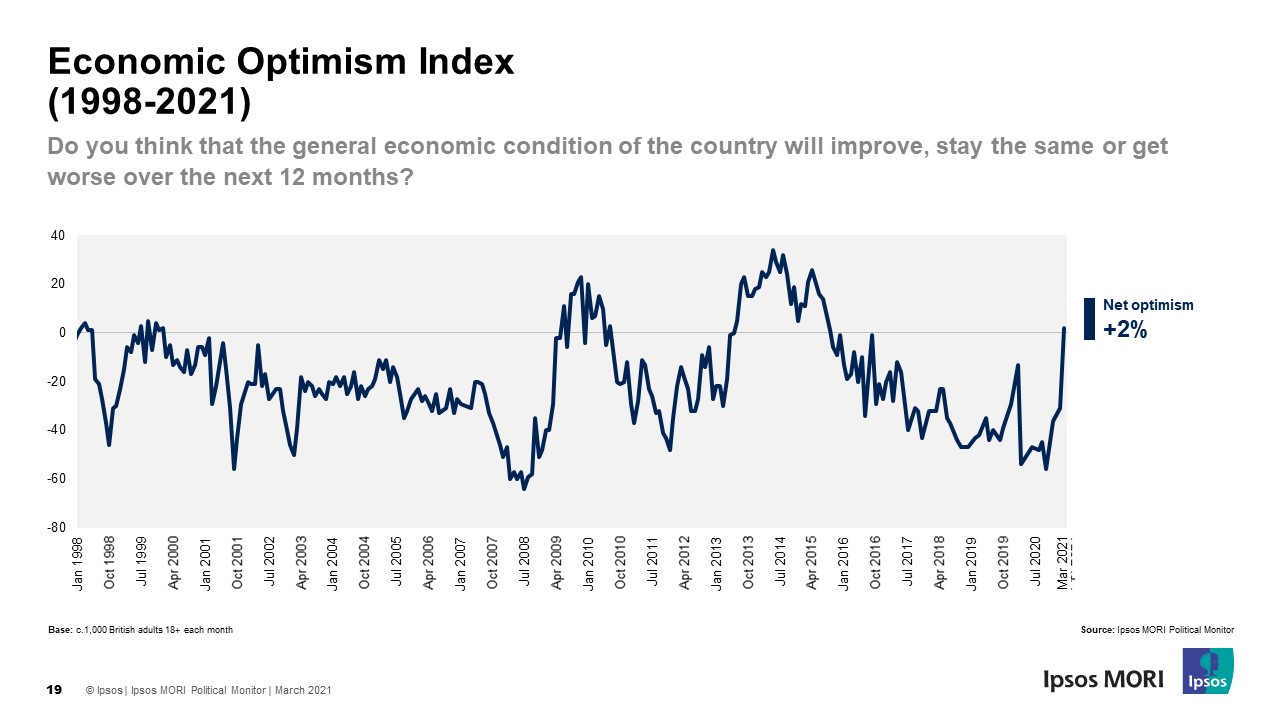 Other key findings in detail (changes from February unless otherwise stated):
Leader Satisfaction ratings
42% are satisfied (+1) with the way the government is running the country, 49% dissatisfied (-2). Net -7. 44% satisfied (+2) with Boris Johnson as PM, 51% dissatisfied (nc). Net -7.
33% satisfied with Keir Starmer as Labour leader (-7), 42% dissatisfied (+7). Net -9. This is his first negative net score in our figures since becoming leader (although this is better than his predecessor Jeremy Corbyn after his first year, and comparable with Ed Miliband and David Cameron's ratings after their first year).
15% satisfied with Ed Davey as LibDem leader (+1), 28% dissatisfied (-12). Net -13. Conservative supporters are more satisfied with Boris Johnson (83%, up 4 points) than Labour supporters are with Keir Starmer (52%, down 6 points).
Handling of the Covid-19 pandemic and vaccines
When it comes to handling the Covid-19 pandemic 41% say the Government has handled it well (+3) while 44% say badly (-2).
Boris Johnson has also seen a slight improvement with 43% saying he's handled the pandemic well (+4) and 46% badly (nc).
Scores have dampened for Keir Starmer with 26% saying he's handled the crisis well (-6) and 26% badly (+4).
Rishi Sunak remains popular with 55% saying he's handled the crisis well and 20% badly (no change).
Meanwhile scores for Health Secretary Matt Hancock show 38% think he's handled the pandemic well (-2) and 42% badly (+1).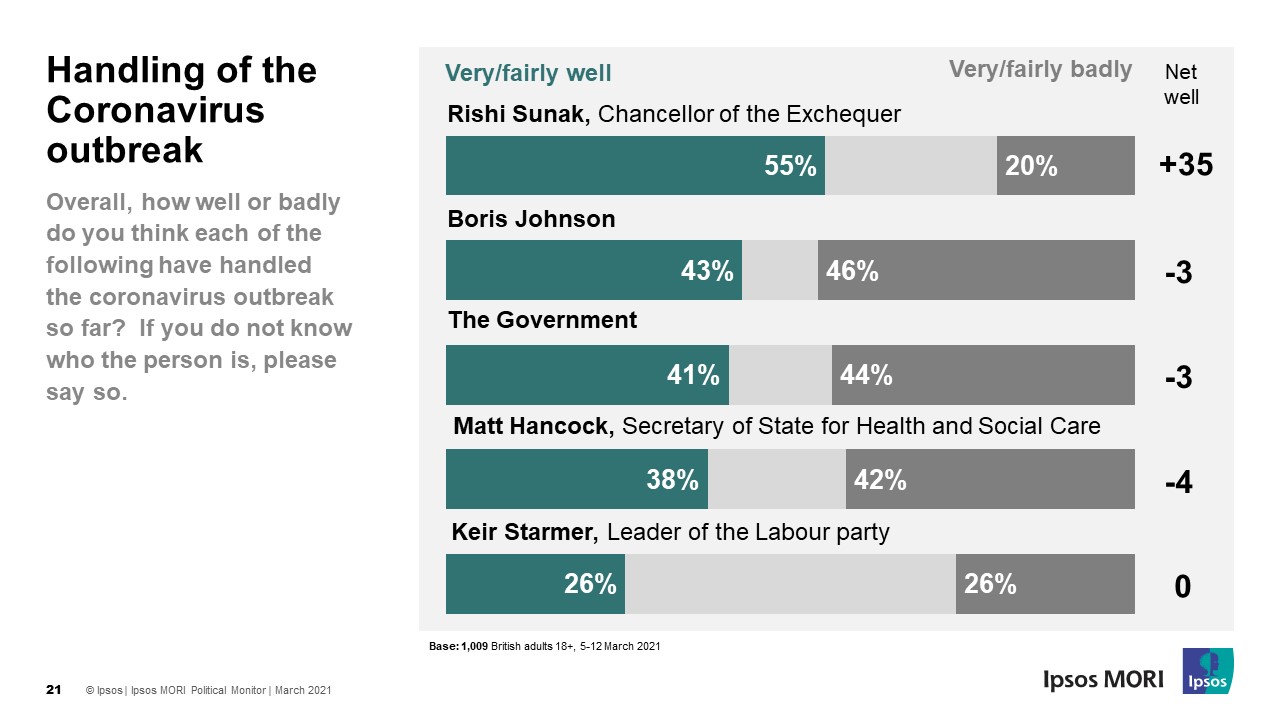 Public satisfaction with the vaccine programme remains high, and has improved even further since last month. 88% think the government has done a good job at ensuring the public are vaccinated as soon as possible (up from 78% last month), including 85% of Labour supporters.
Who makes the most capable Prime Minister?
Boris Johnson is ahead of Sir Keir Starmer as the "most capable Prime Minister" by 47% to 37%. This is a slight improvement for Boris Johnson compared with June last year when it was 43% vs. 38%.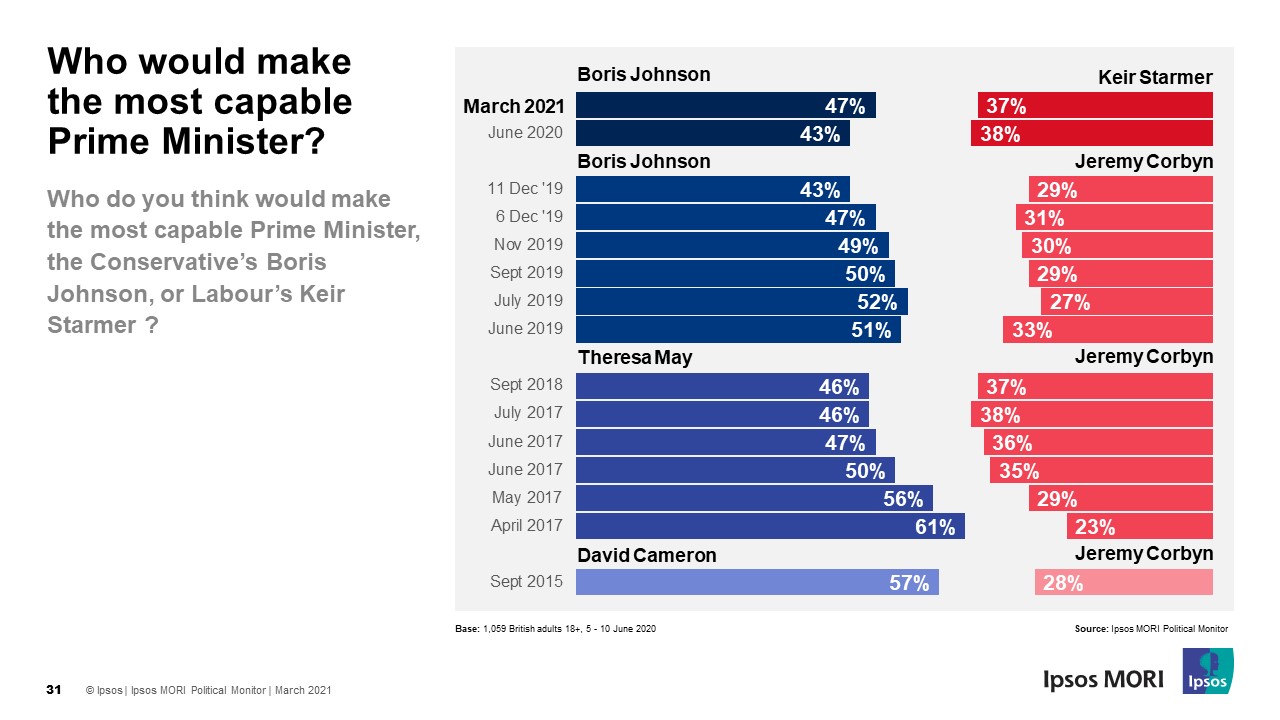 When asked if Boris Johnson has what it takes to be a good Prime Minister, 43% agree and 45% disagree, little change from last month. When the same was asked about Keir Starmer 30% said they agree (-6) and 35% disagree (+10). And when asked if Chancellor Rishi Sunak has what it takes, a third (33%) say they agree while 29% are negative (little change).
Voting intention
If an election was held tomorrow the vote shares would be: Conservative 45% (+3); Labour 38% (nc); Liberal Democrats 6% (-1), Greens 5% (-3).
Gideon Skinner, Head of Political Research at Ipsos, said:
Although we shouldn't be complacent that the pandemic is beaten yet, there are clear signs that the public is becoming more optimistic that Britain's economy can bounce back from the hit it has taken over the last year, fuelled by very positive ratings about the vaccine rollout which have increased even further this month. Ipsos has been tracking Britain's economic optimism for over 40 years, and never have we seen a bigger drop than at the start of the pandemic, nor a bigger rise than we see now one year on (admittedly from a low base), highlighting the huge impact the virus has had on the country. Even so, there are some groups – women, working age adults, social grades DE and in the north of the country – who are not as optimistic as others, and the recovery will need to deliver for them too.
Technical note
Ipsos interviewed a representative sample of 1,009 adults aged 18+ across Great Britain. Interviews were conducted by telephone 5th – 12th March 2021. Data are weighted to the profile of the population. All polls are subject to a wide range of potential sources of error.