Ipsos Research Highlights - 28 May 2021
In this week's Ipsos Research Highlights we explore the concerns of the British, a decline in hedonistic attitudes and who is 'woke' really?
Ipsos Issues Index: April 2021
Forty-nine per cent of the British public see COVID-19 as one of the biggest issues facing the country and 34% say it is the single biggest issue for Britain. Concern about a number of issues have fallen this month, including the economy (30%, down from 36% last month), the NHS (down from 24% to 19%) and Brexit (24% down from 26%). We have however seen a rise in concern about the environment and climate change mentioned by 18% of Britons, largely driven by Labour supporters and those living in South of England and Scotland.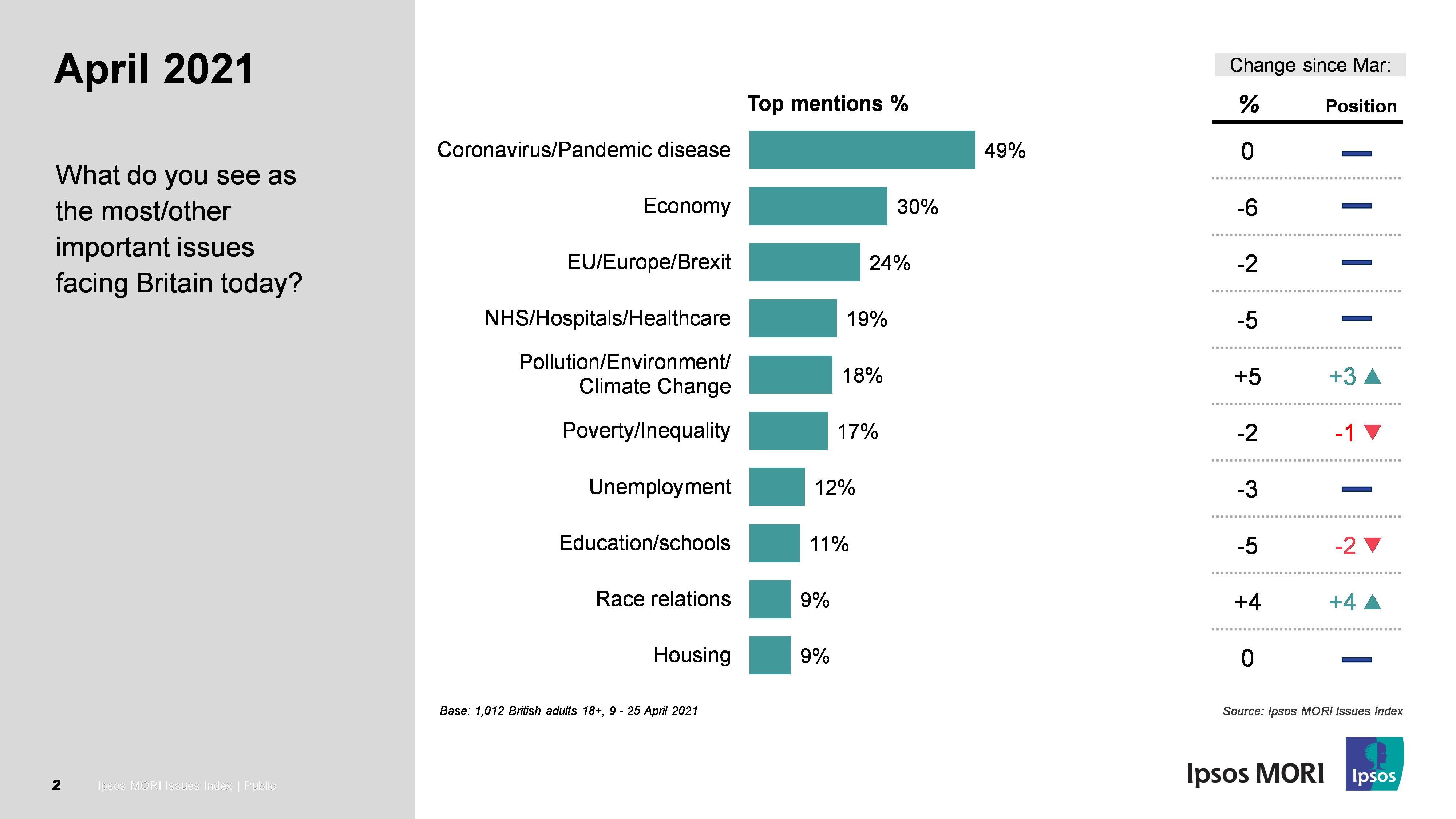 UK's culture war divisions exaggerated but real, say public – as shown by views on equal rights, cultural change and class, and online bubbles
Three-quarters (77%) of the public think that the media makes our country more divided than it is, and 44% think it's exaggerated by politicians. The public are split on whether the UK's culture is changing too fast (35%) or whether it's not (32%) with Conservative (54%) and Leave supporters (57%) are more likely to feel this way. Half (51%) think the UK is currently the most divided it's been during their lifetime with Brexit and differences by wealth seen as particular sources of tension.
Let's party like it's 1945: a sharp post-pandemic drop in hedonism
Despite a recent surge in economic optimism, 74% of the UK public are much more worried about the future. Most of the public are spending less (74%) and saving more (75%) since the pandemic. Hedonistic sentiment among Britons has also fallen to its lowest level for 22 years with 49% disagreeing that 'tomorrow will take care of itself'. While the public our data shows they may spend some savings on new clothes and holidays, overall 74% want to continue saving more than in the past.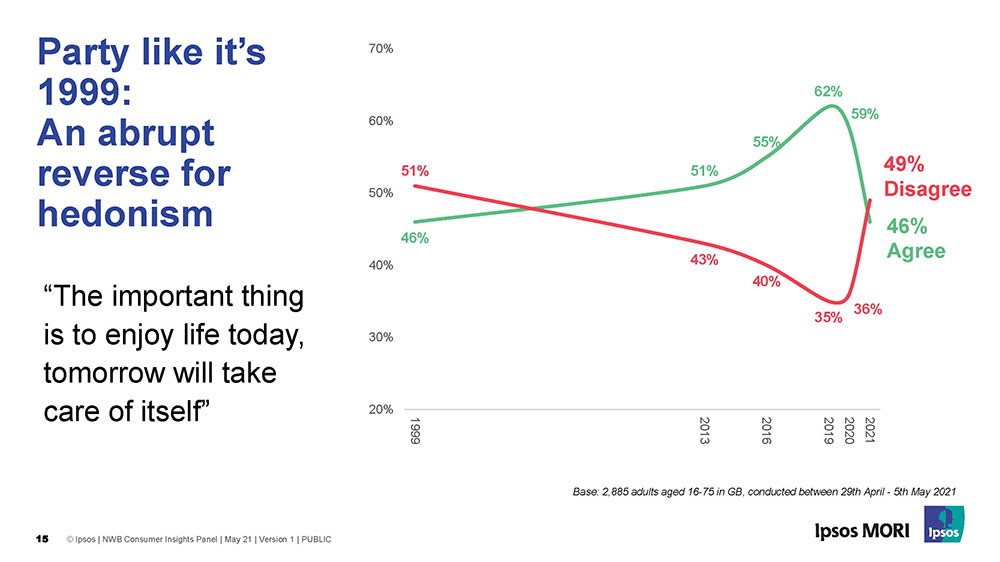 British perceptions of racism and inequality: one year after George Floyd
One year on from George Floyd's murder, we've explored British attitudes towards racism. Britons are split over the attention paid to racism over the last year. Three in ten think it has been discussed too much, and 30% too little. Forty-one per cent of those aged 16-24 say race has been discussed too little, but 42% of people aged 55-75 think it is discussed too much. Overall, 54% say we need to do more to tackle the racism that ethnic minorities in Britain face today. Our qualitative research found that people felt that the BLM protests had impacted upon conversations with family, friends and their workplace. But people are worried that the momentum from last year's protests could be lost.
In other news
As Britain begins to slowly unlock, only half of Britons would be comfortable greeting people with hugs or handshakes when current restrictions lift, while 40% are uncomfortable with the notion. We've found just 5% of Britons would not take the COVID-19 vaccine and there are 68% who say they've already had their first dose.
As ever, please do let us know what you think, and I hope you find something to interest you.
Ben Page
Chief Executive, Ipsos
[email protected]