ARF Webinar: How Covid-19 is Affecting Public Attitudes
09 April 2020 9amPT/12pmET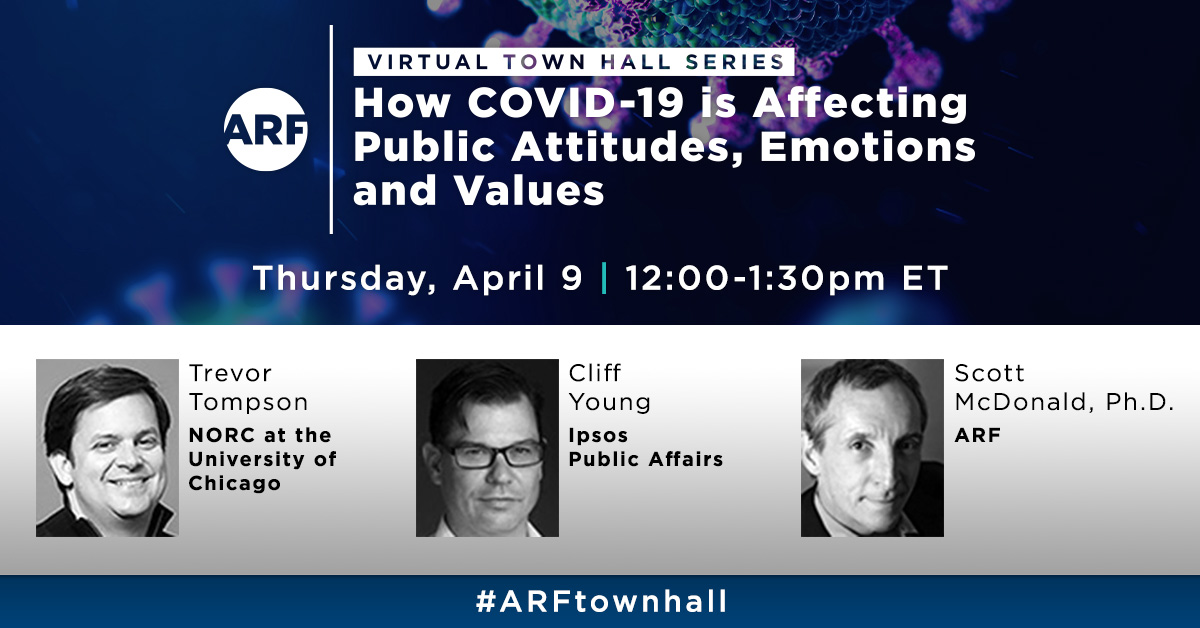 Every crisis is unique, but every crisis also has antecedents in history – especially with regard to the crisis's effect on public opinion. In some ways, the current moment is similar to 9/11 in that it involves charged emotions and fears that go beyond those associated with a mere economic downturn. After 9/11 appeals to patriotism and to solidarity with victims and first-responders resulted in a short-term "rally-round-the-flag" sentiment. Now, a global pandemic plus nationalist rhetoric is leading to some mixed messages and contradictory emotions. "We are all in this together," coexists with, "I am on my own and need to look out for my family." Protect the herd and at the same time accept the fact that the vulnerable will die.
How do the contradictions and dichotomies present today in the public discourse affect how people are reacting to the crisis? How might these contradictions affect their responses to marketer messages? How are opinions and responses differing by age, political outlook and level of trust in institutions? What can we learn from responses to previous traumas and crises and how might that inform our expectations for the speed of recovery of consumer confidence?
The Advertising Research Foundation is bringing together two organizations that have been at the front lines of opinion polling during times of crisis: Ipsos and NORC. This is your opportunity to hear Ipsos' Clifford Young share new polling data about the public health and economic concerns,  and insight into what Covid-19 might mean for public opinion and values going forward.
To register now, please visit the ARF website. 
 
Or, view Cliff's portion of the recorded presentation now.
Speakers :
Clifford Young, President, US, Public Affairs