[WEBINAR] Context is King: Winning in the New Content Wars
18 March 2020 10:30amPT/1:30pmET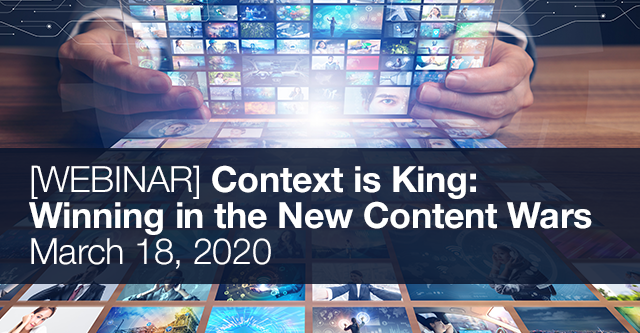 In the era of "peak TV" and rapid expansion of entertainment content, providers and subscription services, how do you convince consumers to consume your content and use your platforms? Join Ipsos' SVP and Head of Content + Platform Strategy Andrea Marker and Syndicated Services SVP Julia Roland as they share extensive qualitative and quantitative research from two recent studies that explore and provide insights into the ways that consumers make choices and decide on the content they watch, play, listen, and subscribe to.
Learn the ways that consumers make choices given seemingly unlimited media options. Ipsos answers fundamental questions around the role of need states and underlying emotional motivations, the impact of external, contextual triggers like audience, time of day, location and access and which plays the bigger role.
Second, drawing from Ipsos' new multi-client SVOD research solution, learn what drives streaming service choice – and how it varies by audience and category usage, for example those who don't currently subscribe to any services vs. those already subscribing to a number of them. We are also excited to introduce Ipsos' latest choice model and simulator – a robust analytic tool for guiding platform offer and service positioning.
Join us for this complimentary webinar to learn how people choose content, and what can drive consumer subscriptions and satisfaction.
Speakers :
Andrea Marker , Senior Vice President, Head of Content Strategy, US, Media Development

Julia Roland, Senior Vice President, US, Media Development