[WEBINAR] Affluents & The Smart Home 2.0
13 January 2020 10:30amPT / 1:30pmET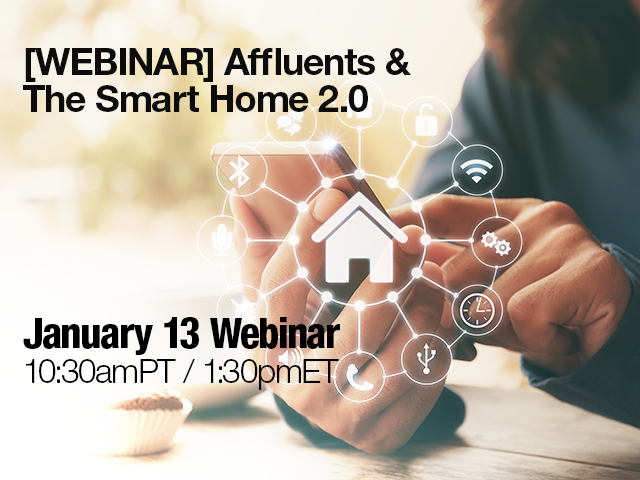 Over the past couple years, the Connected (or "Smart") Home – a technology concept for decades – finally entered the mass market. With the introduction of the smart speaker, penetration has skyrocketed, and led to further product innovation and growth.
Two years ago during a previous webinar on the Smart Home category, we noted the importance of Technology Affluencers (affluent influencers) in driving adoption of the category. We're now revisiting the Smart Home category to explore what's changed in current penetration, purchase dynamics, satisfaction and future interest among these Affluencers, the mass Affluent, and the rest of the population.
Please join Ipsos for a complimentary webinar exploring Affluents and their relationship with, behaviors, and attitudes about smart home products. Some areas we will be exploring include:
What benefits are most important and what expectations consumers have when choosing smart products.
Usage and behavior of smart speakers.
Ownership and user satisfaction of all smart home products – now that consumers have experienced the products, do they believe they deliver on their expectations?
What is the level of interest for further information on the category – and what is future purchase intent?
Exploration of other home appliance ownership, perceptions and attitudes.
Speakers :
Michael Baer, Senior Vice President, Brand Marketing, Media Development, US