Public Affairs
International and Sustainable Development Research
OUR SOLUTIONS
Over the years, Ipsos has used our unprecedented global reach to build expertise in conducting research around the world, with a focus on hard-to-reach populations and those affected by fragility or conflict. This work has taught us the importance of designing research that works for participants and can be used to amplify the voices of people that are traditionally unheard. We place participant comfort and safety at the centre of our research, ensuring that research designs are appropriate to the local context, research instruments cause no undue harm, and all studies are designed with an eye to inclusivity and equity across all populations.
Being sensitive to the challenges of fluctuating security, rapid development, and reduced infrastructure in developing communities and contexts across the global, our research teams have developed innovative approaches to collecting robust data. We understand what is needed to design adaptive and fast-paced research while also meeting the rigor requirements of our clients, mitigating extreme risk, and ensuring quality in every market we work in around the world.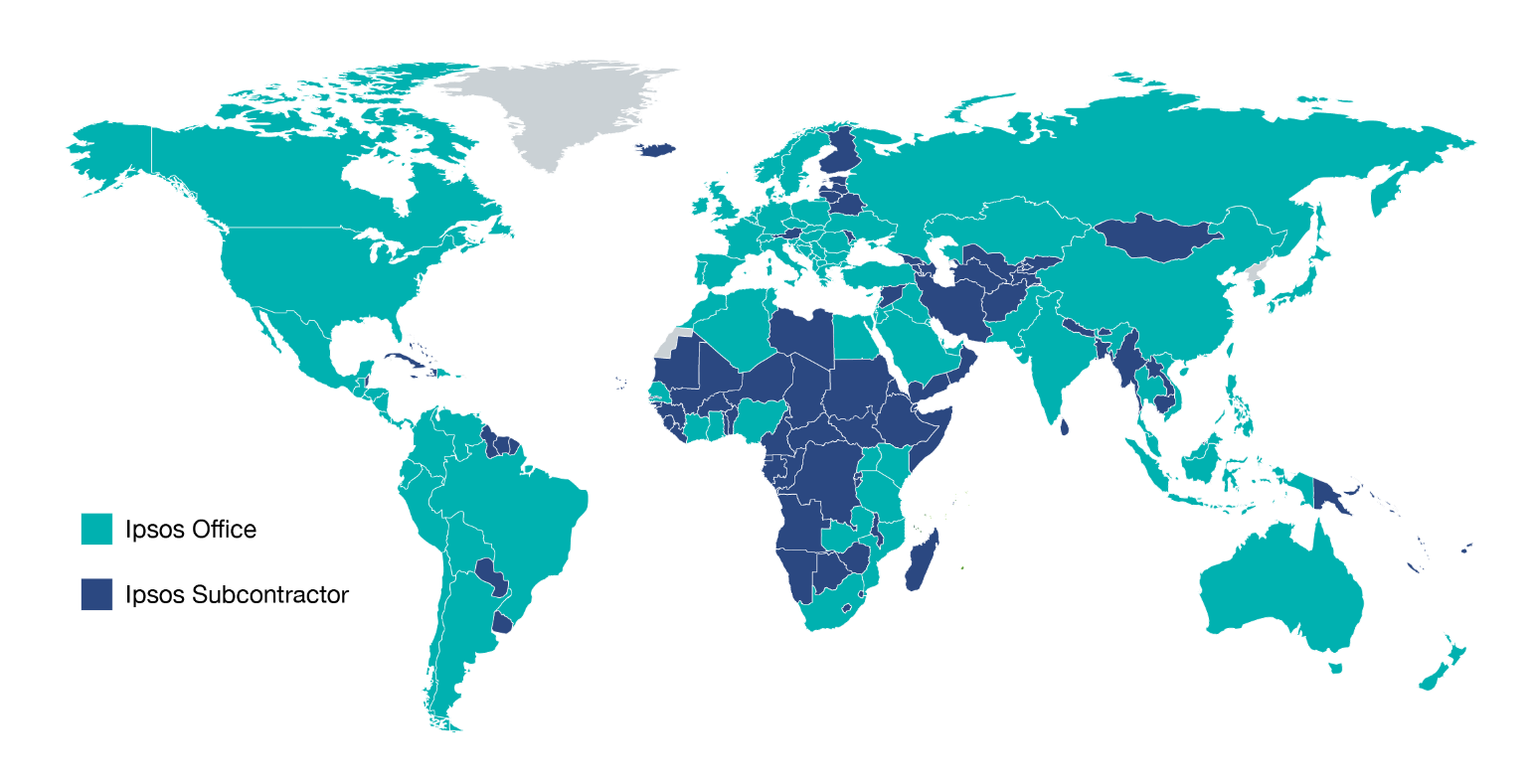 Ipsos uses the following data collection methods in over 150 markets around the world to serve our clients not only as partners in the research process from conceptualization to analysis, but also as strategic advisors. Using the high-quality data we collect, we develop evidence-based recommendations that provide guidance and advice to clients as they implement programs, develop strategies, and understand impact.
Quantitative: computer-aided in-person interviewing (CAPI), computer-aided telephone interviewing (CATI), SMS surveys, online surveys
Qualitative: stakeholder interviews, face-to-face in-depth interviews and focus groups with target populations, community workshops, structured/unstructured observations
Big Data Analytics: remote sensing, internet of things, satellite imagery analysis, anonymized cell phone data, social media sentiment analysis.
Due to our capacity and expertise, Ipsos is one of the leading research, evaluation, and advisory partners for social policy and program leaders globally. We have worked across the public and private sector for clients including the World Bank, UNICEF, USAID, Coca-Cola, Vital Voices, Mondelez International, Hershey, the IFC, UN OCHA, CGAP, Google, the Gates Foundation, and UN Women. Our experts deliver insights in the following areas that inform program design, implementation, evaluation, and longevity:
Sustainability: evaluating and measuring the impact of corporate actions that encourage sustainable business (INSERT SUSTAINABILITY WEBSITE HERE);
Program impact assessment: tracking the impact of social investments, particularly with vulnerable or hard to reach populations and/or on sensitive topics.
Social context and incidence measures: understanding the incidence of experiences enabling more efficient program and project development.
Read more about Ipsos' previous work in international and sustainable development research below.
Contacts
Kaitlin Love
Vice President, U.S.
Ipsos Public Affairs
+1.202.251.2568
kaitlin.love@ipsos.com