Ipsos Encyclopedia - Product Development
Product Development is the innovation or continuous improvement of an existing product or the creation of an entirely new kind of product that satisfies the requirements of consumers.
Definition
​A product in the most common understanding is a thing produced by labor. It is tangible, i.e. it can be touched. In broader terms "product" can refer to the goods or services that a company is offering. A "product" can be sold and is therefore marketable. Services are intangible, i.e. they can only be perceived indirectly.
In the following, we focus on products as goods that can be manufactured. In the market research world, the product provided is a service. However, «product development» is mainly referring to product in the first sense: Something tangible.
Product Development is the innovation or continuous improvement of an existing product or the creation of an entirely new kind of product that satisfies the requirements of consumers. The objective of product development is to develop formulations, in order to be successful in the market and satisfy a consumer demand.
Product Development is typically the task of an R&D (Research & Development) group, who receives a product development request from a Marketing team, based on underlying needs and opportunities that a Consumer Insights / Market Research group has identified, resulting in one of the following business objectives:
Product improvement: Increasing consumer liking of a product in order to perform better versus competition and grow market share.
Product innovation: Creating and launching a product that is new to the company, or to the market.
Brand maintenance: Supporting Marketing activites to keep a well known brand at a high level of consumer perceived quality and awareness.
Cost reduction / Productivity: Modifying ingredients and/or processes in order to increase profitability. Quality performance should continue to stay at the same caliber/standard which can be a challenge.
The product development group within R&D closely collaborates with Operations, Finance, Marketing, Consumer Science, Consumer Insights, Regulatory / Legal and Sales, before a new or improved product can be launched in the market.
Ipsos Point Of View
​The different steps of product development include the conceptualization, design, development, evaluation and marketing of newly created goods or services.
Quantitative market research should be conducted at all phases of the design process, including before the product or service is conceived, while the product is being designed and after the product has been launched.
The product development life cycle is best illustrated in the ProductQuest capabilities deck (by Virginia Weil, 2016).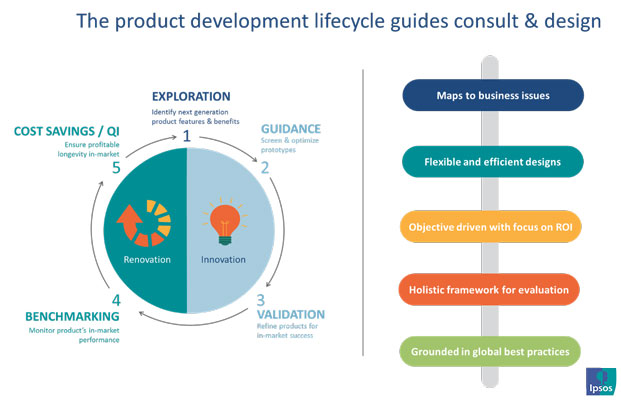 We know that developing and launching successful products can often feel as if you're finding your way through a maze - This maze is compounded by conflicting objectives across different business units, constrained budgets and limited resources.
One way that we help keep the navigation process simple is through use of our product development lifecycle. This efficient framework truly serves as our compass for navigating success across the stages of development.
The use of this framework ensures that we are designing research efficiently and that it aligns specifically to your business objectives at each stage. It also ensures that we are using a common language – one that is very much grounded in product development as well as technical yet commercial acumen. We use it to guide our conversation so that we can understand what you've done prior as well as what you need to do next.
As a result, we're able to provide objective driven consultation at each stage so that you can make sound business decisions to move your business forward.
Best reading
Books:
'Food Product Development: From Concept to the Marketplace' From I. Sam Saguy,Ernst Graf, Aspen Publishers, Maryland, 1999. Gives a good insight into product development and the importance of R&D.
Lean-Driven Innovation: Powering Product Development at The Goodyear Tire & Rubber Company, from Norbert Majerus, CRC Press, Boca Raton, 2016: On the example of a tyre company, the role of R&D is discussed in a story telling mode. Key focus is on the word «lean», describing the change of R&D in order to integrate business opportunities and marketing needs into account when designing the product development life cycle.