Adapting to the complexities of consumer choice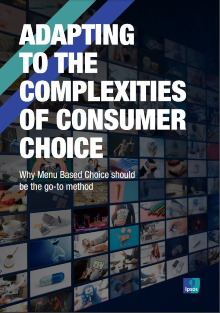 The way that consumers shop for products has changed over the past decade with the increasing power and influence of the worldwide web. 
Due to COVID-19 lockdown restrictions, there has been a significant shift to online shopping, with many industry sectors having taken advantage of the flexibility that on-line shopping offers. The changing online environment now empowers consumers to be able to create their own product (or bundle), enticing them to trade off individual features to tailor a product or service that fits their needs and, importantly, their budget. This 'build your own' environment has fuelled the need for a novel, more flexible type of consumer choice modelling approach.
The focus now in many industry sectors is less on the identification of an optimal product or product line, but rather on:
Identification of the set of individual features/services to offer consumers.
Understanding the way in which consumers want to customise products and bundle features together.
Identifying the premium that consumers are willing to pay for a customised product verses an off-the-shelf product.
Understanding how to price the individual features/services to drive key outcome metrics, such as market share, revenue or profit.
In this paper we discuss a consumer choice modelling approach, called Menu Based Choice, that is specifically designed to emulate this 'build-your-own' decision making. It will further show how this approach provides superior insights to more traditional methods, such as Choice Based Conjoint, in the specific case where consumers can create their own product.