Alone, together – Entrepreneurship and diversity in the UK
A new report published by the British Business Bank and Oliver Wyman with research by Ipsos MORI has revealed that Black business owners and those from Asian and Other Ethnic Minority backgrounds face persistent disparities in business outcomes.
Ipsos MORI supported this major study on behalf of the British Business Bank through surveys with over 3,700 entrepreneurs across the UK. The report – produced by the British Business Bank in conjunction with Oliver Wyman – focusses on key issues relating to the impact of ethnicity, gender and place in covering key themes in the survey findings:
Who are the UK's entrepreneurs?
What motivates entrepreneurs and how do they develop business?
Which entrepreneurs experience success?
What are the barriers and enablers for success?
What has been the impact of COVID-19?
Infographic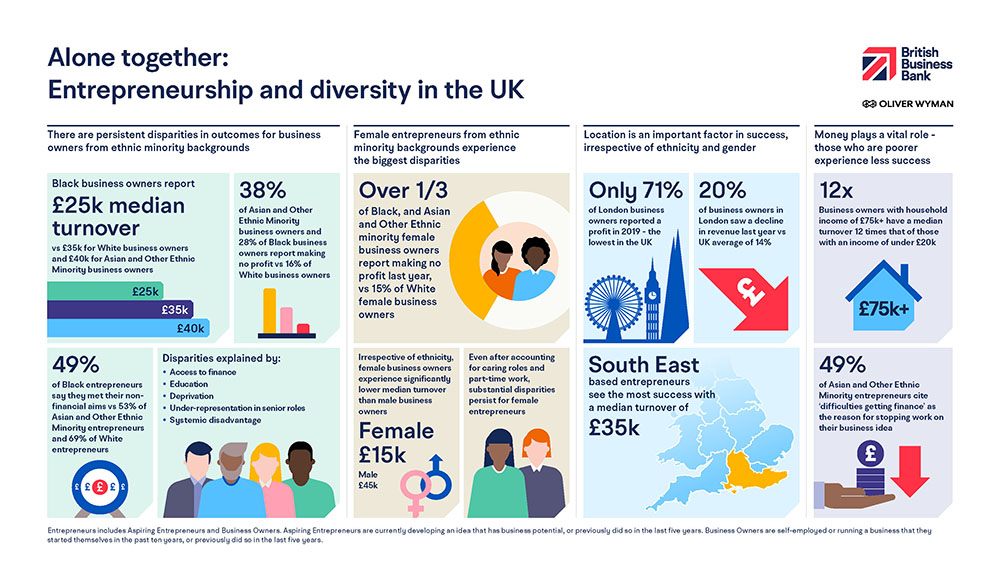 Technical Note
The research combines quantitative survey data with 3,727 entrepreneurs across the UK, interviewed using a mix of online and telephone interviews between 9th April and 1st July 2020, with follow-up interviews with survey participants.
The eligibility criteria for participating was individuals with a current idea for a business, current businesses that had launched in the last ten years and entrepreneurs who had discontinued their business or idea in the last five years.
Five separate surveys were completed, utilising re-contact survey data, the Ipsos online panel and publicly contactable business networks.
The aggregated survey data was weighted to the Global Entrepreneurship Monitor UK survey profile from 2017 to 2019, to ensure it was representative of the UK entrepreneur population on gender and ethnicity, within aspiring entrepreneurs and business owners.
Multivariate analysis was used to investigate the relationships between different factors. Factors that were controlled for as part of the regression models were demographics, business characteristics, human and social capital measures, and money and access to finance indicators.
Full details on the research methodology and sample sizes are provided in the appendices of the report.