Are you testing out a new bank? I am
The number of current accounts on the market is rapidly increasing, and with it, the average number of accounts held per person. Associate Director Kerry Barringer analyses what the traditional banks must do to ensure they won't eventually be eclipsed by more agile banks.
Last summer, at the height of football fever, I opened a new current account. So what? Well, at the time, I was sat outside watching the football on a big screen (although technically it was half-time), with a pint in one hand and my mobile phone in the other. It took about five minutes to set up, including identity verification which involved a selfie and a photo of my driving licence. This was a stark contrast to the last time I opened an account, as a student, which saw me running to catch the bus from campus for an arranged appointment, armed with photo ID and a bag stuffed with utility bills hoping that at least one was less than three months old. The most strenuous part of this latest application was deciding whether I wanted a physical debit card and, if I did, what colour I wanted it to be.
I must point out that, like many others who opened a new account in the last year with a challenger or digital bank, I have absolutely no intention of closing my other accounts. I was just intrigued and wanted to see if a better banking app really could negate the need for ever setting foot in a branch again. Across Great Britain, thanks to the choices of many people like me, the overall number of current accounts on the market has increased rapidly over the last year. Which has in turn boosted the average number of accounts held per person, something that has steadily risen over the last ten years.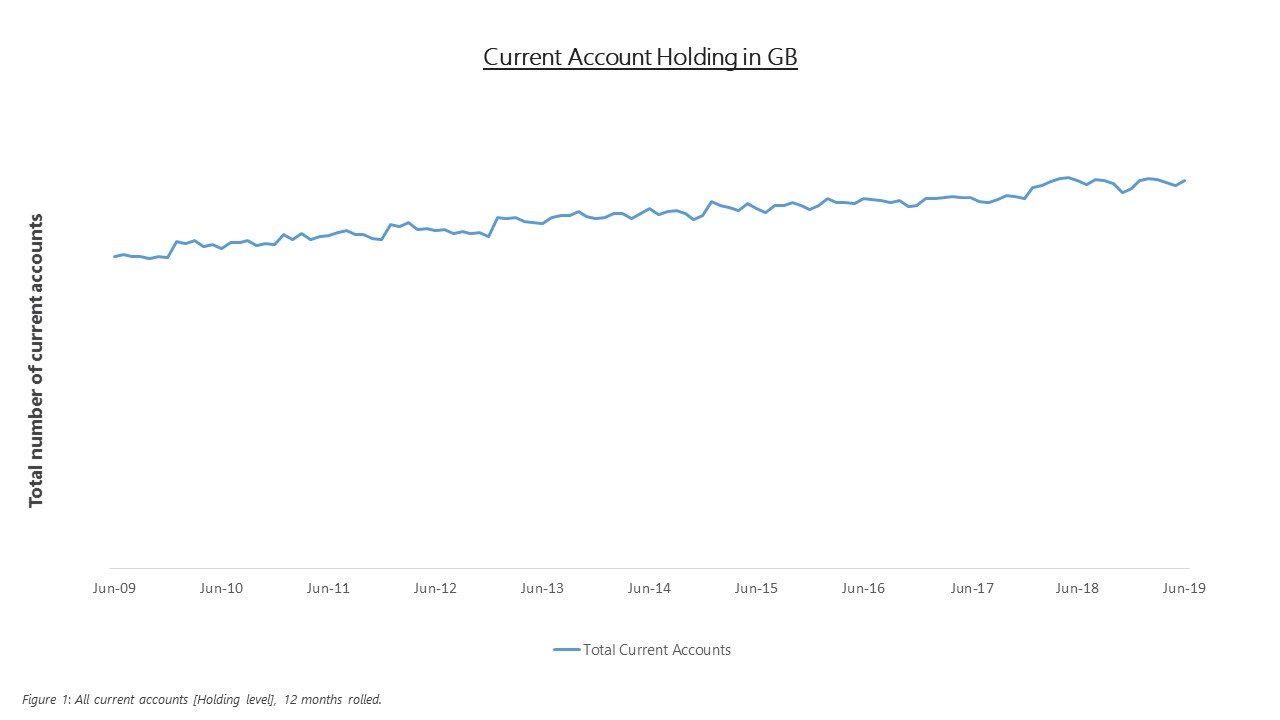 Interestingly, the number of current accounts held across the 'Big 5' banking groups has remained fairly consistent over the last couple of years, with their share of the whole market slowly being eroded as a result of these additional accounts held elsewhere, mainly with new providers. For now at least, these accounts with digital and challenger banks are rarely taken out as main accounts; that territory is still with the more established, and reassuringly familiar, high street players, who have proven themselves with a consistent service over the years.
While these less well-known providers are only being entrusted with secondary or tertiary current accounts today, how long will they remain on the sideline before consumers start making the leap of faith and using them as main accounts? I've found myself using my FinTech bank a lot more than I'd expected and have been impressed each time I have.
However, I've not become a stranger to my local bank branch, having had to visit in the last 6 months to update my personal details. Importantly though, I don't feel as though that particular visit should have been necessary, and would have much preferred to do it through the app if it'd been an option; it was just to update my name after getting married, something even the council let me do online, with a photo of my marriage certificate and updated passport.
That being said, the security of having a branch nearby is a comfort; not just because it's useful to talk through financial queries face-to-face sometimes, but also more generally during minor personal crisis. My bank was fantastic a few years ago when I got locked out of the house without my purse or mobile phone, firstly helping to get me sorted before allowing me to use them as a temporary living room while I waited for the locksmith. So, while I may not be organised enough to completely replace my branch with an app just yet, my new account has changed my expectations of mobile banking and I now know how intuitive and fast it can be. The comparison between my providers is like comparing dial-up and broadband, and the FinTech interface feels instantly responsive next to the loading screen on my main account.
If the Big 5 banking groups don't work out how to improve the ease and speed of their digital interfaces, people like me are likely to start increasingly using a FinTech provider for day-to-day transactions – the start of a slippery slope for the traditional banks who may well soon find themselves out of the starting lineup.