British public say Churchill, followed by Thatcher, did best job as Prime Minister
A new Ipsos MORI online poll shows that Winston Churchill is the top-ranked Prime Minister since the Second World War in terms of those believing they did a 'good job', followed by Margaret Thatcher, then Tony Blair.
When looking at ranking of former PMs by those who did a 'bad job', we see our four most recent Prime Ministers running in order going backwards, followed by Margaret Thatcher. Only 8% of Britons say that Winston Churchill and Clement Attlee did a bad job as PM.
Most Britons do not have an opinion on half of Britain's post-war PMs, with all except Churchill of Britain's pre-Thatcher PM's having a majority of Brits either not expressing an opinion, saying they were neither good nor bad or that they'd never heard of them.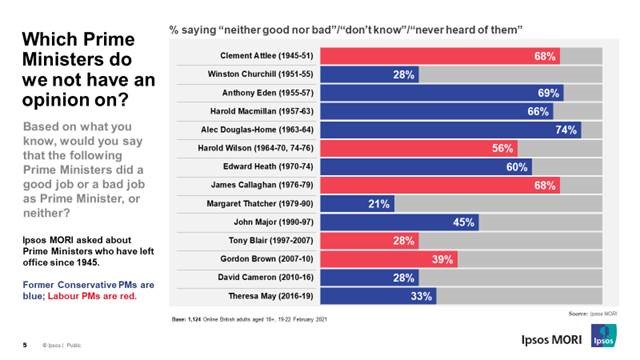 Keiran Pedley, Research Director at Ipsos MORI, said:
It will come as no surprise that Churchill tops our list of Prime Ministers that the public think did a 'good job' in office – he tops our poll with both Leave and Remain voters. Thatcher comes second, driven by very high scores amongst current Conservative voters too. However, what is most striking from these numbers is how little Britons know about post war PMs before Thatcher aside from Churchill. Perhaps this shows that although many Prime Ministers search for a legacy, most do not end up with much of one; at least amongst the general public.
Technical Note
Ipsos MORI interviewed a representative sample of 1,124 British adults aged 18+. Interviews were conducted online from 19th to 22nd February 2021. Data are weighted to match the profile of the population. All polls ar