British public wants to hear from business on Brexit - but may not trust what they have to say
British public wants to hear from businesses, especially SMEs, in the EU referendum more than charities, think tanks or newspapers, new Ipsos MORI poll finds.
British public wants to hear from businesses, especially SMEs, in the EU referendum more than charities, think tanks or newspapers, new Ipsos MORI poll finds.
However, levels of trust in business on issues related to the referendum are much lower, particularly for big business.
British adults think that businesses should be involved in the EU referendum debate – but that doesn't mean they will trust them. When asked whether different types of business should take part in the EU referendum campaign, support was high for British businesses to participate by publicly backing one side or the other, especially SMEs. However, this does not necessarily mean the public trust what big businesses say on the issues.
The new survey finds three-quarters (75%) of the public say that small and medium-size British businesses should participate in the debate – more than say the same for other groups such as academics (68%), think tanks (54%) and newspapers (52%). The contributions of SMEs are more welcome than those of big businesses – but still nearly seven in ten (69%) of British adults are happy for big British businesses which trade internationally to make their opinion on Brexit known. However, while three-fifths (57%) say that they trust small business owners on issues relating to the referendum, leaders of large businesses fare worse, being trusted on the issues by just three in ten (29%).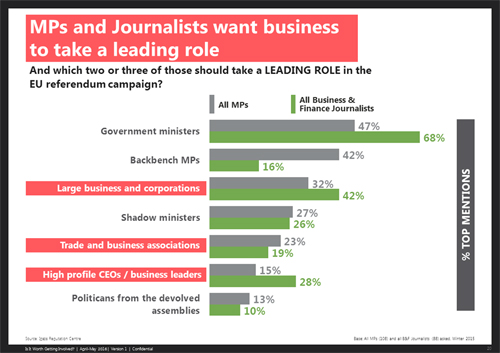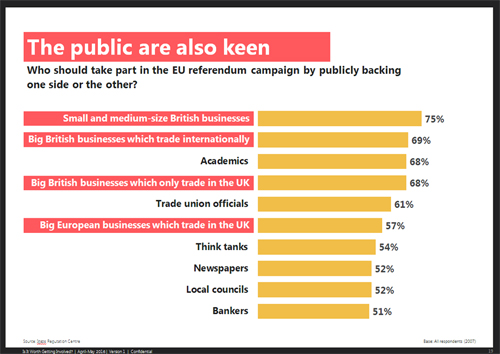 The desire to hear what business has to say on the vote also varies according to which side of the debate people fall on. People who say they will be voting to remain in the EU are more likely to want to hear from a broad range of voices, including businesses. Some 78% of remain voters want to hear from big UK businesses which trade internationally, compared to 63% of those who have made up their minds to leave.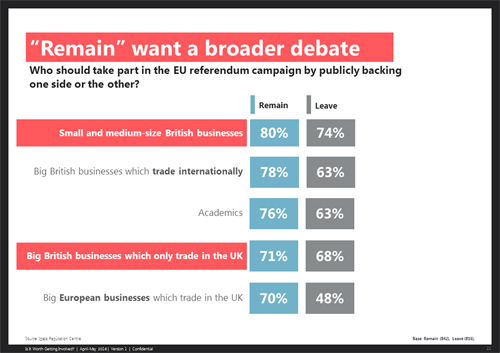 Media and banking are the least trusted of all sectors in the debate overall, with 28% and 36% respectively saying they trust them the least when it comes to the issues. The findings show the risk for businesses of alienating the public by taking a stance is very tangible, as 57% say they have ever taken some kind of action, such as boycotting or writing to complain, against a company they disagreed with.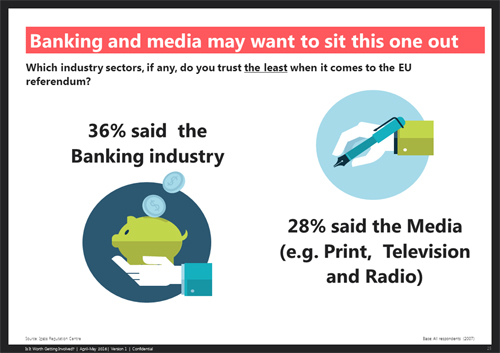 Matt Painter, Deputy Managing Director of the Reputation Centre at Ipsos MORI, said:
"There seems to be mixed messages from the public, wanting to hear from businesses but not always trusting them when they do speak out. The public knows that June's outcome will affect the business world but isn't necessarily sure that businesses' interests are aligned with theirs – for big business at least. Add in the fact that many people have made up their minds already and it seems that people just want to hear business confirm their own point of view. With the majority of businesses having come down on the side of staying in, this is probably why Leave voters are less interested in hearing what they have to say."
Technical note
Fieldwork was carried out between 24 March and 1 April 2016. 2007 British adults aged 18+ were interviewed and results were weighted to be nationally representative of the offline population. Interviews were carried out online through the Ipsos panel.