Britons are getting worse at switching off from work when holidaying
A new global survey across 25 countries shows that 59% of Britons say they never check in with work while on holiday.
As many of us set off on our summer holidays, Ipsos MORI finds that it is getting harder for Britons to leave the office behind. 
A new global survey across 25 countries shows that 59% of Britons say they never check in with work while on holiday, down from 64% in 2009. Despite this fall, we remain one of the nations that finds it easiest to log off, second only to Germany (68%).  Less than half of the public in Spain (42%), Italy (41%) and Japan (31%) say they never check in with work while on holiday, and globally, 18 out of the 25 countries surveyed have seen a decrease in the number of people saying they switch off from work while on holiday.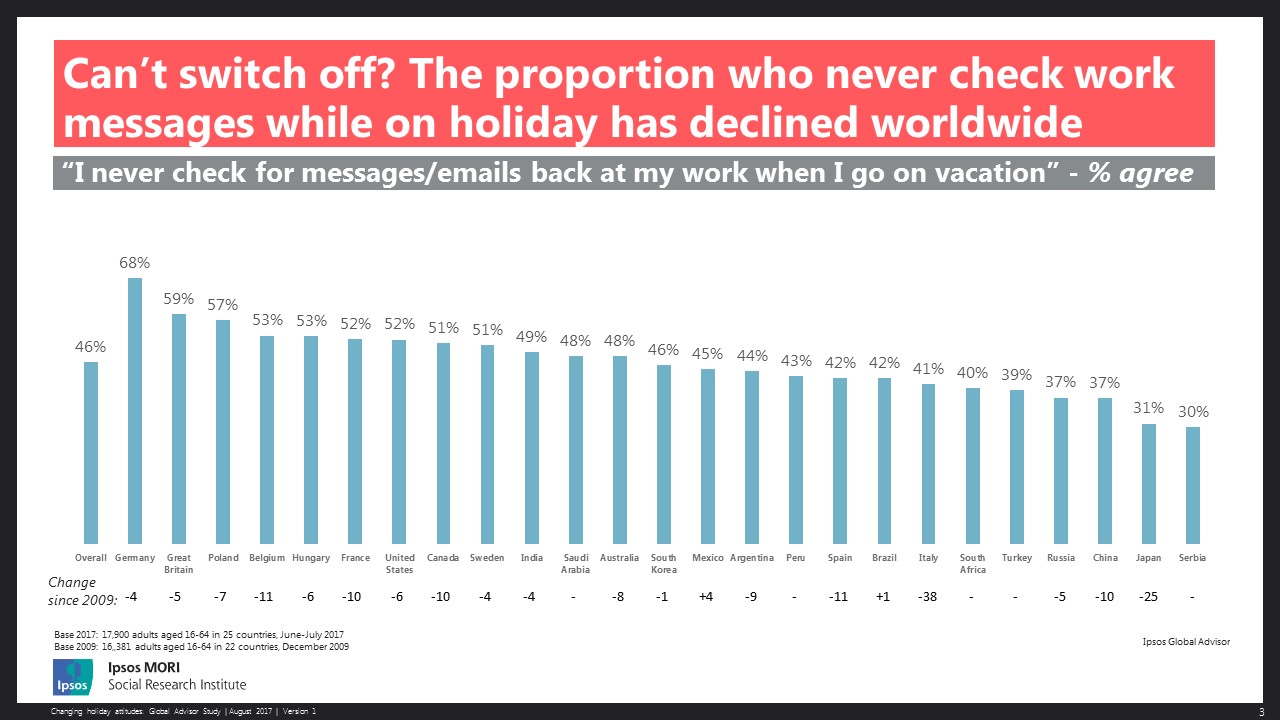 Although ONS figures show that the average Briton's holiday is getting shorter, this survey also finds that we remain more steadfastly committed to our annual getaway than any other European country.  72% of British people say they plan to spend (or have already spent) at least one full week away from their home on holiday this year, compared to a global average of 61%, and a European average of 63%.  Amongst European countries, Germany comes in second at 67%, with Sweden and France not far behind (both 66%). At the other end of the scale, Japan maintains its reputation as a hardworking nation, with only one quarter (24%) of people taking at least one week off away from home.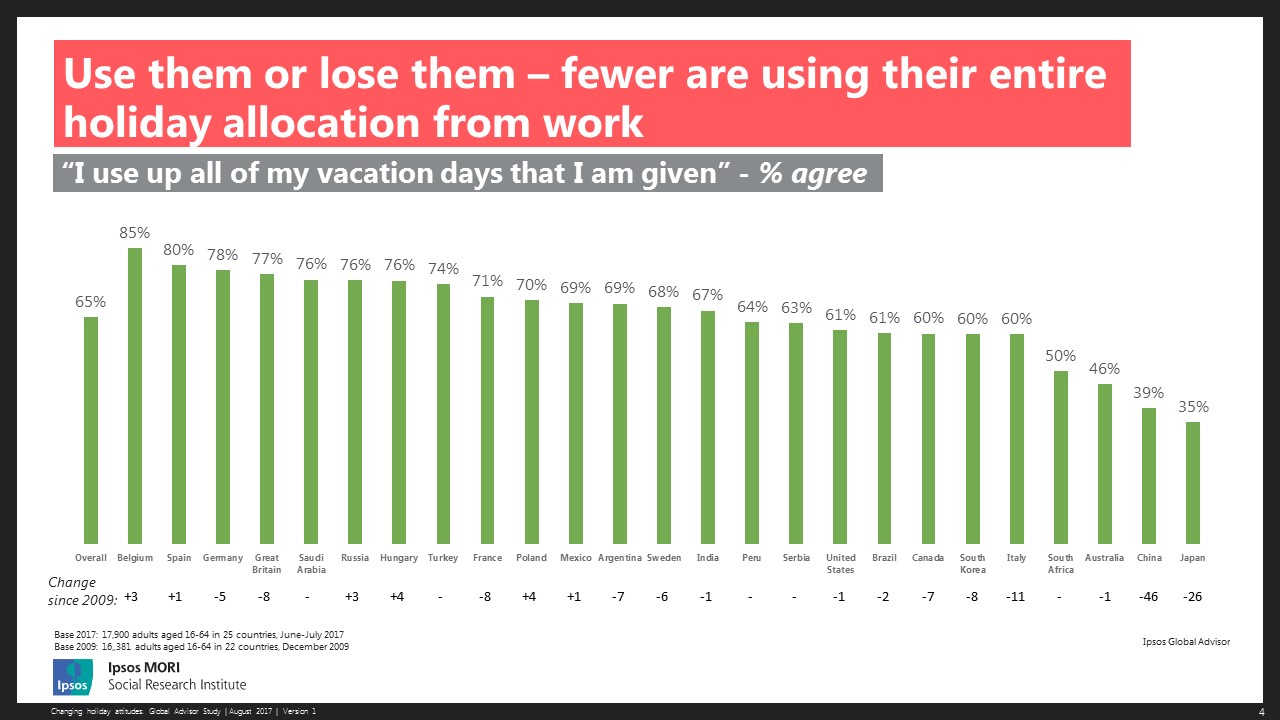 However, times could be changing. In 2009, Britons were the most likely to say they take all their holiday allowance off (85%), but we have now dropped down to fourth on the global list at 77%.  People from Belgium (85%), Spain (80%) and Germany (78%) are now more likely than Britons to use all their holiday allowance.
Ben Page, chief executive of Ipsos MORI, says:
The British have long been known for their love of their annual holiday and despite this week's ONS figures showing a decline in long holidays, we are still clearly wedded to getting away from it all.
I think many people will be surprised to see that we are second only to Germany when it comes to switching off from work and really relaxing.  This suggests that we may be striking a better work/life balance than some countries, despite 59% of us checking our work emails on holiday.
The decline in those using their annual leave allowance is undoubtedly a result of current financial insecurity, however it is unlikely to be helped by those companies who are starting to offer "unlimited" holiday, which may result in people taking less holiday than they did before.
Technical note
Ipsos interviewed 17,900 adults aged 16-64 across 25 countries using the Ipsos Online panel system.
Interviews were conducted online between 23 June and 7 July 2017.
Results are weighted to match the known population of each country.