But results show a declining interest in purchase by consumers not yet connected
Preliminary results from a global survey on Global Cellular Usage published today confirm reports that Finland and Australia are the world's most connected societies - with over half the population reporting owning a mobile phone (see chart 1).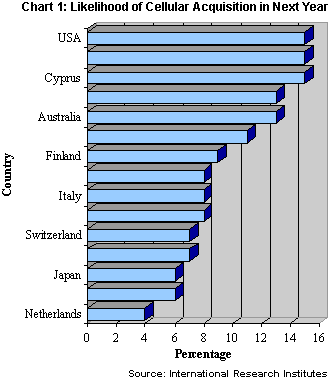 But the study also suggests that the cellular phone boom may be reaching a climax as few non-mobile phone owners said they were contemplating buying one within the next 12 months.
The study - Consumer Cellular Usage Around the World - was carried out by IriS (International Research InstituteS), a global network of independent market research and consulting agencies.
The preliminary results were based on polling over 11,000 people in 15 countries represented in the IriS network and show that Finland is top in cellular phone usage (55%), followed by Australia (53%), with Japan (44%) just ahead of the United States (40%).
In every country researched, cellular ownership increases according to income level. However, much of that explanation may come from the fact that the majority (except in the U.S.) reported that they use their phone primarily for business use. In the U.S. the prime reason was for emergencies.
However, possibly the most interesting finding of the report so far is that consumers who do not own a mobile phone at present, seem, to show little enthusiasm for acquiring one in the foreseeable future. Asked the question "are you extremely, very or fairly likely to buy a cellular phone in the next 12 months", only a minority of consumers were positive - perhaps indicating a tailing off of interest.
Most of those interviewed for the survey gave their reason for not buying a phone as simply no need for it.
Highest scores for those planning to buy in the next year were the U.S., German and Cyprus with just 15 percent in the affirmative. Other countries (see chart) were less than enthusiastic, suggesting single digit percentage growth in Japan, Spain, Italy, France, Switzerland, the U.K. Finland and The Netherlands.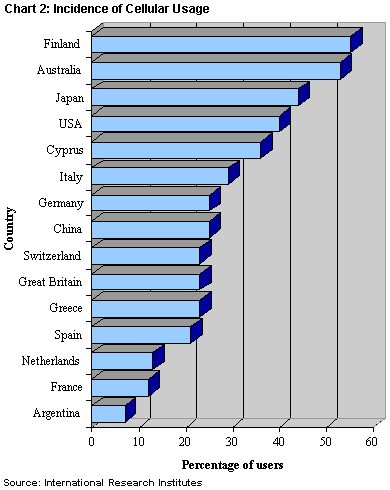 Comments current IriS President, Jim Fouss, head of U.S. market research firm Response Analysis, "It may be too early to say, but in some societies the penetration of mobile phones has been incredible, now it seems the boom may be over." Fouss adds, "Cost of purchase and maintaining the cost of connection in many countries is still prohibitive, which is why business people and upper income individuals use them. Getting the rest of the population to buy-into the cellular revolution may take longer than many predicted."
A more detailed version of Consumer Cellular Usage Around the World will be published in the Autumn by IriS.