Checking out without checking the bank account; is easy credit fair on your vulnerable customer base?
With spending and digital credit on the rise, how can businesses create a great customer experience using flexible payment options while ensuring they aren't putting more vulnerable customers at risk?
As lockdown passed its anniversary and the nation has learned to survive in a digital world, our shopping habits have followed suit. That knock on the door, a new package on the doorstep, may at times have felt like our only lifeline to the outer world. That sense of joy and fulfilment to experience something new when the world around us felt like it was standing still has driven demand for more flexible payment options.
It's not new, but it's easier
The rise in popularity of Buy Now, Pay Later (BNPL) was imminent before the pandemic, but change in circumstance – as we have seen with so many other trends – was drastically accelerated by the lockdown. The point-of-sale personal finance proposition appears on online shoppers' screens as a relatively new payment method at the checkout page of increasingly more retailers. BNPL allows customers to delay payment or pay in instalments. Today, many online shoppers and social media users will have come across Klarna, PayPal Credit, ClearPay, LayBuy or AfterPay to name a few BNPL examples.
As COVID-19 hit the UK and non-essential shops were forced to close, retailers needed to up their digital game. Klarna's Chief Executive, Sebastian Siemiatkowski, said that the pandemic had made their offering 'more relevant than ever', with 200 additional retailers including household names such as Ted Baker and North Face incorporating their payment technology every day for the first six months of 2020.
Credit where it's due
Buy Now, Pay Later services offer retailers the perfect opportunity to build stronger relationships with their customers at a time of crisis. One of the key principles of a good CX relationship is fair treatment. It can be argued alternative payment offering promotes this, as customers who did not previously have access to instant credit can now continue their purchase journey.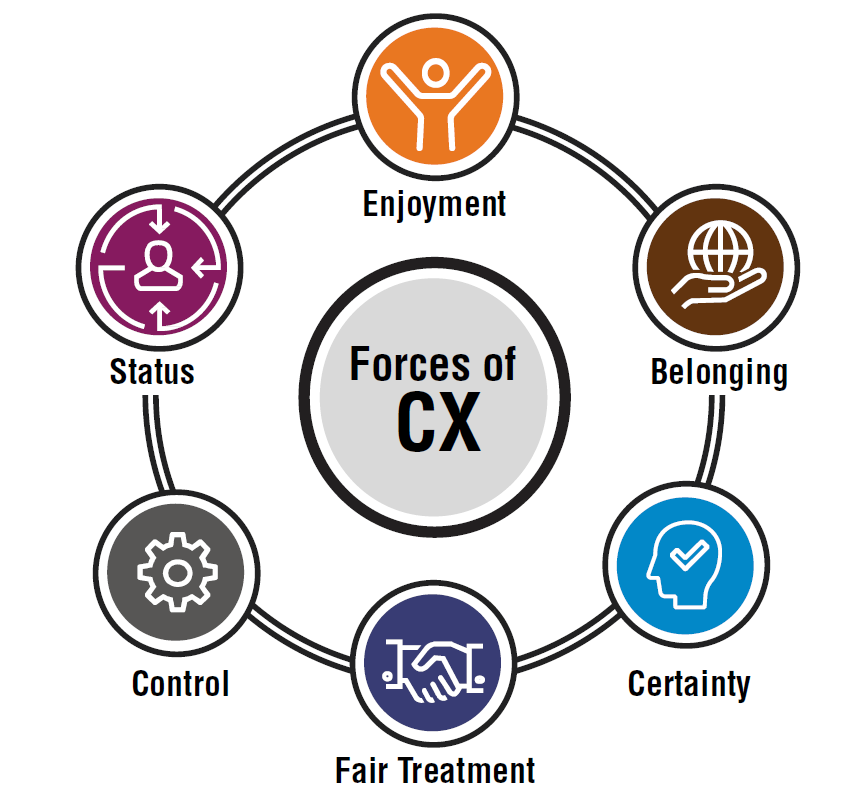 Figure 1: Ipsos' Forces of CX; the six forces that act as building blocks to help organisations understand how they can improve relationship strength
It's an attractive prospect for people who miss the shopping experience. As a result, BNPL services were used by five million people in the UK last year with total sales of £2.7bn, a near fourfold rise from 2019. According to Credit Karma, Britons racked up an average bill of £170 over the Christmas period which amounted to nearly 40% of their total outlay for the holiday.
Delaying the inevitable
With big names such as PayPal Credit entering the market, the Point of Sale (POS) credit market is predicted to continue its rise. However, the innovation is not without its problems. Last year the Financial Conduct Authority (FCA) conducted a review of the BNPL sector and found that it would be easy to build up unseen debts of £1,000, with one in ten people already using the service having debt arrears elsewhere.
A 2020 study by Capco found that just under half (44%) of its respondents said that BNPL had made them spend more than they typically would. Recent results from Ipsos's Financial Research Survey shows its popularity in the UK among younger age groups, with nearly a fifth (18%) of under-25s having used POS finance. Usage increases to 53% when we look at those aged under 351. However, with half of the 18 to 34-year-old respondents in Capco's study revealing to have missed a payment, the reality of the model is damning.
Regulation is on the way
Following customer complaints that payment terms lack transparency, the FCA has announced plans to regulate and oversee all BNPL companies and the services they provide to consumers. BNPL firms will soon have to apply to the FCA to be vetted and become an approved consumer credit company. They will have a duty to treat customers fairly, carrying out affordability checks before providing credit, and any problems that customers face, they will be able to make a complaint to the Financial Ombudsman Service.
New regulations may pose a challenge for Buy Now, Pay Later, but the demand will not disappear. That's why getting a grip on customer vulnerability will become increasingly important.
Retailers should re-consider which payment options they provide and how they decide to speak to their customers about these. To help, Ipsos MORI is developing a golden set of measures to give brands more visibility on the levels of vulnerability within their customer base, creating a socially responsible and fairer payment environment.
To find out more about our work in this area or any of our other finance and CX programmes, please get in touch.