The Conservative party is still more disliked than Labour
The Ipsos MORI September 2018 Political Monitor shows that Theresa May's ratings remain low, and the public are split on her departure date.
Conservative party still more disliked than Labour
Theresa May's ratings remain low, and public split on her departure date – but seen as more Prime Ministerial than alternatives
In the week before the Conservative party conference, the latest Ipsos MORI Political Monitor reveals that only a third (33%) of the British public agree that Theresa May has the what it takes to be a good Prime Minister – no change from July this year however down from 55% just before she took office in July 2016. Nevertheless, she still leads Jeremy Corbyn (27%), and potential leadership challenger, Boris Johnson (25%), albeit at a narrowing margin. Fieldwork for this poll was conducted before the summit in Salzburg amongst EU leaders. 
Mrs May also retains her lead among Conservative party supporters, with three in five (61%) saying she has what it takes, compared to two in five (39%) who say the same of Boris Johnson. However, her lead over Mr Johnson has been steadily declining, from a 55-point difference in April this year (has now more than halved, down to 22-points. Boris Johnson remains a divisive figure, with half (51%) of Conservatives disagreeing he has what it takes, rising to two-thirds (64%) among all Britons.
Looking at other potential challengers to Theresa May from within the Conservative party, 22% of the public think Ruth Davidson has what it takes to be a good Prime Minister, compared with 17% for Sajid Javid, 14% for Jeremy Hunt and 11% for Michael Gove – although a high number of respondents say 'don't know' for most of them. Amongst Conservative supporters, nearly three in ten (28%) support Ruth Davidson, 26% for Sajid Javid, 22% for Jeremy Hunt and 21% for Michael Gove.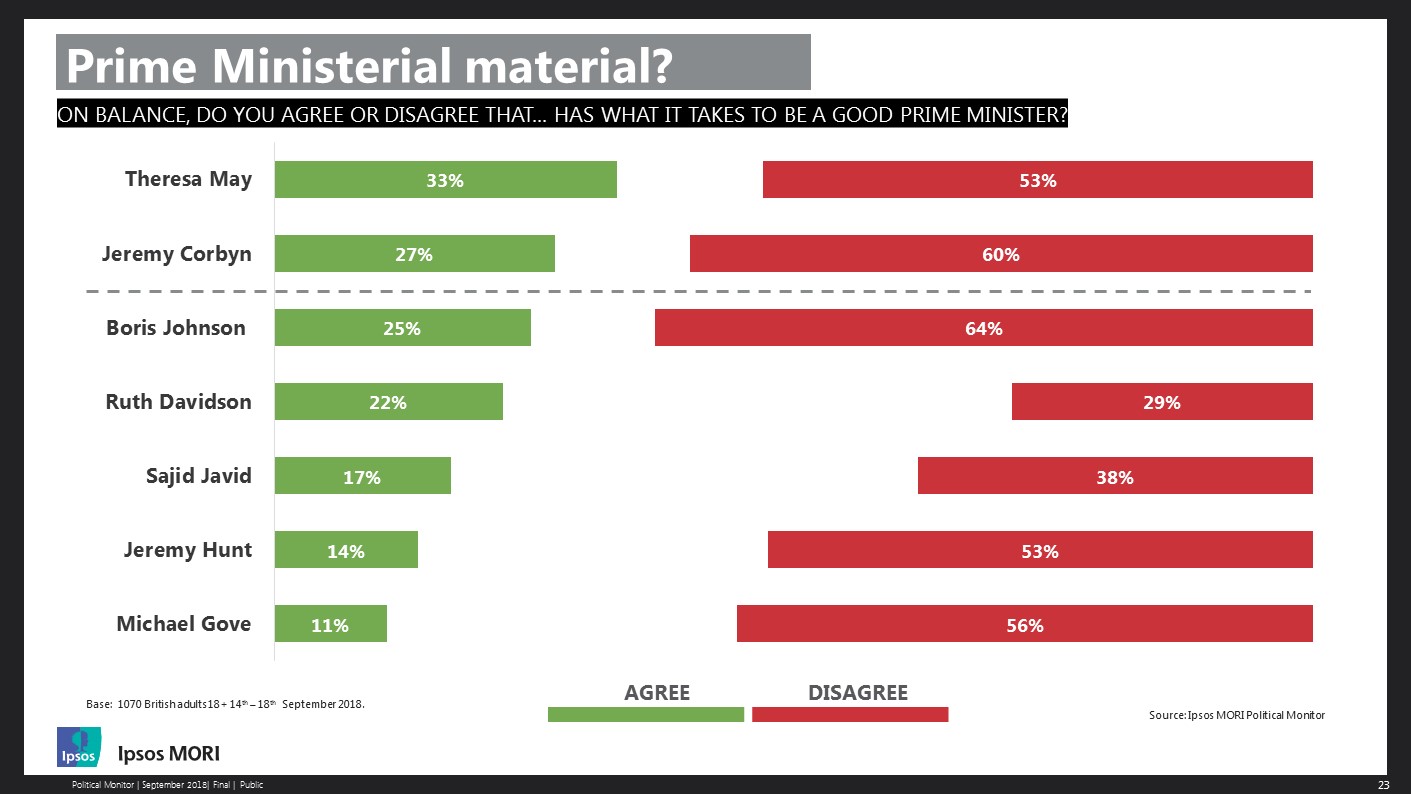 When placed in a dead-heat with Boris Johnson nearly three in five (57%) Britons say Theresa May would make the most capable Prime Minister, with just over a quarter (28%) favouring Mr Johnson. Among Conservative party supporters Boris Johnson polled marginally higher at a third (33%), while Mrs May still holds a 25-point lead at 58%.
The proportion of the public who say they like Theresa May continues to stagnate at around two in five (39%), up just one percent from last September and a sharp decline from three in five (60%) when she first became Prime Minister. Her ratings reflect those of David Cameron at the lowest point in his premiership, when he also polled 39% just before the 2015 General Election. However, she is still more liked than Jeremy Corbyn, whose ratings dropped down to a third (32%) just before the start of the Labour party conference. Among Conservative supporters, those who say they like Mrs May has decreased to two in three (64%), compared to the three-quarters (76%) this time last year.
Mrs May's likability ratings are strikingly similar to that of her party, with 38% saying they like the Conservative party (58% say they dislike the party) and falling further behind Labour (57% say they like the Labour party). Two in five (43%) say they dislike both Theresa May and the Conservatives, the same as in 2017, but up from around a quarter (27%) in 2016. 
When asked about the timings for Theresa May's departure, over a third (36%) of Conservative party supporters think she should wait until Britain has left the European Union, 16% want her to go as soon as possible, while two in five (39%) say she should wait until after the next General Election. This means half (52%) of Conservative supporters think she should leave before the next General Election which rises to three in five (59%) amongst the public. The public as a whole are more evenly split on when Theresa May should step down with around a third backing each departure point; 29% wanting as soon as possible, 30% saying post-Brexit and 32% for after the next General Election.
Gideon Skinner, Head of Political Research at Ipsos MORI, said:
The Prime Minister's personal ratings continue to bump along at a low level.  But the problem is also partly her party's.  Public opinion so far does not seem to favour any of her potential successors, and the Conservative party itself remains stubbornly disliked by around six in ten, much worse than Labour's likeability score.
Access our long term social and political trends.
Technical note
Ipsos MORI interviewed a representative sample of 1,070 adults aged 18+ across Great Britain. Interviews were conducted by telephone 14th – 18th September 2018.  Data are weighted to the profile of the population.