Conservatives gain lead as Labour support declines
With just one week to go until Election Day Ipsos MORI's latest poll for the Evening Standard finds the Conservatives gaining as Labour support declines.
David Cameron sees boost in his public satisfaction ratings
 CON 35 (+2); LAB 30 (-5); LIB DEM 8 (+1); UKIP 10 (nc) 
With just one week to go until Election Day Ipsos MORI's latest poll finds the Conservatives gaining as Labour support declines. In the second Political Monitor for April the Conservatives have increased their support amongst British voters to 35% (up 2 points from two weeks ago) and now lead Labour by 5 points who currently stand at 30% (down 5 points). The Liberal Democrats have seen a slight improvement to 8% (up 1 point) while UKIP remain even with no change from earlier this month on 10%. The Green party also remain unchanged at 8%.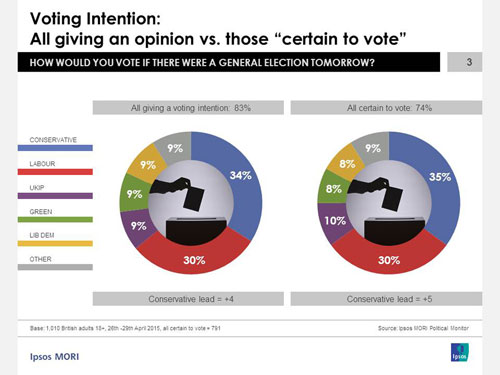 And as we get closer to Election Day, more people say they have made up their mind on who they'll vote for compared to just two weeks ago. Nearly two in three (65%) say they've made up their mind (up 5 points) while nearly one in three (34%) say they might still change their mind.
David Cameron has also seen an improvement in his satisfaction ratings. 46% of the British public are satisfied with how Mr Cameron is doing his job as Prime Minister (up from 39% earlier this month) while 48% are dissatisfied (down from 53%). Ed Miliband's satisfaction rating as Labour leader remains lower but are still better than his ratings before the campaign. Just over a third (35%) say that they are satisfied in Mr. Miliband's job performance (up 2 points) however 54% say they are dissatisfied.
Nick Clegg has also seen some improvement on his satisfaction ratings as Deputy Prime Minister. One out of three Britons (34%) approve of Mr. Clegg (up 7 points) with 55% dissatisfied (down 3 points). Satisfaction in Nigel Farage is unchanged with roughly three in 10 (31%) Britons satisfied with him as UKIP leader while 56% remain dissatisfied (no change). 
The second of this month's Political Monitor polls also probes the British public on who they think would make the most capable Government ministers and as might be expected the current government has the edge. David Cameron has a clear lead over Ed Miliband with 52% seeing him as the most capable Prime Minister versus 31% seeing Mr. Miliband as the most capable. Nick Clegg has a slight lead over Harriet Harman with 42% saying they prefer him as Deputy Prime Minister against 39% who choose Ms. Harman. George Osborne is also viewed more as capable as Chancellor by 47% of the public while 34% choose Ed Balls. Theresa May has the lead on Yvette Copper by 9 points (45% vs. 36% respectively) when it comes to most capable Home Secretary. Shadow Foreign Secretary Douglas Alexander of Labour rates better than his Conservative counterpart in office, Phillip Hammond with 36% of the public saying that the former would make the better Foreign Secretary than the latter. Only 32% think that Mr. Hammond would make the better Foreign Secretary.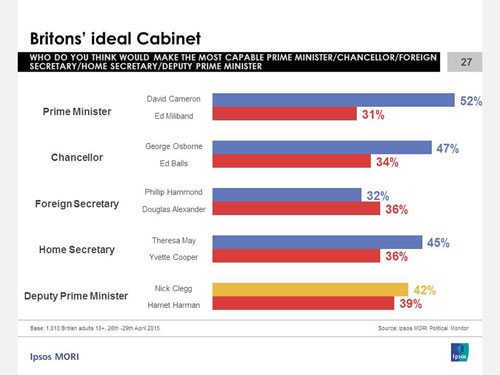 When it comes to the election result the vast majority of Britons (71%) see a hung parliament as the most likely outcome. If a hung parliament does occur six in 10 (60%) say they would d prefer to see a coalition government compared to one in three (33%) who prefer a minority government. 
In the event of a hung parliament, UKIP and the SNP are the parties the British public would be most unhappy to see holding influence in Westminster. Nearly six in 10 (59%) say they would be unhappy with UKIP holding influence while 44% say they would be unhappy with the SNP. Britons are most comfortable with the Liberal Democrats and Greens holding the balance of power in Westminster with 49% happy with the Lib Dems holding influence and 35% who say they would be happy with the Greens. 
Gideon Skinner, Head of Political Research at Ipsos MORI said:
"The Conservatives will clearly be pleased with their first poll lead this year in this series, and confirmation that they have the edge on being seen as the most capable leaders. But this is still just one poll, and they will want the reassurance of this pattern being maintained in upcoming polls - and regardless, the political situation remains on a knife-edge".
Downloads
Technical note:
Ipsos MORI interviewed a representative sample of 1,010 adults aged 18+ across Great Britain.
Interviews were conducted by telephone 26-29 April 2015.
Data are weighted to match the profile of the population.