New research from Ipsos MORI indicates that during the 2015 General Election, politics has (mostly) won the social media battle against entertainment news stories.
Over the course of the campaign Ipsos MORI has been measuring the volume of discussion on social media that mentions either David Cameron or Ed Miliband, and placed this in the context of UK newspaper coverage and coverage of the top celebrity stories.
The project collected over 1 million mentions of the two party leaders between 16th March and 3rd May, counting only those known to originate from the UK.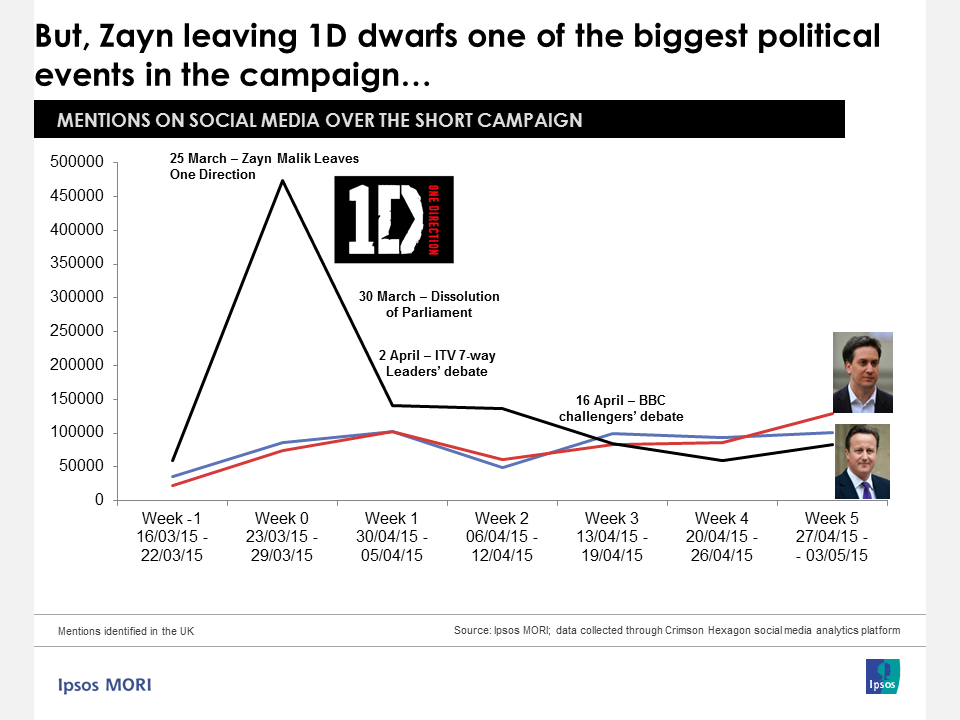 A summary of the key findings from the research are:
Over the last three weeks of the campaign, Ed Miliband and David Cameron have each received more mentions per week than One Direction (227,111 in total for One Direction compared to 292,955 for Cameron and 296,609 for Miliband).
However, this is partly down to it being a slow news month for One Direction.

 

Just before the campaign began, news of Zayn leaving the boy band amassed over 470,000 mentions in the UK in one week, dwarfing the 100,000 mentions each received by Cameron and Miliband during the week of the Leaders 7-way debate.
One Direction aside, the share of social media voice received by Cameron and Miliband is impressive compared to other prominent celebrity stories over the same period.

 

Only the sacking of Jeremy Clarkson was able to match the volume of weekly discussion on the party leaders.
A comparison of four General election and four popular entertainment news stories from 20-26th April shows that social media gives a stronger share of coverage to politics when compared with traditional news sources, as measured by Election Unspun from the Media Standards Trust.

 

In traditional national newspapers, these four general election stories accounted for 28% of all articles; in contrast, these same general election stories provided 61% of the relevant mentions on social media.
As an illustration:

John Major's speech warning of a Labour/SNP deal got more mentions than all discussions relating to Kim Kardashian (21,844 compared to 12,282);

 

Grant Shapps' Wikipedia profile received 29,268 mentions compared to 13,348 for Robert Downey Jr storming out of an interview for his new film.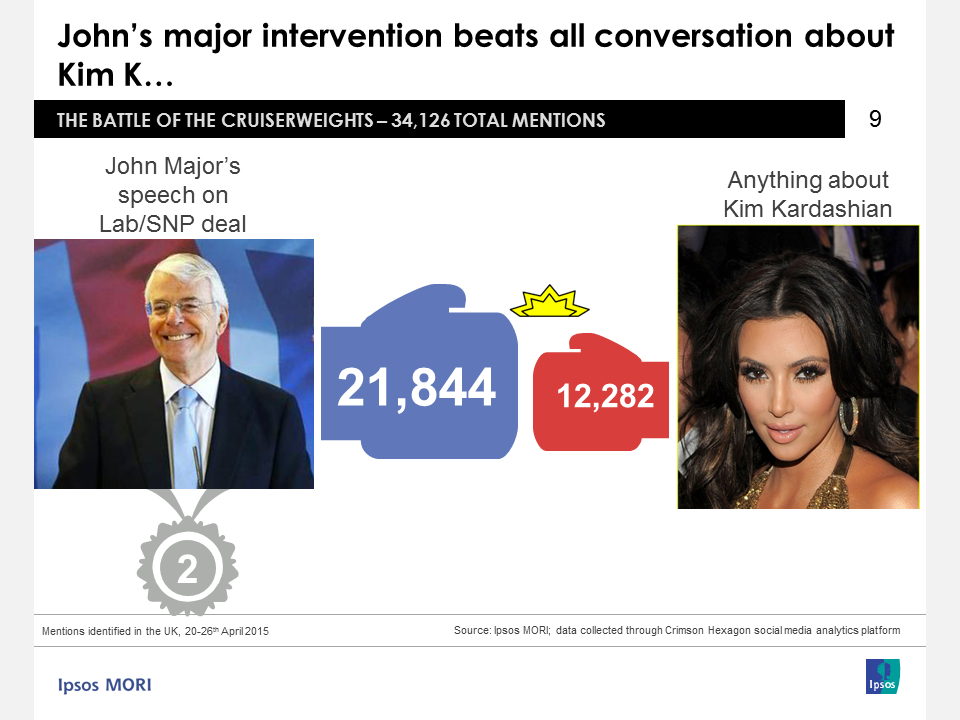 Steve Ginnis (Head of Digital Research at Ipsos MORI's Social Research Institute), said:
This analysis is a useful reminder that social media is not just a forum for celebrity gossip and slightly amusing gifs.  There has been a serious amount of political discussion through tools like Twitter – although a lot of that will have been irreverent and satirical.  As our previous research has shown, people say that social media is making political debates more accessible – and lowering the tone.

The extent to which this will actually affect how people vote is less clear – but we know its influence will grow: over a quarter of young people say social media will affect their vote, which is much greater than older generations. 
Data has been collected through the social media analytics platform Crimson Hexagon.

 

To allow for comparison with UK online news stories collected through Election Unspun, the data has been filtered to include only those mentions that are known to be inside the UK.

 

The volume of discussion will therefore be lower than all the total discussion that mentions the search terms, for example those for who it is not possible to determine location.
Moreover, the Twitter handles of the relevant account holders have not been included in the search terms in order to reduce the risk of data being biased by content generated by the author. For each search query, as much as 90-95% of the data identified was generated on Twitter.
For more information on our on-going testing of social media monitoring see https://ipsos-mori.com/researchareas/digitalresearch/sociallistening/wisdomofthecrowd.aspx