New Ipsos MORI research suggests the debates were a key battleground victory for Boris.  The research, run during the 6th of December debate, captured participants explicit response to the content (whether they stated they liked or disliked what was being said), and their visceral emotional reaction through Galvanic Skin Response (GSR) sensors.  This was supported by biometric sensor data, which tracked the level of emotional intensity with which viewers watched the debate. 
On balance, the debates were seen as interesting and engaging to viewers – more than celebrity entertainment shows though less than sports – but only a minority of viewers said the debates helped change their minds 
The debate programme received an emotional impact score of 13.04.  This is a relatively high score compared to prime-time celebrity entertainment shows (an average score of 11), although not at the level of live sporting events (which typically receive an average score of 16-26). 
According to our survey, though viewers were sceptical of whether voters were the primary beneficiaries of the televised debates, they were likely to agree that the format was interesting and engaging (47% agree vs 25% disagree), and that the debates contained high quality discussion (41% agree vs 28% disagree).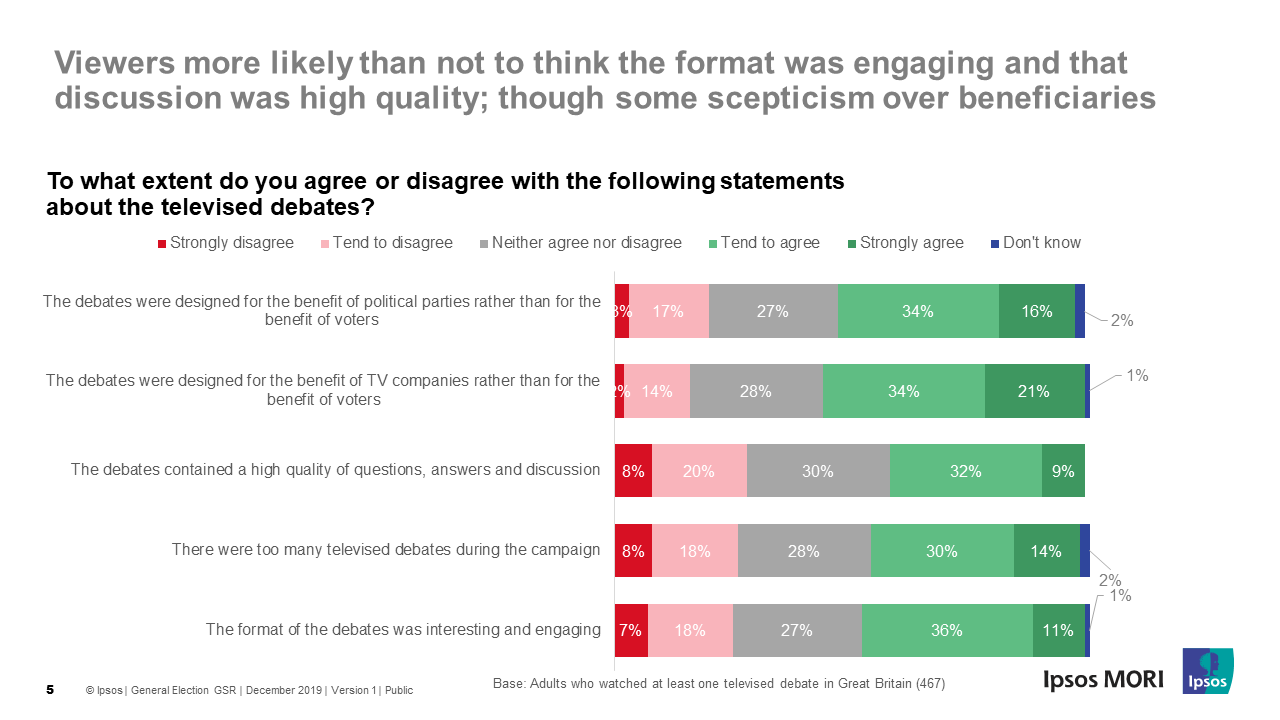 For most viewers, the debates were purely a form of entertainment that didn't impact on their vote choice. However, of those who watched the debates, a fifth (21%) said it helped them choose or switch parties.
The debates attracted most interest from younger viewers (61% claimed to have watched at least one vs. 49% overall) and voters who chose Labour in 2017 (62%).  These groups were also the most likely to say that the TV debates helped them choose a party.  This points to a portion of the electorate who were looking to the debates to help them make up their mind.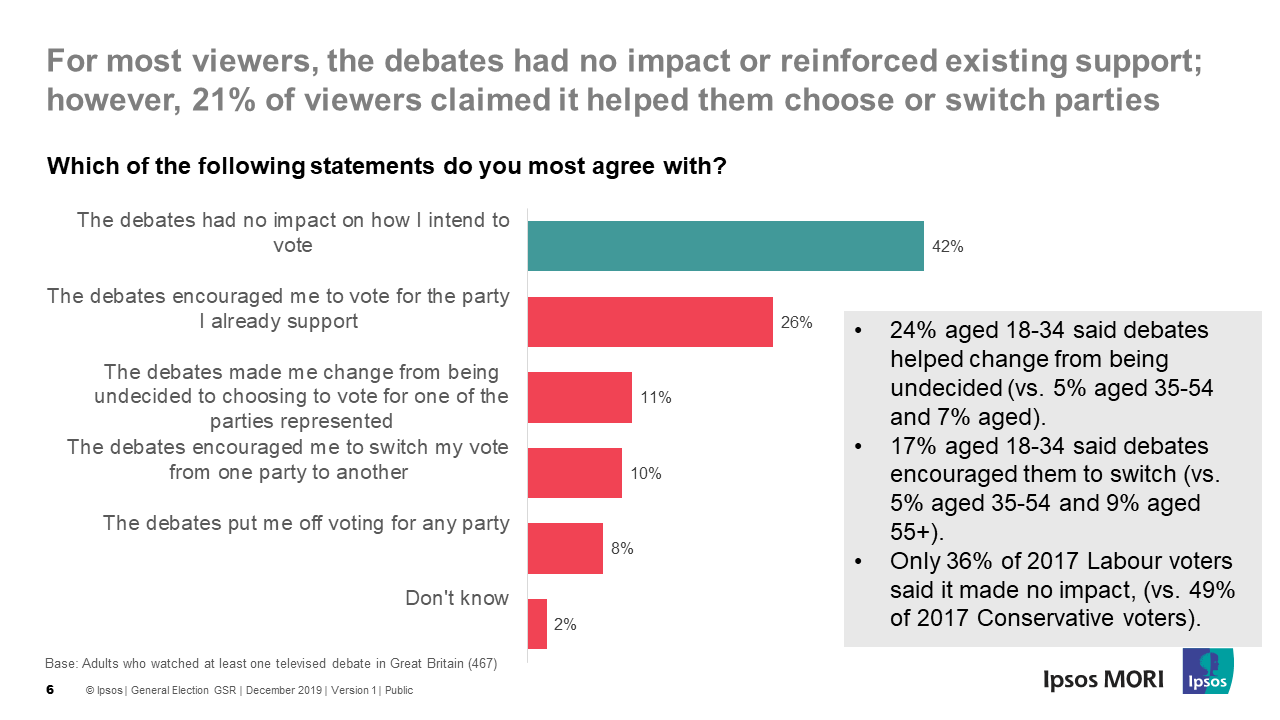 Biometric sensor data shows Boris was a clear winner in capturing a greater level of emotional intensity during the final PrimeMinisterial debate; even though viewers claim not to enjoy politicians criticising opponents
The GSR sensors show that Johnson secured greater moments of emotional impact throughout the debate. He captured greater arousal from participants in discussing his plans for the country, but he was also particularly effective at criticising Corbyn. Though our survey showed viewers claim to dislike criticism of opponents; the GSR sensors suggest that if done well, these moments are critical to galvanising viewers.
The performance of Johnson was vindicated in the reflections of our GSR participants, who narrowly felt that Johnson had performed better than Corbyn (52% vs 48%).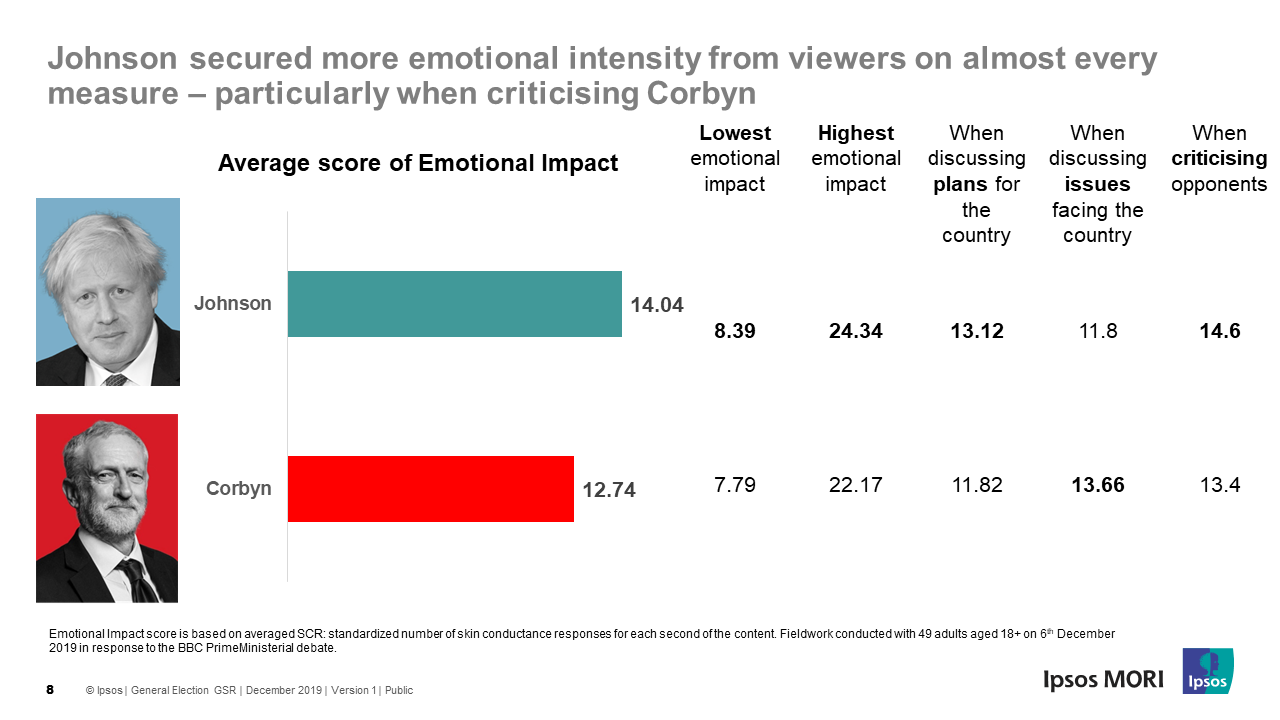 Social media data suggests Brexit was a key area of debate, though biometric sensor data shows that viewers were largely tired of the detail.
Of the 11,000 comments we captured on social media during the debate, 30% were related to Brexit.  This was nearly twice the volume of comments on all other domestic policy issues combined together – this was clearly the 'Brexit election'. 
However, the GSR sensor data shows that our participants were largely tired and unengaged in the discussion on Brexit. Brexit received the lowest score of emotional impact of all policy issues – suggesting that voters were keen to Get Brexit Done too. Here there was also a clear difference between the two leaders, where Johnson received an above average level of emotional intensity when discussing Brexit, Corbyn received one of the lowest levels of intensity of the night when attempting to explain his position.
However, the debates also pointed to a clear victory for truth and honesty.
The final few questions of the debate which discussed hate and trust in politics were by far the highest moments of emotional intensity captured during the debate. Viewers were more than twice as engaged in this issue than Brexit (an emotional impact score of 23.14 compared to 9.12). 
Truth, honesty and credibility were also the most common topics trending on social media; and this was most commonly associated with Johnson. 'Lying' was the 9th most frequently mentioned key word in the context of Johnson, and two out of the top 5 most interacted with tweets related to the debate were focused on Johnsons perceived dishonesty. This will clearly be a key issue in defining the success of Johnson's premiership.  
Pippa Baily, Director at Ipsos MORI, said:
Developments in technology and science are allowing us as researchers to get a more holistic and balanced view of people's attitudes, motivations and behaviours.  Critically it is the blending of insights from these different research techniques, including biometric responses and social intelligence alongside traditional surveys, which is delivering a more accurate reflection of reality.
Notes to Editor 
Survey data taken from an online survey of 1,134 adults aged 18+ in Great Britain.  Fieldwork was conducted 6th – 9th December 2019.  
In partnership with MindProber, Ipsos MORI recruited 49 participants to watch the PrimeMinisterial debate on 6th December in their own homes whilst using Galvanic Skin Response (GSR) sensors. GSR refers to changes in sweat gland activity (usually measured in the palm of the hand or fingertips) that indicate the level of emotional arousal in response to stimuli that an individual is exposed to. GSR does not provide whether the response is positive or negative.To capture this, participants used a like/dislike rating which they could provide at any point in their viewing of the debate.  
Analysis of the GSR data reports on two measures: 
Emotional Intensity: standardized electrodermal activity (EDA) – a measure of variance within subject tonic activity during the debate;
Emotional Impact: averaged skin conductive response (SCR) – standardised number of skin conductance responses for each second of the content.
Analysis of social media content was conducted on 11,061 comments posted on social media during the Prime Ministerial debate on 6th Dec (between 8-10pm) that explicitly referenced the debate or one of the candidates.
Download