Economic optimism falls to lowest level since February
Over half of Britons think the economy will get worse over the next 12 months.
Ipsos MORI's latest Political Monitor shows that economic optimism fell to its lowest level in September since February, even before the stories about fuel shortages this weekend.
Just over half of Britons (53%) think the economy will get worse over the next 12 months (+14 pts from August), 31% better (-13), giving a net Ipsos MORI Economic Optimism Index score of -22. This is the lowest net Index score since February 2021 (when it stood at -31), and the largest monthly increase in pessimism since March 2020 at the start of the pandemic.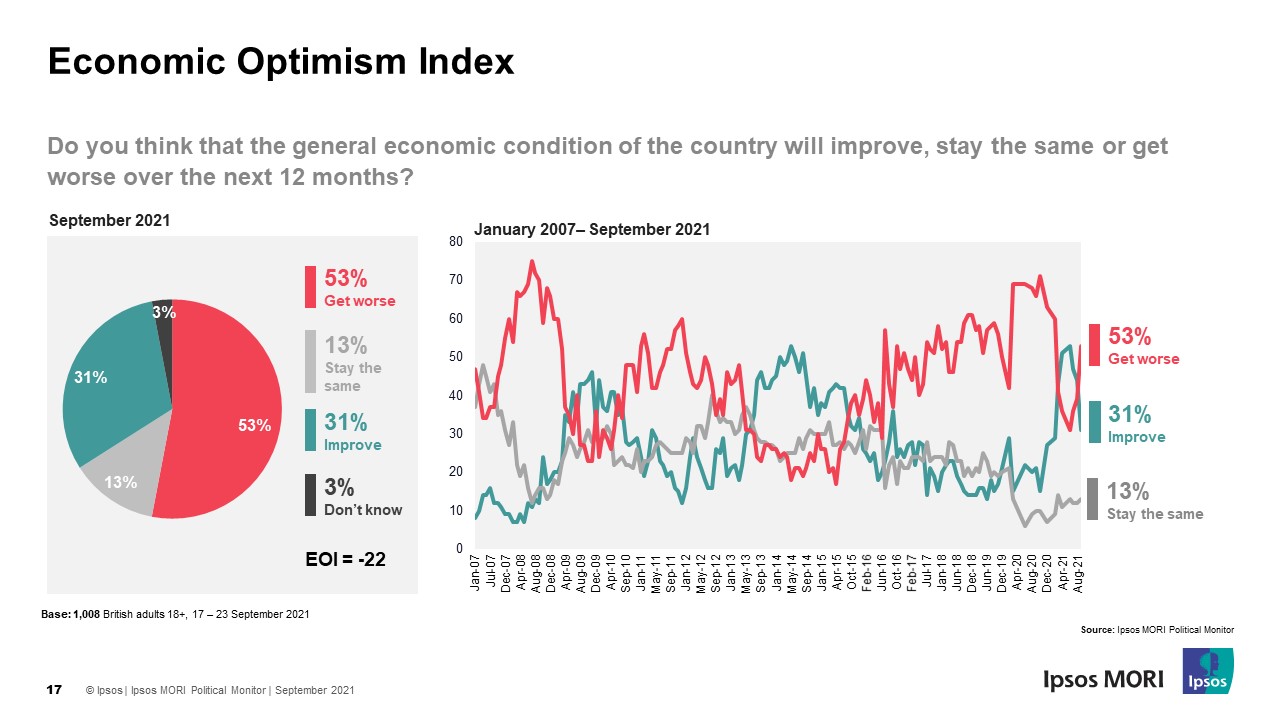 Pessimism is higher among women (61% think the economy will get worse, vs 44% of men), public sector workers (61%), renters (60%) and those aged 35-54 (58% get worse). Just over half (54%) of Conservative supporters think the economy will improve (down 9 points since last month), compared with 21% of supporters of other parties (down 16 points).
Gideon Skinner, Head of Politics at Ipsos MORI, says of the findings:
The relative optimism we saw for the economy as vaccines were rolled out earlier this year has been replaced with pessimism, and the rate of concern seems to be accelerating. Women, the middle-aged, renters and public sector workers are among the most concerned about the economy's prospects, but worries are increasing across the board. And with fieldwork carried out before the stories of shortages this weekend, this is likely to be something that continues to concern the Government as we head into the autumn.
Technical note
Ipsos MORI interviewed a representative sample of 1,008 adults aged 18+ across Great Britain. Interviews were conducted by telephone: 17th to 23rd September 2021. Data are weighted to match the profile of the population. All polls are subject to a wide range of potential sources of error.