Economist/Ipsos MORI April 2013 Issues Index
Though concern about the economy remains paramount there are indications that concern about poverty and welfare is on the increase.
Concern about the economy falls to lowest point in over three years though it remains the issue of most concern to the British public, though worry about unemployment, poverty and homelessness rises.
The Economist/Ipsos MORI April Issues Index shows that, as the UK avoids an unprecedented triple-dip recession, half (49%) of the public now mention the economy as among the most important issues facing Britain today. However, it is still the issue that dominates the agenda, with a 16 point lead over the second place issue, unemployment.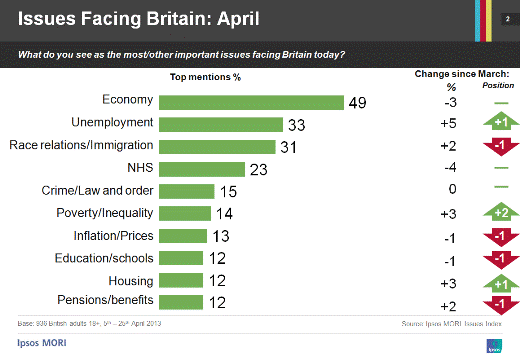 Concern about the economy peaked at 71% when the coalition government came to power, and has fallen by 22 percentage points since then. This fall is much more acute amongst those aged 55+ (from 75% to 51%) but less so amongst those living in the "commuter belt" – the South east excluding London where it has only fallen from 76% to 65%.
With a third (33%) who now mention unemployment, a five percentage point increase since March, it returns as the second most important issue facing the country. This comes as unemployment increased by 70,000 to 2.56 million between December and February, the largest quarterly rise since Autumn 2011.
Concern about race/immigration is now at its highest level (31%) since June 2011. Around a quarter (23%) are concerned about the NHS, and one in seven (15%) concerned about crime.
In the month in which the coalition government's welfare reform measures have come into place, there are some increases in related areas of concern; 14% are concerned about poverty/inequality, the equal highest percentage to be so. Also, 12% are now concerned about housing, the highest in four years, and the same percentage are concerned about pensions/benefits, the highest in seven years.
Technical note
Ipsos MORI's Issues Index is conducted monthly and provides an overview of the key issues concerning the country. Ipsos MORI interviewed a representative quota sample of 936 adults aged 18+ across Great Britain. The questions are spontaneous - i.e. respondents are not prompted with any answers.  Ipsos MORI's Capibus vehicle was used for this survey. Interviews were conducted face-to-face in-home between 5th-25th April 2013 in 200 sampling points across Great Britain. Data are weighted to match the profile of the population.