Economist/Ipsos MORI August 2013 Issues Index
Concern about the economy falls to the lowest point in five years as concern about race/immigration rises to meet it. Poverty and housing also rise in prominence.
Concern about the economy falls to the lowest point in five years as concern about race/immigration, poverty and housing rises
The August Economist/Ipsos MORI Issues Index shows that, though it remains the most important issue facing Britain today, mentioned by 43% of the public, concern about the economy has fallen by eight percentage points since last month, and is at the lowest level of concern since August 2008. This comes after George Osborne's claim last month that the UK economy is "on the mend". It also coincides with our recently released Political Monitor data, showing economic optimism at a three and a half year high.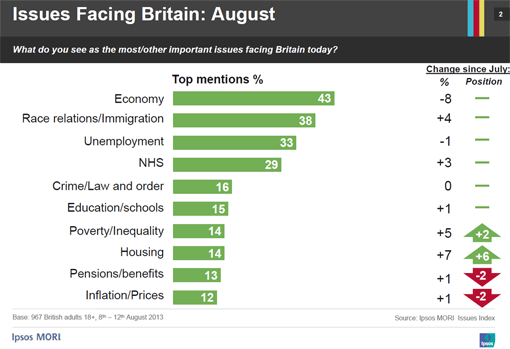 Conversely, concern about race relations/immigration has now increased by four percentage points to 38%; the highest level of concern since May 2010, the month in which the coalition came to power. Concern is higher amongst those aged 55+ (49%), those in the north of England (47%), and those in the Midlands (45%), indeed, amongst these groups, concern about race/immigration is higher than concern about the economy.
A third (33%) are concerned about unemployment, with three in ten (29%) now concerned about the NHS, the highest level of concern since January 2008.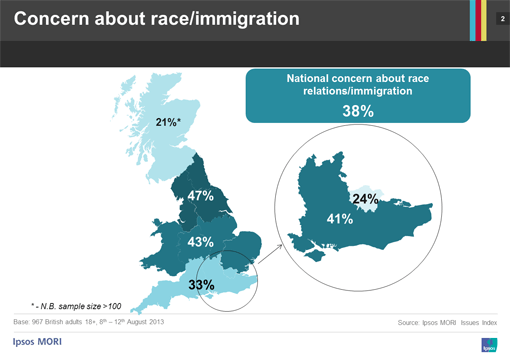 Two issues that dropped away last month but have seen concern rise this month are poverty/inequality and housing. Both now stand at 14%, following rises of 5 and 7 percentage points respectively. Indeed, concern about housing is now at its highest point since May 2008, and coinciding with figures showing that house prices have recently returned to a level not seen since before the 2008 financial crisis.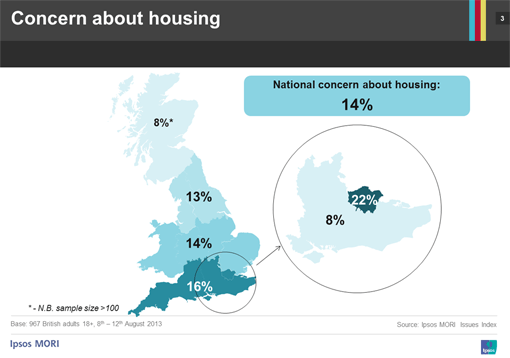 Technical note
Ipsos MORI's Issues Index is conducted monthly and provides an overview of the key issues concerning the country. Ipsos MORI interviewed a representative quota sample of 967 adults aged 18+ across Great Britain. The questions are spontaneous - i.e. respondents are not prompted with any answers.  Ipsos MORI's Capibus vehicle was used for this survey. Interviews were conducted face-to-face in-home between 2nd-8th August in 166 sampling points across Great Britain. Data are weighted to match the profile of the population.