Economist/Ipsos MORI December Issues Index
Our final Issues Index of 2012 shows the list of issues of most concern to the British public in the run up to Christmas, with a comparison to the local issues that fill up MP's postbags.
The most important issues facing Britain nationally and locally at the end of 2012
As 2012 draws to a close, the final Economist/Ipsos MORI Issues Index of the year shows that over half of the public (55%) are concerned about the economy, and it remains the most important issue facing Britain today, an accolade it has held since September 2008.
Three in ten (30%) are concerned about a related issue, unemployment, though this is the lowest level of concern in over a year, following the announcement of the biggest quarterly fall in unemployment in over 10 years.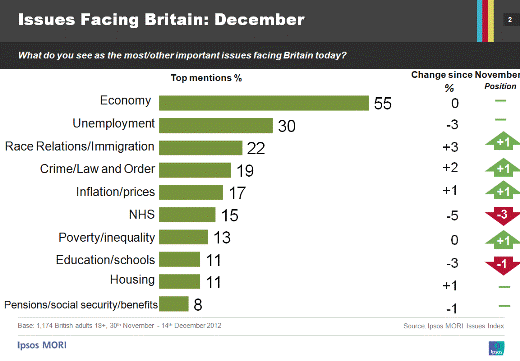 Around a fifth (22%) are concerned about race/immigration, an increase of 3 percentage points since last month, and a similar percentage (19%) are concerned about crime, with 17% concerned about inflation/prices. Thirteen percent of the public are concerned about poverty/inequality, the highest level of concern this century, with the announcement that there will be an extra 300,000 people in fuel poverty this winter. However it is younger people who are more likely to be concerned about this issue; 22% of those aged 18-24 mention it compared with 11% of those aged 65 or older.
Fewer (15%) mention the NHS as among the most important issues facing Britain, a drop of five percentage points since last month, and the lowest level of concern since May 2009.  
The Economist/Ipsos MORI Issues Index provides a long-running barometer of national concerns while other Ipsos MORI polls measure local concerns or priorities for improvement. Polls are snapshots measuring top-of-mind responses to questions but there are other sources of evidence about what issues are biting politically. For example, 78% of the 118 MPs surveyed by Ipsos MORI this year shows that they report receiving more contact from constituents about housing than a range of other subjects including pensions and social security (both 63%), and the health service (62%).
The Issues Index has housing as, at best, a second-order issue; currently one in nine (11%) cite it as amongst the most important issues facing Britain today. However, it is either the most mentioned, or joint-most mentioned subject among MPs from each of the three main political parties. It is the most frequently cited topic among Labour MPs (81%) while Conservative MPs put it on a par with the health service (74%) as the subject they receive most contact about.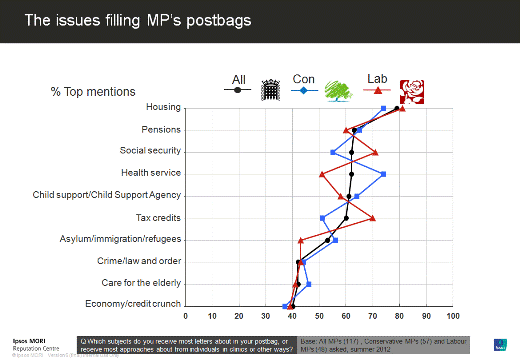 Some of this contact is likely to be about local matters and individual circumstances, as well as issues correspondents considered worthy of their constituency MPs' attention or potential help. Notably, the economy and unemployment are further down the list as subjects MPs receive most contact about – identified by 40% and 38% respectively – but these consistently feature as the top two issues of national public concern as measured by the Issues Index.
Technical note Ipsos MORI's Issues Index is conducted monthly and provides an overview of the key issues concerning the country. Ipsos MORI interviewed a representative quota sample of 969 adults aged 18+ across Great Britain. The questions are spontaneous - i.e. respondents are not prompted with any answers.  Ipsos MORI's Capibus vehicle was used for this survey. Interviews were conducted face-to-face in-home between 2nd-18th Nov 2012 at 139 sampling points across Great Britain. Data are weighted to match the profile of the population.
C.100 interviews were conducted face-to-face with MPs in summer 2012.