Economist/Ipsos MORI February 2012 Issues Index
Though unemployment appears to be breaking away from the chasing pack as an issue of public concern, it still has some way to go before it reaches the same level as the economy, mentioned by around two thirds (64%) of the public, also an increase (of three percentage points) since January.
Two fifths of Britons are now concerned about unemployment, as concern about the NHS also increases
The Economist/Ipsos MORI Issues index shows that, this month, around two fifths (38%) are concerned about unemployment – a five percentage point increase since January. Concern about unemployment has been increasing steadily since August of last year, when a quarter (26%) mentioned it, and it has been the second most important issue facing Britain since the end of 2011. Those more likely to mention it include those aged 18-44 (42%), those in social grade DE (47%) and Labour voters (51%).
This means that the top two issues facing the country are now firmly established as the economy (64%, up three points since January) and unemployment.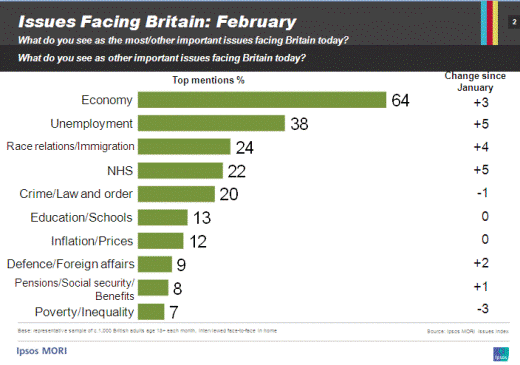 Additionally, in a month which there has been much coverage of alleged racial abuse amongst premiership footballers, there has been an increase (of four percentage points) in concern about race relations/immigration; a quarter (24%) mention this issue as  among the most important facing the country.
There has also been an increase in concern about the NHS; 22% mention this issue – up from 17% in January, in which time there has been much comment and debate about the government's proposed reforms to the NHS.
Such increases draw attention away from other issues; for example just 2% are concerned about pollution/environment, the lowest since July 2004. Also at 2%, concern about constitutional affairs is the highest this century, though it will be interesting to see if this becomes a more prevalent issue as the debate over Scottish independence intensifies.
Technical note
Ipsos MORI's Issues Index is conducted monthly and provides an overview of the key issues concerning the country. Ipsos MORI interviewed a representative quota sample of 945 adults aged 18+ across Great Britain. The questions are spontaneous - i.e. respondents are not prompted with any answers.  Ipsos MORI's Capibus vehicle was used for this survey. Interviews were conducted face-to-face in-home between 3rd-15th Feb 2012 across Great Britain. Data are weighted to match the profile of the population.