Economist/Ipsos MORI February 2013 Issues Index
Concern about immigration and poverty increases though our chief concern about economic issues remains unmoved
Concern about immigration and poverty increases though our chief concern about economic issues does not change
The February Economist/Ipsos MORI Issues Index shows that the economy continues to dominate the list of the most important issues of concern to the public. As was the case last month, 52% of the public place it among the most important issues facing Britain today, and for a third (34%) it is the most important issue of all.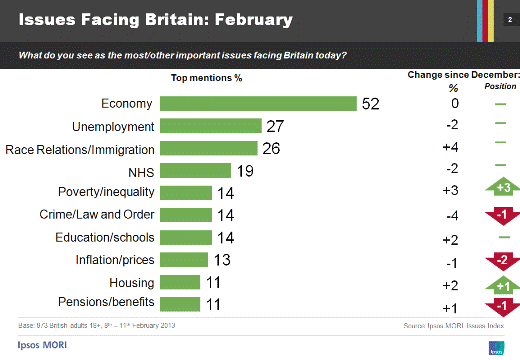 Around a quarter (27%) are concerned about unemployment, though concern about this issue has been steadily decreasing since it reached 40% in April last year. It is now at its lowest level in 18 months, matching the news in the job market, showing the lowest level of unemployment since early 2011.
However, concern about race relations/immigration has increased by four percentage points since last month and is now at a similar level to unemployment (26%), though it remains to be seen if it will continue this rise.
It is different subgroups that are driving the concern about these different issues, with those in the North of England, Labour voters, and those aged 18-24 more likely to mention unemployment, whereas those in the South East of England outside London, Conservative supporters and those aged 55+ are more likely to mention race relations/immigration. In the South East excluding London this issue has risen by 12 percentage points since January.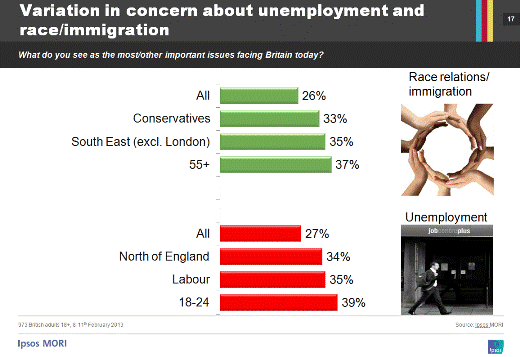 A fifth (19%) mention the NHS as among the most important issues facing Britain, a fall of two percentage points, however much of the fieldwork was conducted prior to much of the publicity around the report into the Mid Staffs public inquiry. Allied with our economic concerns, one in seven (14%) mention poverty/inequality, the highest since September 1999, and, is along with that month, the highest level of concern we have ever recorded. The same percentage (14%) are concerned about crime, another issue where concern is in decline, as official figures show the lowest level of crime since 1978.
One in ten (9%) are concerned about EU/Europe, an increase of three percentage points, and the highest level of concern since January 2011.
Technical note
Ipsos MORI's Issues Index is conducted monthly and provides an overview of the key issues concerning the country. Ipsos MORI interviewed a representative quota sample of 973 adults aged 18+ across Great Britain. The questions are spontaneous - i.e. respondents are not prompted with any answers.  Ipsos MORI's Capibus vehicle was used for this survey. Interviews were conducted face-to-face in-home between 8th-11th February at 152 sampling points across Great Britain. Data are weighted to match the profile of the population.