Economist/Ipsos MORI Issues Index April 2011
Rise in concern about the economy and defence/foreign affairs amid the Portuguese bailout and Libya crisis
Rise in concern about the economy and defence/foreign affairs amid the Portuguese bailout and Libya crisis  
The April Economist/Ipsos MORI Issues Index shows an increase in concern about the economy; as negotiations continue around the €80 billion Portuguese bailout package, three fifths (62%) of the public mention the economy as one of the most important issues facing Britain today. This is the highest level of concern about this issue since July 2010.
With the continuation of the conflict in Libya, around a fifth (22%) are concerned about defence/foreign affairs – an increase of ten percentage points since February, and the highest level of concern since November 2009. We have explored this issue and its historical context in more detail on our blog – the 'Politics Wire'.
A quarter (24%) of the public are concerned about unemployment. It is less affluent young men who are more likely to mention this; 27% of men and those aged 18-44 do so, along with a third (32%) of those in social grade DE.
This month, fewer (17%) mention race relations/immigration – the lowest percentage to do so since April 2002. This is the first time in 18 months that this has not been among the top 3 issues, and it will be interesting to see if this is merely a product of temporary concerns about our involvement in Libya or the start of a long term downward trend.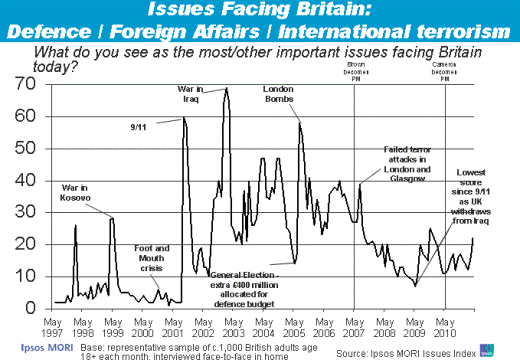 Technical note Ipsos MORI's Issues Index is conducted monthly and provides an overview of the key issues concerning the country. Ipsos MORI interviewed a representative quota sample of 988 adults aged 18+ across Great Britain. The questions are spontaneous - i.e. respondents are not prompted with any answers.  Ipsos MORI's Capibus vehicle was used for this survey. Interviews were conducted face-to-face in-home between 1-7 April 2011 at 157 sampling points across Great Britain. Data are weighted to match the profile of the population.