Economist/Ipsos MORI Issues Index September 2011
Concern about unemployment rises to the highest level in over two years Concern about individual behaviour/morality also increases in the aftermath of the riots in England
Concern about unemployment rises to the highest level in over two years
Concern about individual behaviour/morality also increases in the aftermath of the riots in England
The September Economist/Ipsos MORI issues index shows that three in ten (30%) now see unemployment as amongst the most important issues facing the country. This is an increase of four percentage points since last month, and the highest level of concern that we have recorded since July 2009.
Fieldwork was carried out between the 2nd-8th September, prior to this week's release of figures showing an increase of 80,000 in the number of unemployed people. The official figures show that unemployment amongst those aged 16-24 increased by 78,000, and, indeed, those aged 18-24 are more likely to be concerned about this issue (36%). People aged 45-54 are also more worried about unemployment than the public as a whole.
The economy still dominates the list of important issues facing Britain, three fifths (59%) mention it, and this month marks exactly three years since it first dominated our issues Index.
Following on from the riots, concern about crime remains the highest in two years, at 29%. The percentage of people who are concerned about morality/individual behaviour has increased by five percentage points, to 11%. A similar phenomenon occurred in May 2009, when it increased by six percentage points as a result of the MPs expenses scandal.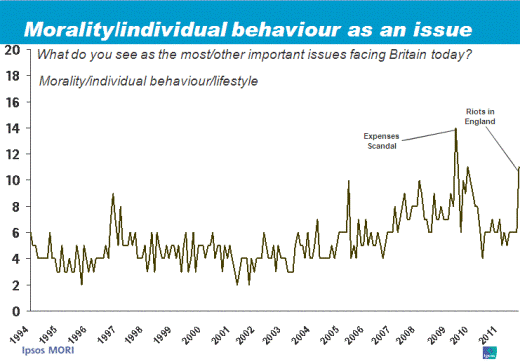 Conservative voters are more likely to mention this issue (17%) in a month in which Iain Duncan Smith, the work and pensions secretary was quoted as saying "This distorted morality has permeated our whole society, right to the very top".
Technical note Ipsos MORI's Issues Index is conducted monthly and provides an overview of the key issues concerning the country. Ipsos MORI interviewed a representative quota sample of 967 adults aged 18+ across Great Britain. The questions are spontaneous - i.e. respondents are not prompted with any answers.  Ipsos MORI's Capibus vehicle was used for this survey. Interviews were conducted face-to-face in-home between 2nd-8th September 2011 at 159 sampling points across Great Britain. Data are weighted to match the profile of the population.