Economist/Ipsos MORI January 2012 Issues Index
The first Economist/Ipsos MORI Issues index of 2012 shows that concern about the EU/Euro has increased and it has returned to the list of the top 10 issues facing Britain
Concern about Europe and the Euro continues to creep up, though the economy and unemployment remain the two issues of most concern
The first Economist/Ipsos MORI Issues index of 2012 shows that concern about the EU/Euro has increased and it has returned to the list of the top 10 issues facing Britain.  Nine percent of the public feel that this issue is among the most important facing the country, and this is particularly the case for those aged 55-64 and those voting Conservative (both 15%). It has steadily risen since September, when it was mentioned by 3%, and this is now the highest level of concern since June 2005, when 19% mentioned this issue in response to the refusal of French and Dutch voters to ratify the European Constitution.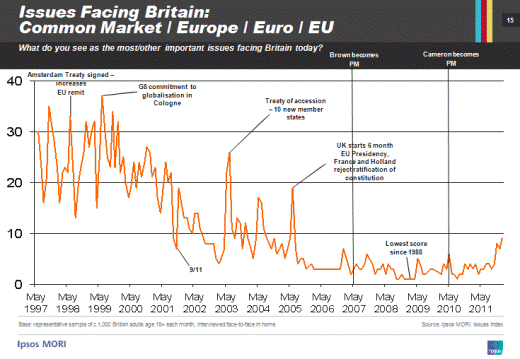 However, the economy remains the most important issue facing the country, with three fifths (61%) mentioning this issue as among those most important. Concern about the economy has not been lower than 60% since August of last year. Those most likely to be concerned include those in the South East (72%) and those in social class AB (73%).
Coincident with the announcement of another rise in unemployment, this remains the second most concerning issue to the public, a third (33%) mention it, rising to 41% of Labour voters, and those in the north of England and Scotland. Concern about unemployment has increased by seven points since August of last year.
Following on from this, around a fifth are concerned about two issues that, though often amongst the top four,  have been slowly declining in importance since peaking in 2006/7; crime (21%) and race relations/immigration (20%).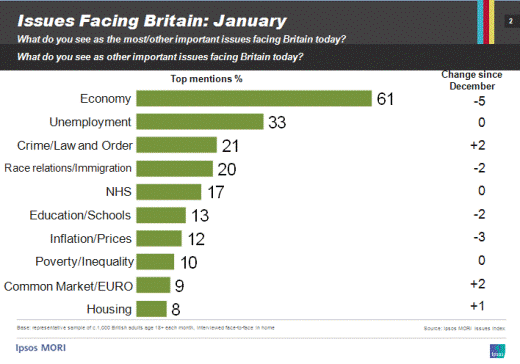 Technical note
Ipsos MORI's Issues Index is conducted monthly and provides an overview of the key issues concerning the country. Ipsos MORI interviewed a representative quota sample of 1,001 adults aged 18+ across Great Britain. The questions are spontaneous - i.e. respondents are not prompted with any answers.  Ipsos MORI's Capibus vehicle was used for this survey. Interviews were conducted face-to-face in-home between 6-12th Jan 2012 at 148 sampling points across Great Britain. Data are weighted to match the profile of the population.