Economist/Ipsos MORI January 2014 Issues Index
The first Economist/Ipsos MORI issues index of 2014 shows that concern about race relations/immigration has increased to become, jointly with the economy, the most important issue facing Britain
Concern about race relations/immigration is now on parity with the economy as the most important issue facing Britain today
The first Economist/Ipsos MORI Issues Index of 2014 shows that concern about race relations/immigration has increased by four percentage points and is at its highest point since April 2008. Two-fifths (41%) mention this issue, meaning that it is seen as, jointly with the economy, the most important issue facing Britain. Those who are more likely to mention race/immigration include men (45%), those living in the suburbs (50%) and those aged 55+ (54%)
Conversely, those who are more likely to cite the economy as among the most important issues include ABs (52%), those aged 45-54 (53%), and coalition supporters (54%). The economy has been the most important issue since September 2008, but this is the first month since then that its score has been matched.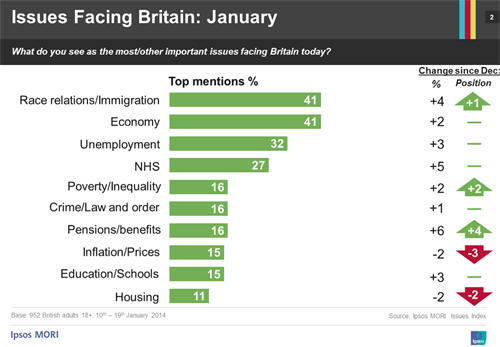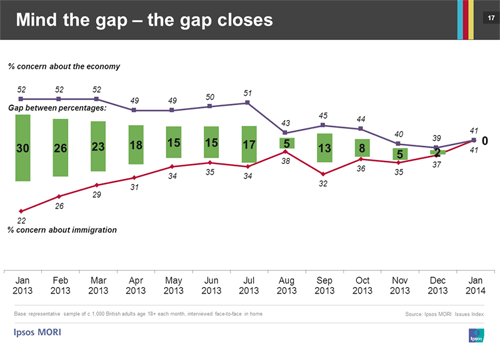 A third (32%) are concerned about unemployment, rising to 46% of those aged 18-24 and 43% of BME respondents – for both it is the most important issue facing Britain. Concern about the NHS has increased by five percentage points this month – 27% now mention this issue, and concern has risen by 12 percentage points since December 2012.
The top four issues have, despite changes in their order, remained constant since January 2013, and this month there is evidence of a clear divide between these four issues, and the remainder, separated by 11 percentage points.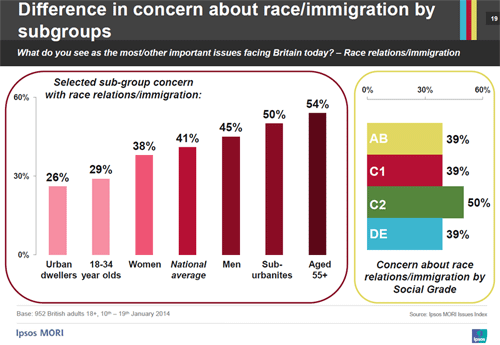 This month, 16% mention poverty/inequality, which is now the equal fifth most important issue facing Britain, and is, as was the case in November of last year, the highest level of concern we have ever recorded about this issue. The same percentage mention crime, as well as pensions/benefits – an increase of six percentage points since December and the highest level of concern about pensions/benefits we have recorded since May 2006.
Ipsos MORI Issues Index January 2014 from Ipsos MORI
Technical note
Ipsos MORI's Issues Index is conducted monthly and provides an overview of the key issues concerning the country. Ipsos MORI interviewed a representative quota sample of 952adults aged 18+ across Great Britain. The questions are spontaneous - i.e. respondents are not prompted with any answers.  Ipsos MORI's Capibus vehicle was used for this survey. Interviews were conducted face-to-face in-home between 10th-19th Jan in 952 sampling points across Great Britain. Data are weighted to match the profile of the population.