Economist/Ipsos MORI July 2012 Issues Index
The July Economist/Ipsos MORI issues index shows that concern about race relations/immigration has increased, along with concern about the NHS.
The public are still most concerned about the economy and unemployment, though worry about race/immigration and the NHS has increased
The July Economist/Ipsos MORI issues index shows that the percentage of those concerned about race relations/immigration has increased by seven points to 26%. This is the highest level of concern about this issue since July 2011, in the wake of John Terry's trail for racial abuse, and subsequent acquittal, delays in airports, and the announcement of a large backlog of cases by the UK Border Agency[1].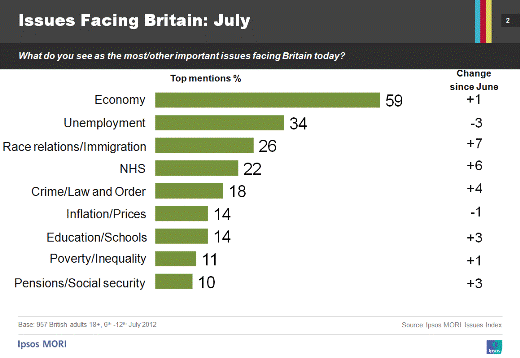 Concern is much more pronounced in the South East outside London (39%) than it is in the capital itself (11%), in fact it has changed little since June in the capital, whereas in the outlying region it has increased by 16 percentage points.
Concern about the NHS has also risen, by six percentage points to 22%, in the wake of the recent industrial action by doctors, and the percentage mentioning pensions/benefits has also risen by 3 percentage points, to 10%, in the aftermath of the care and support white paper.
However, it is the economy that still dominates public concern, with three fifths (59%) who mention it amongst the most important issues facing the country. In second place is unemployment, an issue mentioned by a third (34%) of the public, though this issue has slightly decreased, in line with the recent announcement that the number of unemployed has fallen for the fourth successive month.
Around a sixth (18%) are concerned about crime, as ONS data shows that recorded crime has fallen to below the four million mark for the first time since 1989. Concern about poverty and inequality has risen, from 6% in May 2011, to 11%, the highest figure since 1999.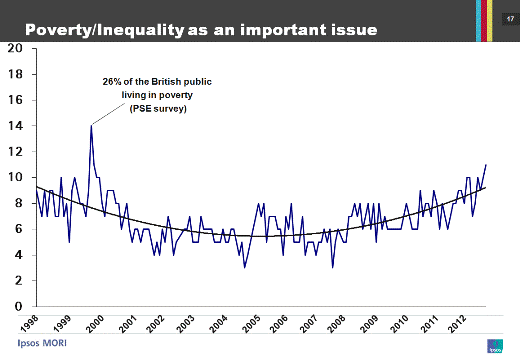 As is most often the case, just 1% of the public are concerned about constitutional reform, despite the recent Commons debates and votes on reform of the House of Lords. Our polling for the Evening Standard has shown that this issue is low on the list of public concerns, with just 7% who believe it should be a priority, and 72% saying there are other more important things the government should concentrate on, though they support reform in principle.
Technical note
Ipsos MORI's Issues Index is conducted monthly and provides an overview of the key issues concerning the country. Ipsos MORI interviewed a representative quota sample of 957 adults aged 18+ across Great Britain. The questions are spontaneous - i.e. respondents are not prompted with any answers.  Ipsos MORI's Capibus vehicle was used for this survey. Interviews were conducted face-to-face in-home between 6th-12th July 2012 at 150 sampling points across Great Britain. Data are weighted to match the profile of the population.
---
[1] http://www.guardian.co.uk/uk/2012/jul/23/mps-border-agency-backlog?newsfeed=true