Economist/Ipsos MORI June 2013 Issues Index
The highest level of concern about poverty/inequality that we have ever recorded as the gap between race/immigration and the economy narrows.
Though half still mention the economy, the gap between it and race/immigration has narrowed over the long term.
Elsewhere, more are concerned about poverty/inequality than ever before, while concern about terrorism and crime has also increased.
The Economist/Ipsos MORI Issues Index shows that half of the public still mention the economy amongst the most important issues facing Britain, as has been the case since the beginning of the year. This comes despite our recording of the highest economic optimism in three years, and, though the percentage placing the economy amongst the most important issues is relatively stable, those citing the economy as the most important issue has fallen from 38% in December to 28% this month. This may indicate a slight reprioritisation of concern about this key issue.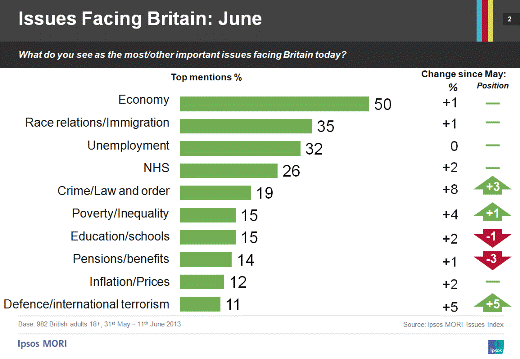 Second to the economy is concern about race/immigration, mentioned by 35% of the public; and as with last month this is the highest level of concern since the coalition came to power.
Indeed, the 'gap' between these two issues is now only 15 percentage points, a fall from 39 percentage points this time last year. An Ipsos/CGI/Publicis survey conducted internationally in April hints at the link between them – it shows that over half (55%) of the British public think the level of immigration needs to be addressed in order to end the financial crisis.
Brits say #immigration key to solving economic crisis; other nations think higher taxes key http://t.co/l9K329at1R pic.twitter.com/WOyWrujEe2

— Ipsos MORI (@IpsosMORI) May 30, 2013
This is much higher than other European countries, who are more inclined to feel that high taxation needs to be looked at.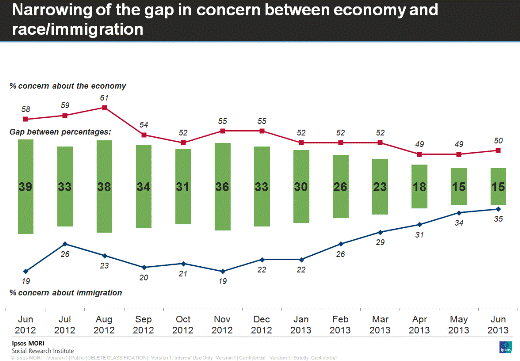 A third (32%) remain concerned about unemployment with a quarter (26%) concerned about the NHS. Concern about crime has increased by 8 percentage points to 19% after last month's historic low, and concern about defence/terrorism has also increased by five percentage points to 11%. This is the first issues index conducted since the murder of Lee Rigby.
Concern about poverty/inequality now stands at 15% - the highest level of concern we have ever recorded for this issue. Concern is higher amongst women and those aged 18-34 (both 18%) compared with men and those aged 55+ (both 12%).
Also, concern about pensions/benefits continues to rise; 14% are now concerned about this issue, the highest level in seven years.
 Technical note
Ipsos MORI's Issues Index is conducted monthly and provides an overview of the key issues concerning the country. Ipsos MORI interviewed a representative quota sample of 982 adults aged 18+ across Great Britain. The questions are spontaneous - i.e. respondents are not prompted with any answers.  Ipsos MORI's Capibus vehicle was used for this survey. Interviews were conducted face-to-face in-home between 31st May - 11th June in 167 sampling points across Great Britain. Data are weighted to match the profile of the population.