Economist/Ipsos MORI March 2013 Issues Index
The economy remains the most important issue facing Britain however unemployment loses its second place spot to race/immigration.
In anticipation of George Osborne's fourth budget our Economist/Ipsos MORI Issues Index, conducted in the first two weeks of March shows that the economy remains the most important issue facing Britain today; half of the public (52%) mention this issue, as has been the case since January.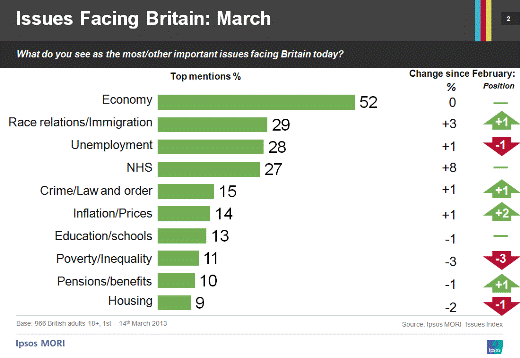 Three in ten (29%) are concerned about race/immigration, an increase of seven percentage points since January, and it is now the second most important issue facing Britain. Those who are more likely to mention this issue include those aged 65+ (41%) and Conservative voters (36%) compared with Labour voters and those aged 18-24 (both 18%).
Unemployment has consistently been the second most important issue since the summer of 2011, but, despite a 1% increase since February, and a small rise in the unemployment figures announced yesterday, this issue seems to be on a downward trajectory, having fallen from 40% in April 2012.
However, NHS, which is third in the 'chasing pack' of issues has seen a marked increase in concern, of 8 percentage points, since February, following the fallout from the Francis inquiry into the Mid Staffs PCT. This is the highest level of concern in over 5 years, and is much more prevalent amongst those in the social grade AB (34%) compared with DEs (20%). However, in the context of historical concern, this increase is much less significant.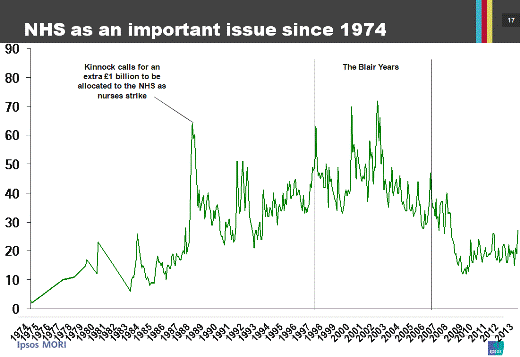 Technical note
Ipsos MORI's Issues Index is conducted monthly and provides an overview of the key issues concerning the country. Ipsos MORI interviewed a representative quota sample of 966 adults aged 18+ across Great Britain. The questions are spontaneous - i.e. respondents are not prompted with any answers.  Ipsos MORI's Capibus vehicle was used for this survey. Interviews were conducted face-to-face in-home between 1st-14th March at 148 sampling points across Great Britain. Data are weighted to match the profile of the population.