Economist/Ipsos MORI November Issues Index
Concern about unemployment rises to highest level this century, and concern about Europe/EU is now highest in over six years (though mentioned by fewer than one in ten)
Concern about unemployment rises to highest level this century, and concern about Europe/EU is now highest in over six years (though mentioned by fewer than one in ten)
The November Economist/Ipsos MORI Issues index shows that a third of the public (32%) place unemployment amongst the most important issues facing the country, the highest percentage to do so since November 1998.
In the month in which it was announced that the youth unemployment rate has surpassed the 1 million mark, with the unemployment rate for 16 to 24-year-olds standing at more than double the rate for the wider population, it is the young who are most concerned about this issue; 43% of those aged 18-24 mention unemployment, along with 38% of those in social grade DE (compared with 27% of those aged 65+ and 28% of those in social grade AB).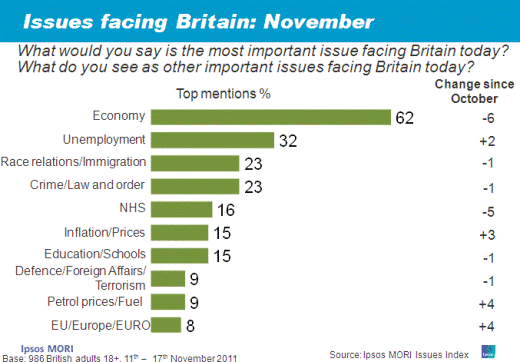 The economy remains the issue of most concern to the public, however, with over three fifths (62%) concerned about this issue, though this is a fall of six percentage points since October. Those who are more likely to be concerned include Conservative voters (74%) and those in social grade AB (73%).
Behind these two economic issues lies concern about two key societal issues; around a quarter (23%) are concerned about both crime and race relations/immigration. Around one in six (16%) of the public mention the NHS as among the most important issues, a fall of five percentage points since October.
Concern about Europe/EU has risen to 8% in the wake of the eurozone debt crisis, the highest percentage since June 2005. Those who are more likely to mention this issue include those aged 65+ (15%).
Technical note
Ipsos MORI's Issues Index is conducted monthly and provides an overview of the key issues concerning the country. Ipsos MORI interviewed a representative quota sample of 986 adults aged 18+ across Great Britain. The questions are spontaneous - i.e. respondents are not prompted with any answers.  Ipsos MORI's Capibus vehicle was used for this survey. Interviews were conducted face-to-face in-home between 11th- 17th November 2011 at 146 sampling points across Great Britain. Data are weighted to match the profile of the population.