Economist/Ipsos MORI October 2013 Issues Index
In a month in which energy prices have dominated many of the headlines, a fifth of the public (19%) are now concerned about prices/inflation. This is an increase of 8 percentage points since September
Concern about prices/inflation increases sharply, though the top four issues facing Britain remain unchanged for the tenth consecutive month.
The Economist/Ipsos MORI October Issues index shows that, in a month in which energy prices have dominated many of the headlines, a fifth of the public (19%) are now concerned about prices/inflation. This is an increase of 8 percentage points since September, and concern is highest amongst those in social grades C2DEand those aged 35-54 (both 25%) compared with those aged 55+ and in social grades ABC1 (both 15%).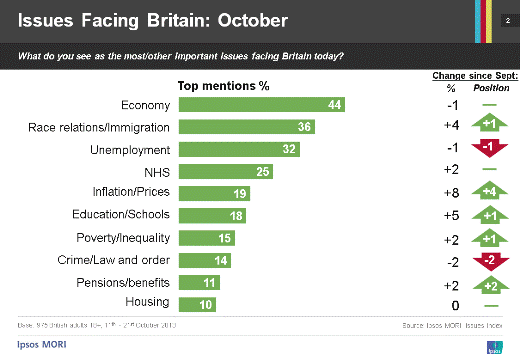 Meanwhile, the economy remains the most important issue facing Britain today, mentioned by 44% of the public. In second place is race relations/immigration, which is mentioned by 36% of the public, an increase of 4% since last month, and an increase of 17 percentage points since November last year. Indeed, concern about this issue seems to be on the rise despite the fact that net migration, last measured in 2012, has been falling for the past 2 years.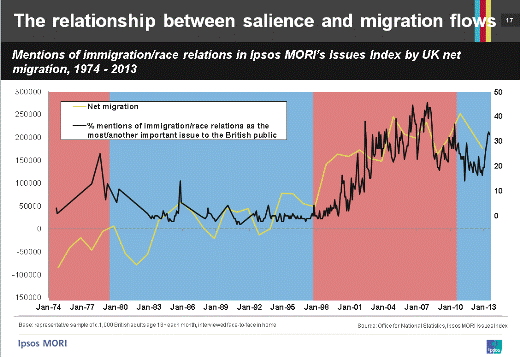 A third (32%) are concerned about unemployment, and a quarter (25%) are concerned about the NHS. Indeed these top four issues have been the same since the beginning of the year, though race/immigration and unemployment have alternated in second position. 18% are now concerned about schools/education, the highest level in 16 months, as the debate about free schools continues. One in seven (15%) are concerned about poverty/inequality, which, matching the June 2013 score, is the highest we have ever recorded.
 Technical note
Ipsos MORI's Issues Index is conducted monthly and provides an overview of the key issues concerning the country. Ipsos MORI interviewed a representative quota sample of 975 adults aged 18+ across Great Britain. The questions are spontaneous - i.e. respondents are not prompted with any answers.  Ipsos MORI's Capibus vehicle was used for this survey. Interviews were conducted face-to-face in-home between 11th-21st October in 175 sampling points across Great Britain. Data are weighted to match the profile of the population.