Goodwill Hunting
Who matters to a company? And who do they think matters? How effectively does business believe it is managing its key relationships? All of this is revealed in a new MORI report, based on large-scale surveys of opinion leaders in Britain today.
Goodwill Hunting - The Importance of Stakeholder Relationships to Business Success
Who matters to a company? And who do they think matters? How effectively does business believe it is managing its key relationships? All of this is revealed in a new MORI report, based on large-scale surveys of opinion leaders in Britain today.
Among the most striking findings is the recognised importance of employee goodwill to business success. Recognising their contribution to effective customer relationships, Captains of Industry say that employees are nearly as important as existing customers in contributing to the bottom line.
Stewart Lewis, Director of MORI's Corporate Communications division comments: "Amid all the speculation and prejudice about business's stakeholder relationships, this report gives us an authoritative picture of what is really being thought, felt and acted on. It also shows an outlook in transition - I expect to see these attitudes evolving dramatically over the next few years."
After customers and employees, Britain's leading board directors direct their attentions to promoting links with the City and their suppliers. They are much less concerned about the impact of a positive or negative profile among local communities, MPs, local officials, the non-business media and non-governmental organisations.
Q In order to achieve business success, how important do you feel it is for a major company to work on developing goodwill among each of the following groups? Is it essential, very important, fairly important or not very important?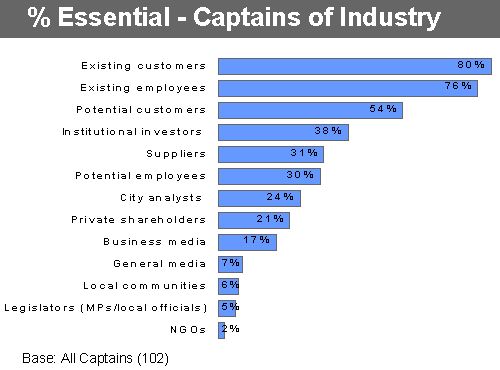 Most leading board directors say that their company has at least 'a fair amount' of goodwill among their most important stakeholders - their customers and employees. Half say they enjoy 'a great deal' of goodwill among these two critical groups. Perceived goodwill among suppliers is high in relation to their priority as a target audience while goodwill among City analysts and private shareholders is relatively low.
Q How much goodwill do you feel your company currently has among each of the following groups? Do you have a great deal, a fair amount, a little or none at all?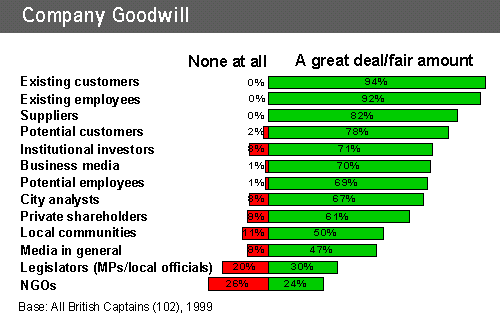 Susan Walker who heads MORI's HR Research practice comments: "It is encouraging that opinion leaders recognise the role of employee goodwill in achieving business success. However, our extensive research among the workforces of Britain's largest companies suggests that employer belief in strong employee goodwill is usually over optimistic. This is a key area for top level attention, especially in view of the links with excellent customer service".
Getting employees 'on side' has the clear business benefit of inspiring them to recommend the company or its products or services to others. This can vary enormously from one company to another. The following chart shows the propensity of the staff of various companies, for whom MORI has carried out employee surveys in the past few years, to recommend their employer's products/or services. At the one end, 85% of employees of an electronics firm would recommend their company's products to others. At the other end only 34% of a transportation company would recommend its services to others with a quarter discouraging others from using it.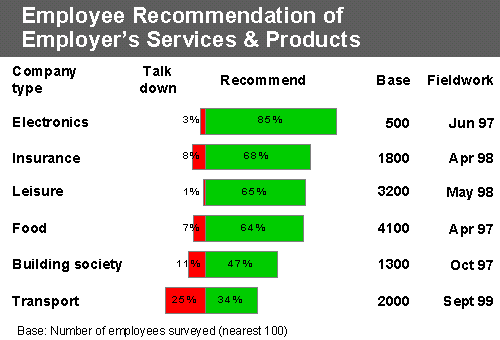 What do other opinion leader audiences think about the importance of goodwill among a company's stakeholder groups? MPs regard employees as the most important group. Perhaps a sign of changing times, the priorities of Labour and Conservative MPs are very similar. Each Party ranks institutional investors as the fourth most important target audience after customers, staff and potential customers. Conservative MPs give greater salience to private shareholders.
City audiences, including institutional investors, analysts and the business and financial media attach less importance to employee goodwill than other commentators. The business and financial press attach more importance to their own contribution. They also rate the investment community highly - a feeling which is not reciprocated. Investors rank potential customers as the most essential group.
Compared to opinion leaders, the general public attaches greater importance to local communities and less to the City.
These results are based on MORI's 1999 Key Audience Research Programme covering board directors from Britain's top 500 companies (102 interviews), Members of Parliament (114 interviews), the Business & Financial Press (34 interviews), Institutional Investors (107 interviews), City Analysts (101 interviews) and the General Public (975 interviews). Interviews were conducted face-to-face.