Growing negativity among consumers about current levels of inflation in the UK
An Ipsos MORI survey for Lloyds Bank finds that concerns about levels of inflation are at their highest point since January 2014.
Almost two thirds of consumers (65%) are concerned about current levels of inflation according to the Lloyds Bank Spending Power Report.  This is the highest level recorded for 43 months within the survey run by Ipsos MORI, up from 60% in June 2017 and 41% in July 2016.
The research also found that sentiment towards the country's financial situation has weakened – positivity about the country's financial situation among both home owners and renters has reached an all-time low (33% and 26% respectively feel very good/excellent about the country's financial situation).
Robin Bulloch, Managing Director of Lloyds Bank, said:
Despite a slight slowdown in the rate of essential spending growth over the summer, concerns around inflation have continued to build, which has an impact on future intentions – just one in five people thought they would be saving more in six months' time than they were currently.
August's survey, however, reports that 64% of consumers feel positive about their personal finances, just 3pp below the level seen in July 2016. Confidence in job security remains stable from last year – with four-fifths of consumers feeling positive about the stability of their own job.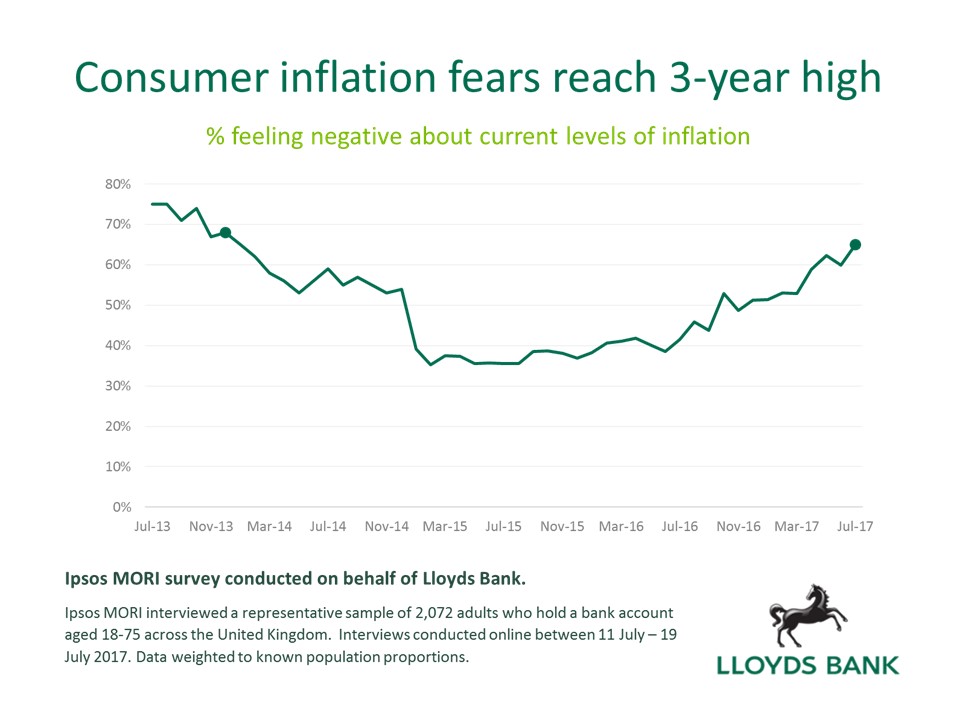 Suraya Randawa, Head of Financial Services within Ipsos Loyalty, said:
Of the 2,000+ people we interview each month for this report, significantly fewer feel as though they will be putting aside more money than they currently are. This obviously has a knock-on effect if there's a further squeeze on their wallets. However, while the rate of saving has dived to a record low, it's interesting to note that confidence in personal financial situation and job security remain buoyant.
Technical note
Each month, more than 2,000 adult bank account holders are asked about their current and future spending habits and how their commitments affect their spending power. Consumer research is compiled in conjunction with Ipsos MORI. Ipsos MORI interviewed a representative sample of 2,136 who hold a bank account aged 18-75 across the United Kingdom. Interviews were conducted online during 11 July – 19 July 2017. Survey data were weighted to the known population proportions of this audience. 'People' or 'people's' refers to people surveyed.
Research previously conducted by TNS during January 2011 – December 2014 (Feb 2011 Base: 2001). Jan 2015 – July 2017 research conducted by Ipsos MORI.