Igniting the squib - public opinion on strikes and trade unions
Trade Unions/strikes are low on the public's radar even after the recent strikes, and have not been key issues for a while; only 1% of the public mentioned them in the first week of December, a figure that has been no higher since the firefighters' strike in the winter of 2002/3

  David Cameron last month described the public sector industrial action as a "damp squib" – despite union claims of two million strong involvement, and widespread disruption. Our Issues Index, a long term indicator of the issues that are facing Britain showed that this issue was low on the public's radar even after the recent strikes, and has not been a key issue for a while; only 1% of the public mentioned it in the first week of December, a figure that has been no higher since the firefighters' strike in the winter of 2002/3.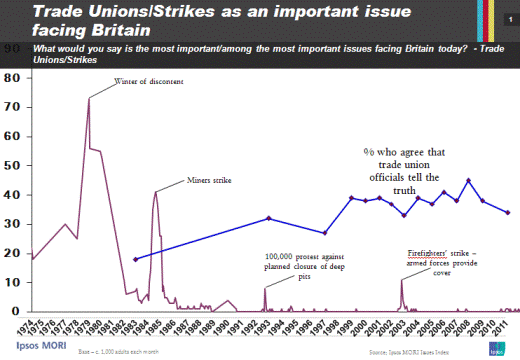 However, this is not to say that there is no support for the strikers, in fact, it is possible that, had it resonated more as an issue this could have indicated opposition. During the more disruptive strikes in the late 1970s and early 1980s, huge percentages were concerned about them; two fifths (41%) in October 1984 in the midst of the miners' strike and three quarters (73%) in February 1979, when it was the most important issue facing the country, as strikes had a huge impact on public services, and the press revelled in stories of coffins piling up in Liverpool and refuse piling up in parks.
However, since the early 1980s, as the effect of strikes on the national consciousness has ebbed, so our views towards trade unions has changed. There has, for example been an increase in agreement that trade union officials tell the truth; our veracity index has shown this steadily rise from 18% in 1983 to 45% in 2008, though it has fallen back slightly since then.
Furthermore, our Reuters June 2011 Political Monitor showed that only a third (35%) felt that trade unions "have too much power in Britain today" (though this is an increase since 2005), with three quarters (76%) who felt that they are "essential to protect workers' interests". Trend data is available here.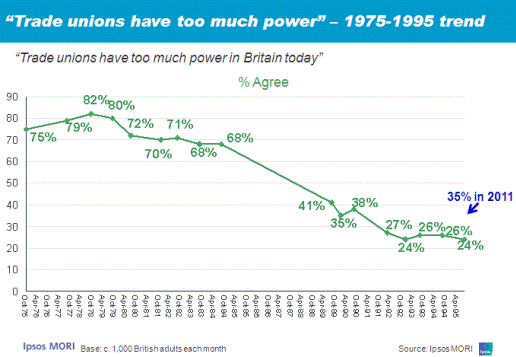 On the odd occasion when strikes have taken place recently, there seems to be public support; in Oct 2002 almost two thirds of people in Britain (65%) say they would support the fire strike as long as the fire crews still responded to major emergency calls. A November poll for the BBC showed that three-fifths (61%) believe that the strike is justified, rising to 67% of women. Opinion does vary depend on how the question is asked, however, our June data showed that the same proportion (48%) supported and opposed the strike, though the reasons behind the strike were less widely discussed earlier in the year.
Therefore, we have seen a change in public opinion towards trade unions, and strikes have lost much of their impact on the public consciousness as a result of their being much more infrequent. The question is whether or not they will resurface as key issues if continuing austerity measures bring more protests with them, and the damage they do to public services is more marked.