Implicit Reaction Time survey reveals strength of driver sentiment against tailgating
As Highways England launches new campaign, Ipsos MORI publishes new research which finds drivers feel most strongly that tailgating is the biggest problem on A roads and motorways.
Research undertaken by Ipsos MORI on behalf of Highways England has revealed that drivers in England feel most 'emphatically' that tailgating is the biggest problem on A roads and motorways compared with other negative driver behaviours, ahead of a new advertising campaign launched by Highways England designed to stop tailgating.
The research provides an insight into not just what people say about the problems they face while driving on motorways and major A roads in England, but also how strongly they feel about each of them.
Using a technique called Implicit Reaction Time (IRT), which measures how quickly people express an opinion, the research explores how emphatic people are in their responses regarding their views of a range of problems which drivers face on the roads. We measure whether or not a response is emphatic based on how quickly they agreed with an opinion, or chose each negative driver behaviour.
The survey reveals that, by some margin, tailgating is emphatically seen as the biggest problem on the Strategic Road Network (SRN), the network of motorways and major A roads in England.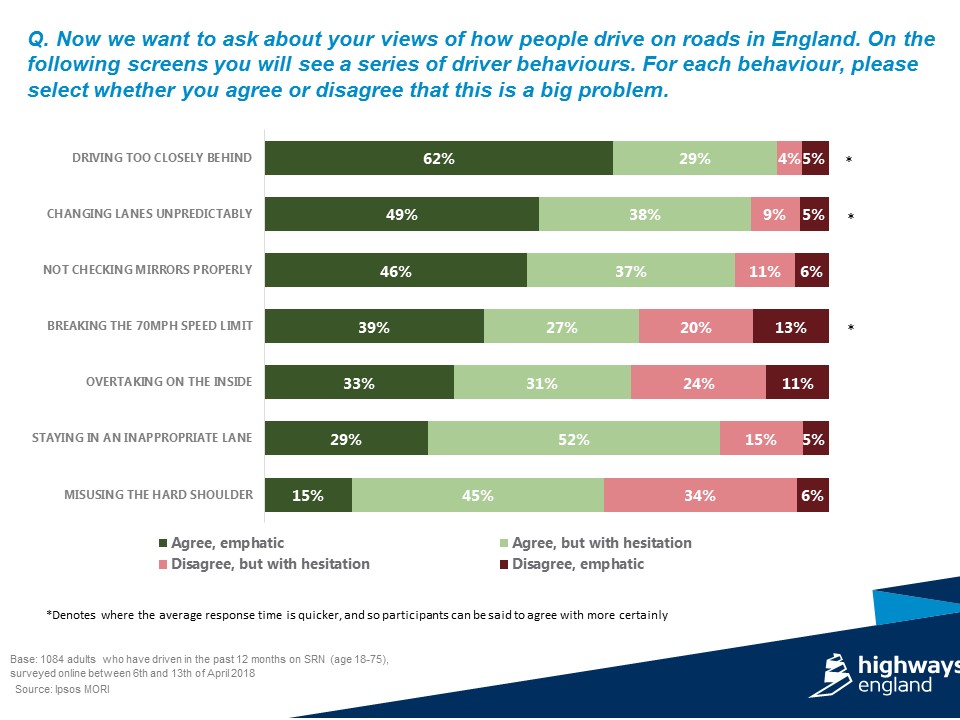 Despite this, 27% of drivers in the survey admitted to tailgating at least occasionally in the last three months, suggesting that Highways England's campaign to discourage tailgating in order to improve safety comes at the right time.
Meanwhile, while almost two in five (39%) emphatically feel that speeding is a problem on the SRN, drivers in the survey were far more likely to admit to speeding at least occasionally, with almost four in five (79%) admitting they have driven at least 5mph over the speed limit in the past three months, suggesting an element of 'normalisation' of speeding on motorways and major A roads.
The wider survey also revealed that almost seven in ten (68%) believe that not enough is being done to tackle negative driver behaviour on the Strategic Road Network (SRN). However, the driving public in England overwhelmingly feel that tailgating and speeding are most likely to be reduced with an increase in fines, driving licence points and on-road enforcement technology rather than changes to road infrastructure, such as better road markings.
The research complemented a series of focus groups undertaken by Ipsos MORI to test a range of creative concepts for a new advertising campaign, which launched earlier this week. The Space Invaders tailgating campaign aims to reduce the number of people who are killed or seriously injured on motorways and major A roads in England:
Technical details
Ipsos MORI conducted an online survey between 6 – 13 April on behalf of Highways England. During this period Ipsos MORI interviewed 1,109 adults in England on Ipsos MORI's IIS Panel, aged between 18-75, who had driven on the Strategic Road Network in the past 12 months. Quotas were set on age, gender and region in order to obtain a representative sample, and final data are weighted back to this profile.
The survey contained two components – a 'standard' online survey, and, in partnership with Neurohm, an 'Implicit Reaction Time' (IRT) survey designed to test the strength of drivers' sentiment with regard to negative driver behaviours as well as Highways England's reputation. The IRT survey was completed by 1,084 of the 1,109 participants.