Influencers? Not so influential.
Friends and family members prove far more influential than Instagram and online videos in a new global Ipsos survey.
According to a new global study by Ipsos, Instagram is not as influential as you might think, well not when it comes to beauty at least. Despite being the home of 'influencers,' Instagram and photo sharing sites came bottom of a list of influences on women's beauty regimes. Less than one in five British women (19%) said that their beauty regimes had been impacted by Instagram or another photo sharing websites.
It is instead our nearest and dearest that are most likely to influence our beauty regimes. For example, women are much more likely to take tips on their beauty routine from friends, more than two in five have seen an impact on their routines from friends. Mothers are almost as influential with 37% seeing a difference. Sisters and other family members are third most influential with a third seeing a difference (34%).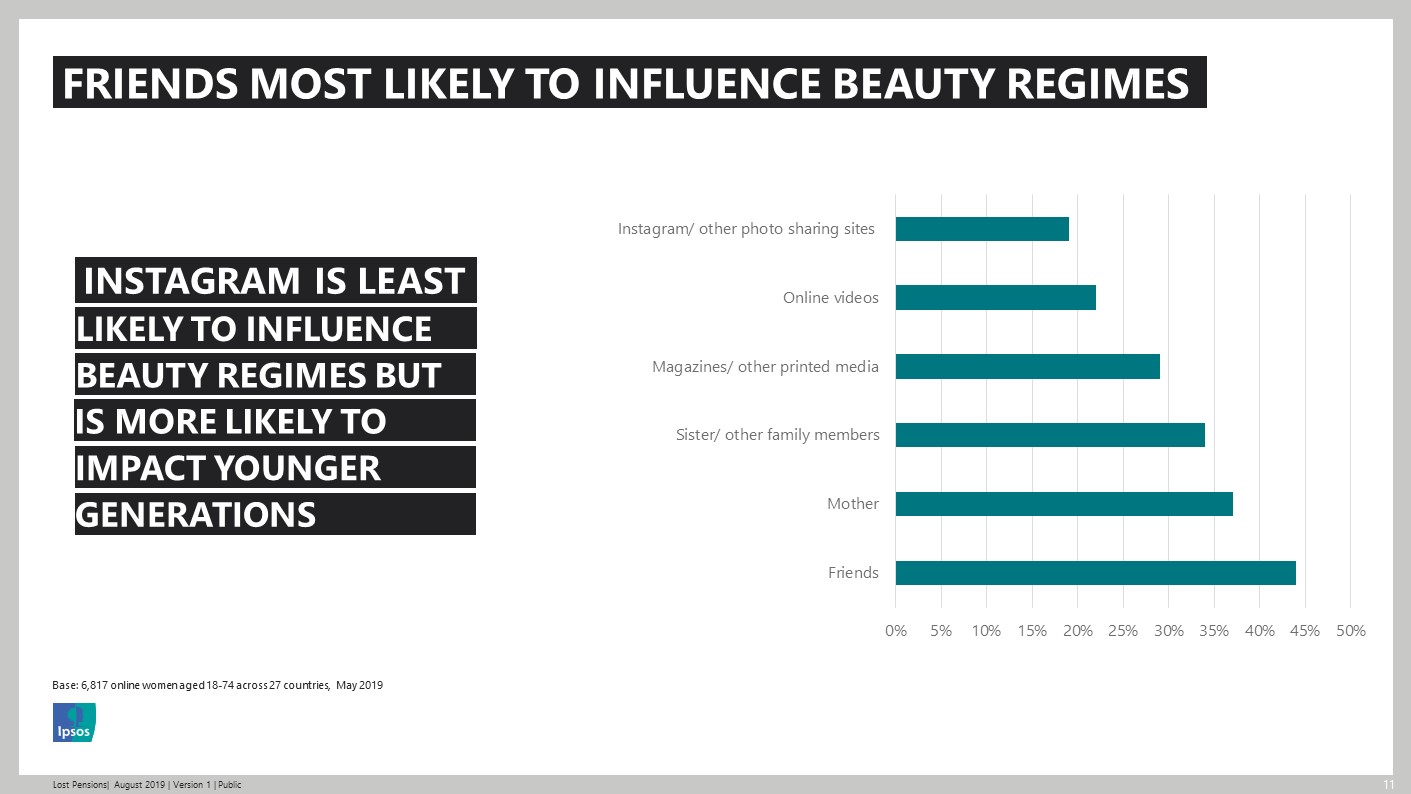 When it comes to the influence of the media, magazines and other forms of printed media have the most impact on people's beauty choices with three in ten citing them as an influence. Online videos were the second most popular form of media having been identified by 22% of respondents. Instagram and other photo sharing sites were the least popular of media options and all influences given with only 19% viewing them as an influence. 
Unsurprisingly, there are significant differences between ages groups, with younger generations much more likely to be influenced by online media than older women. While just 2% of those aged 50-74 take inspiration from Instagram, more than twenty times the amount of under-35s have been influenced by the influencers, 42% said their beauty regime is influenced by photo sharing sites.  
Susan Purcell, Senior Director at Ipsos MORI, says:
Marketing departments around the world are dedicating time and money to influencer marketing, but what this research shows is that a more holistic approach may be a better choice for some brands.  Despite people living increasingly digitally focussed lives, we still appear to rely on our friends and family to influence what products we buy.
Technical note:
These are the findings of a 27-country Ipsos survey conducted via Ipsos's Global Advisor online survey platform between April 19th -May 3rd, 2019.
The sample consists of 1000+ individuals in each of Australia, Brazil, Canada, China (mainland), France, Germany, Great Britain, Italy, Japan, Mexico, Spain, and the United States, and 500+ in each of Argentina, Belgium, Chile, Colombia, Hungary, India, Malaysia, Mexico, Peru, Poland, Russia, Saudi Arabia, South Africa, South Korea, Sweden and Turkey.
Online surveys can be taken as representative of the general adult population under the age of 75 in Argentina, Australia, Belgium, Canada, France, Germany, Great Britain, Hungary, Italy, Japan, Poland, South Korea, Spain, Sweden, and the United States. Online samples in Brazil, Chile, China (mainland), Colombia, India, Malaysia, Mexico, Peru, Russia, Saudi Arabia, Serbia, South Africa and Turkey are more urban, more educated and/or more affluent than the general population and the results should be viewed as reflecting the views of a more "connected" population.
 
Download