Ipsos MORI and the 2017 General Election
The Ipsos MORI / GfK Exit Poll for BBC News, ITV News and Sky News once again proves accurate.
After yet another seismic night in British politics, Ipsos MORI is proud to be a key partner once again in the very accurate Exit Poll for BBC/ITV News/Sky News and led by a team of top academics.   The opening prediction suggested the Conservatives would be the largest party but fall short of an overall majority, projecting seat totals of 314 for the Conservatives, 266 for Labour, 34 for the SNP, 14 for the Liberal Democrats and 22 seats for other parties.  With just one result to come in, this projection is extremely close to the actual results of 318 seats for the Conservatives, 261 for Labour, 35 for the SNP, 12 for the Liberal Democrats and 23 seats for other parties.
Some doubted that the projection could be correct, but the Exit Poll has an incredible record of accuracy over a number of elections.
A history of UK election polls: in recent elections they have been pretty accurate https://t.co/j37Euyzt6E pic.twitter.com/G5FAeIQtJ0

— Financial Times (@FT) June 8, 2017
Ipsos MORI is involved in the design, administration and fieldwork of the Exit Poll (with fellow researchers at GfK), with the analysis carried out by a team of academics led by Professor John Curtice.  We are very proud that our team of researchers, fieldforce and operations teams were able to set up and carry out such a mammoth task in just six weeks, when that usually takes six months.   The interviewers deserve particular praise, carrying out 26,272 interviews despite British summer time weather.  Of course, we also want to thank every voter who agreed to take part – it could not happen without them. 
The Exit Poll is only one part of our research during a campaign.  Our pre-election polling showed evidence of a Labour surge during the campaign, a fall in Theresa May's personal ratings and a clear and consistent age divide, with young people about twice as likely to vote Labour as older people, and older people twice as likely to vote Conservative than younger people.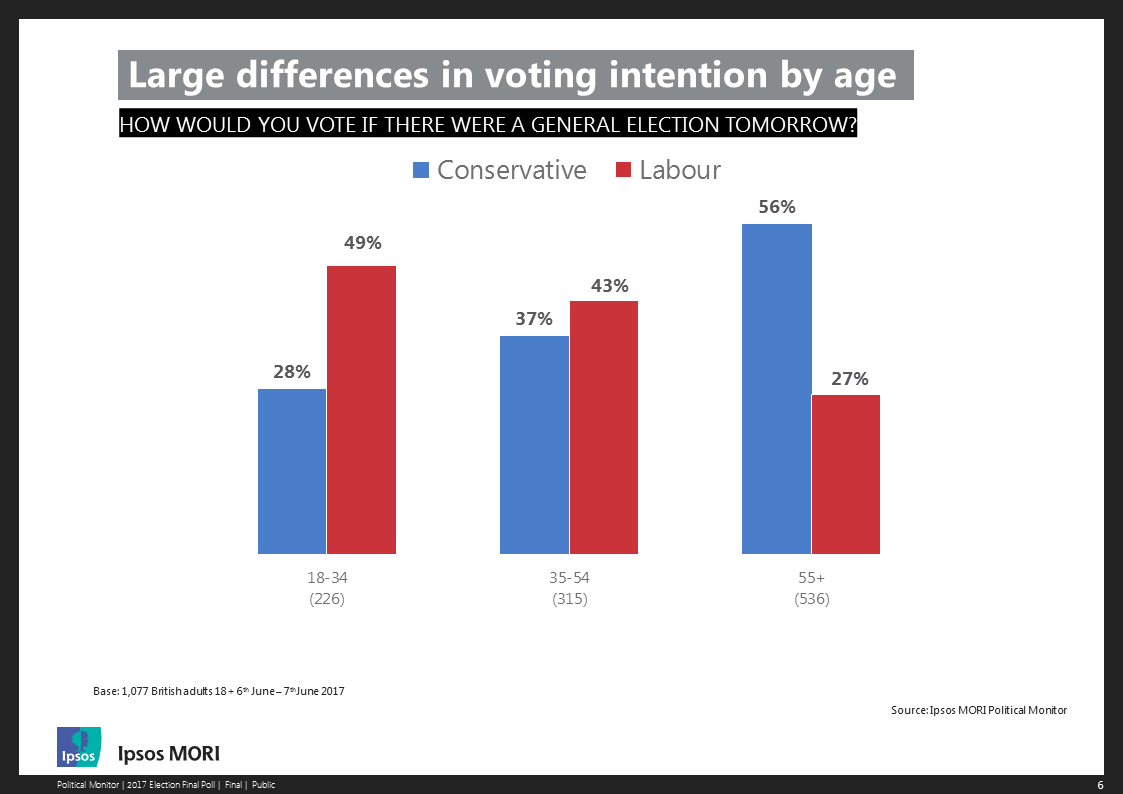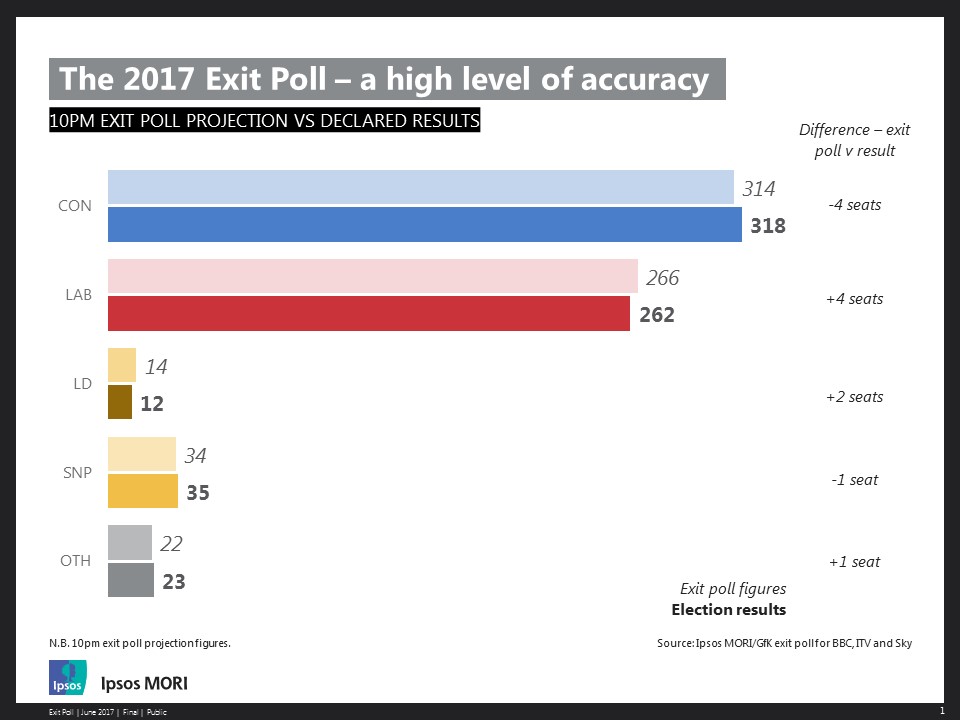 However, while our final pre-election poll was mostly accurate for nearly all the other parties (with an overall average error of 1.6 percentage points, in line with our historical record in recent elections), as with most other pollsters we significantly underestimated the Labour share. 
| | | |
| --- | --- | --- |
|   | Ipsos MORI final poll | GB result1 |
| Conservative | 44% | 43.5% |
| Labour | 36% | 41.0% |
| Liberal Democrat | 7% | 7.6% |
| Scottish National Party | 5% | 3.1% |
| Green Party | 2% | 1.7% |
| UK Independence Party | 4% | 1.9% |
| Others | 1% | 1.2% |
As we do after every election, we will now carefully review our performance and where it can be improved, learning lessons to make us more accurate in the future.  One issue we will look at closely is the impact of our correction to adjust turnout based on the level of overclaim detected by the British Election Study in previous elections, as our underlying sample without this adjustment was more accurate.  There are indications that this could be at least partially a result of age groups voting in different proportions from the historical pattern, with possibly higher turnout among the young relative to older groups than we usually see.  But this will need more detailed analysis before it can be confirmed – as always, we will be producing our estimates of voter profiles next week.
We also carry out a great deal of other research during the campaign, as well as of course contributing through media comment and more detailed analysis - including on the limitations of polls, how best to interpret them, and where possible errors may lie. We believe these varied research approaches contributed to a richer understanding of public opinion throughout the campaign.  These include quantitative research such as our long-running Issues Index tracker (running since the 1970s), surveys on specific policy issues such as immigration, and analysis of a longitudinal survey to examine the question of whether Brexit is causing a realignment in voters' views. 
As one of the largest qualitative research agencies in the country, we helped the BBC's Today programme and Newsnight to run a series of focus groups with different sets of voters throughout the country, to give an opportunity to hear from the public in their own words – and highlighting how Jeremy Corbyn's messages were resonating with many. 
We also used the election as an opportunity to explore more innovative research methods based on neuroscience, such as Implicit Reaction Time and heart-rate monitoring techniques.  
We remain committed to the idea that high quality research is an invaluable tool for understanding public opinion, and essential for government, policy-makers, business and citizens to make sense of our society.
If you are interested in becoming a face to face interviewer for Ipsos MORI, please apply here attaching your CV.