Ipsos MORI Issues Index July 2019: Brexit, the NHS and crime are Britons' three biggest issues
The July 2019 Ipsos MORI Issues Index confirms that Brexit remains the biggest issue facing Britain for a majority of the public.
Six in ten mention Brexit as one of the biggest issues facing the country (60%).
Four in ten see the NHS as a big issue for the country, while a quarter say the same about crime.
The July 2019 Ipsos MORI Issues Index shows Brexit continuing as the public's biggest concern, with 60 per cent mentioning it as one of the biggest issues and almost half (47%) seeing it as the single biggest worry. While the level of public concern about Brexit has lessened somewhat in recent months (in April this year 72% said Brexit was a big issue) it remains at historically high levels. Fieldwork was conducted between the 5 – 18 July, before the announcement of Boris Johnson as the new Prime Minister.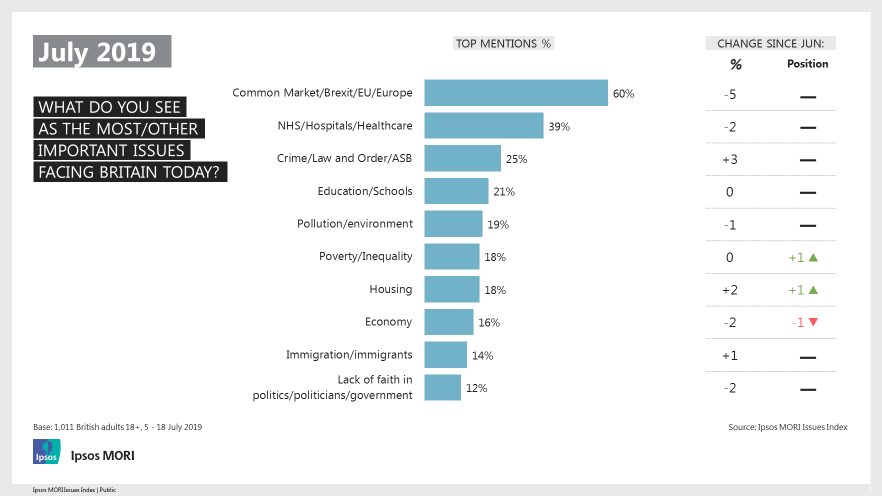 The NHS continues as the second-biggest issue for the public on 39%, and crime is now considered the third-biggest worry. Behind these issues lie a series of concerns – education, the environment, poverty and inequality, and housing – which are each considered worrying by around a fifth of the public.
Michael Clemence, Research Manager at Ipsos MORI, said: 
July's Issues Index reconfirms the position of Brexit as the biggest issue facing the country, even if the level of public concern has fallen slightly since earlier in the year. But looking beneath the top line, the data also shows that the public are not single-minded in their concern. In addition to continued high worry about the health service, a range of other concerns are bubbling up – particularly around crime and the environment. 
Technical note
Ipsos MORI's Issues Index is conducted monthly and provides an overview of the key issues concerning the country. Ipsos MORI interviewed a representative quota sample of 1,011 adults aged 18+ across Great Britain. The answers are spontaneous responses, and participants are not prompted with any answers.
Ipsos MORI's Capibus vehicle was used for this survey. Interviews were conducted face-to-face in-home between 5 and 18 July 2019 at 160 sampling points across Great Britain. Data are weighted to match the profile of the population.
See more of Ipsos MORI's long-term political and social trends here.