Ipsos MORI Political Monitor – Most lack confidence Johnson will get a good deal for Britain from EU negotiations
Blame for a no-deal shared between UK Government and increasingly the EU according to our latest Political Monitor.
But public more positive than last year
Ipsos MORI's Political Monitor shows three in five (58%) Britons lack confidence that Boris Johnson will get a good deal for Britain from the ongoing negotiations with the European Union. Two in five (39%) however are confident in the Prime Minister to get a good deal, which is up nine points from when last asked in September 2019.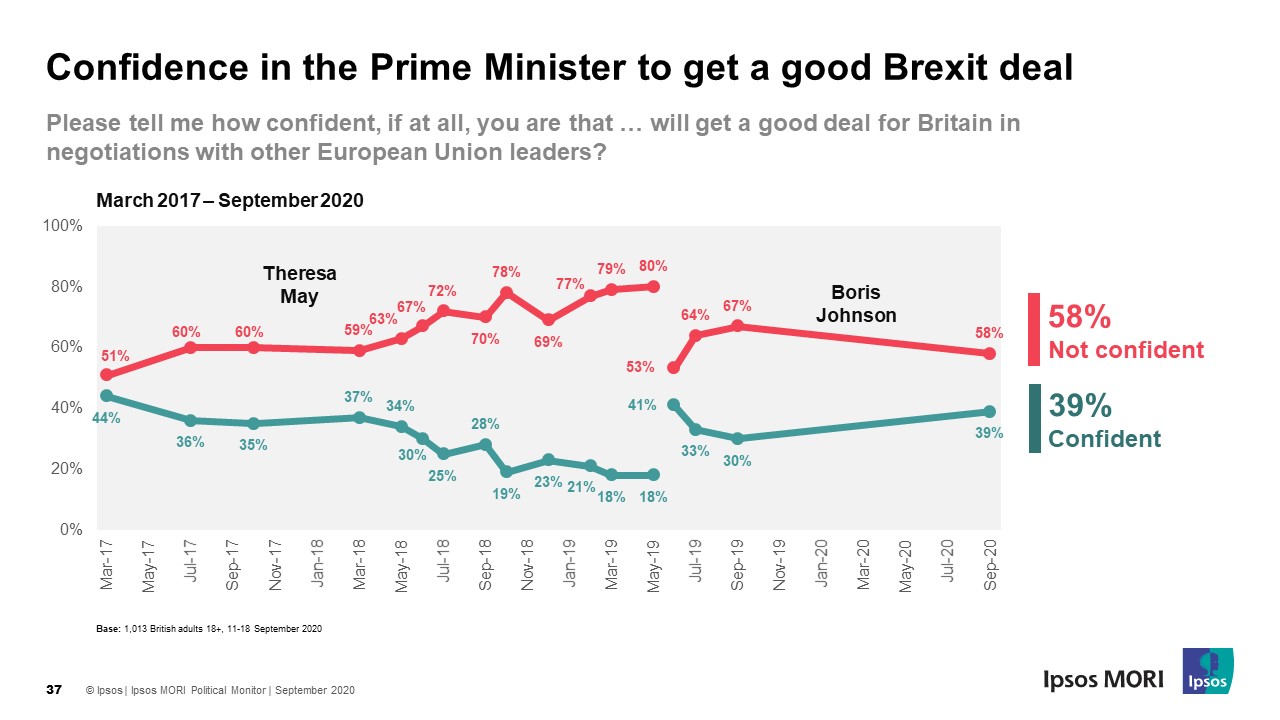 Keir Starmer receives a similar score to Boris Johnson with 37% saying they would be confident in the Labour leader to get a good deal if he were Prime Minister (50% would not be confident), which improves on the ratings Jeremy Corbyn achieved during his tenure.
Three quarters (74%) of Conservative supporters are confident that Mr Johnson will get a good deal for the UK while 86% of Labour supporters are not.  Conversely 68% of Labour supporters are confident Keir Starmer would get a good deal while 71% of Conservatives are not.
Other findings from the survey include:
Government and the EU would get the largest share of blame if no deal is reached

If Britain and other EU leaders fail to reach an agreement on the new terms of Britain's future relationship with the EU by the time the transition period ends, the UK Government would be held most to blame by the largest proportion (44%), closely followed by the EU (40%).
The proportion saying they would blame the EU is higher than in March 2019 when it was 32%, while the number blaming the UK Government is slightly down from 48%.
A third (35%) would blame Conservative MPs, 31% would blame Brexit campaigners, 15% would blame Remain campaigners, 13% would blame the Labour Party (both down from 23% in March 2019), 10% would blame other opposition parties while just 1% say nobody would be to blame.
Conservative supporters are most likely to blame the EU in the case of no-deal (64%), while most Labour supporters would blame the UK Government (65%) and Conservative MPs (56%).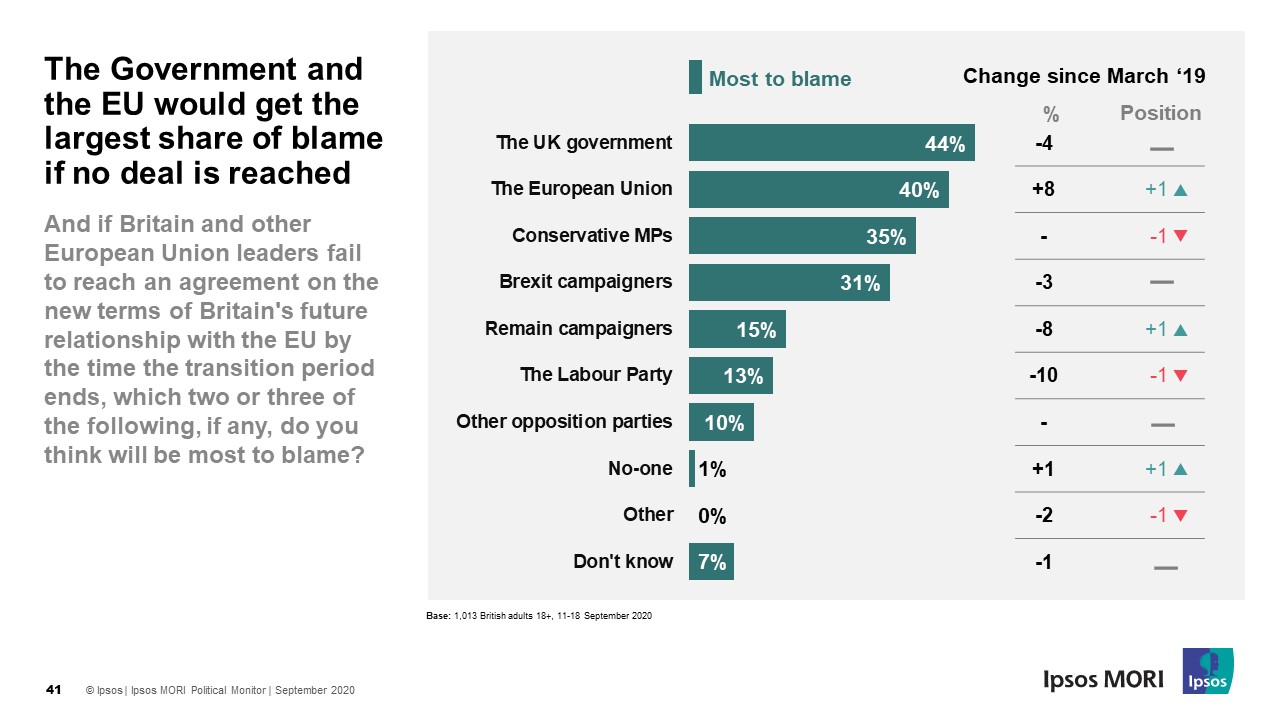 Most feel the Government has done a bad job preparing for a No-deal Brexit

Six in ten (63%) think the Government has done a bad job preparing for leaving the transition period without a deal, while a quarter say it has done a good job. These are more positive scores however for the Government compared with May 2019 when 80% felt it was doing a bad job preparing and just 13% a good job.
Most Conservatives (54%) say the government has done a good job preparing for a no-deal scenario (36% say a bad job) while 88% of Labour supporters say it has done a bad job.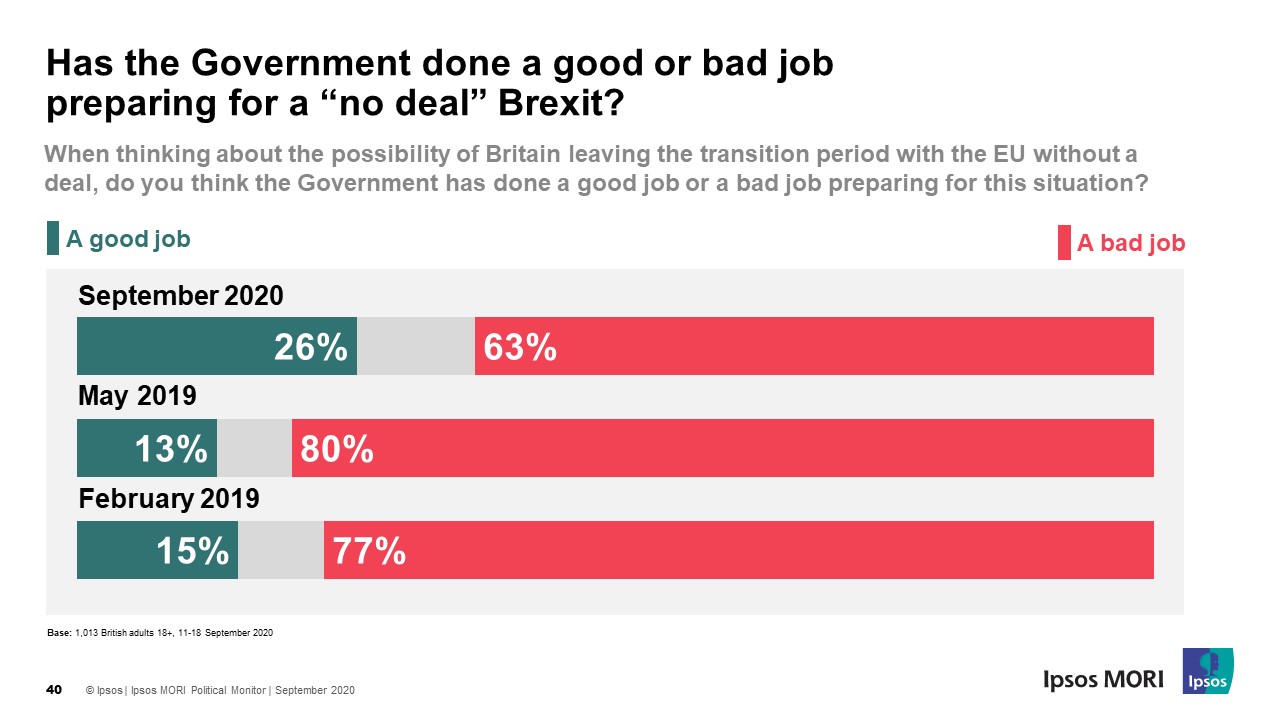 Commenting on the findings, Gideon Skinner, Head of Political Research at Ipsos MORI, said:
Britons are still pretty pessimistic about the prospects of getting a good deal from the Brexit negotiations, and the preparations for a no deal if we don't.  However, there is more optimism than last year – mainly among the Prime Minister's own supporters, who have also become more likely to blame the EU if no deal is reached by the end of transition, suggesting since the election he has succeeded in getting them behind his approach. 
Technical Note
Ipsos MORI interviewed a representative sample of 1,013 adults aged 18+ across Great Britain. Interviews were conducted by telephone 11th September – 18th September 2020.  Data are weighted to the profile of the population. All polls are subject to a wide range of potential sources of error. On the basis of the historical record of the polls at recent general elections, there is a 9 in 10 chance that the true value of a party's support lies within 4 points of the estimates provided by this poll, and a 2 in 3 chance that they lie within 2 points.