Ipsos MORI Political Monitor – Ratings fall for the Government on its handling of the coronavirus
Ratings fall on government's handling of the coronavirus pandemic according to Ipsos MORI's Political Monitor.
Ipsos MORI's September Political Monitor shows half the public say the Government is handling the coronavirus very or fairly badly (50%, up 10 points from last month) while a third say it is handling it very or fairly well (32%, down 10 points).  This is the lowest score seen so far in this series (when it began in March, 49% thought the Government was handling it well and 35% badly).  Fieldwork was carried out before Tuesday's latest announcements of new restrictions.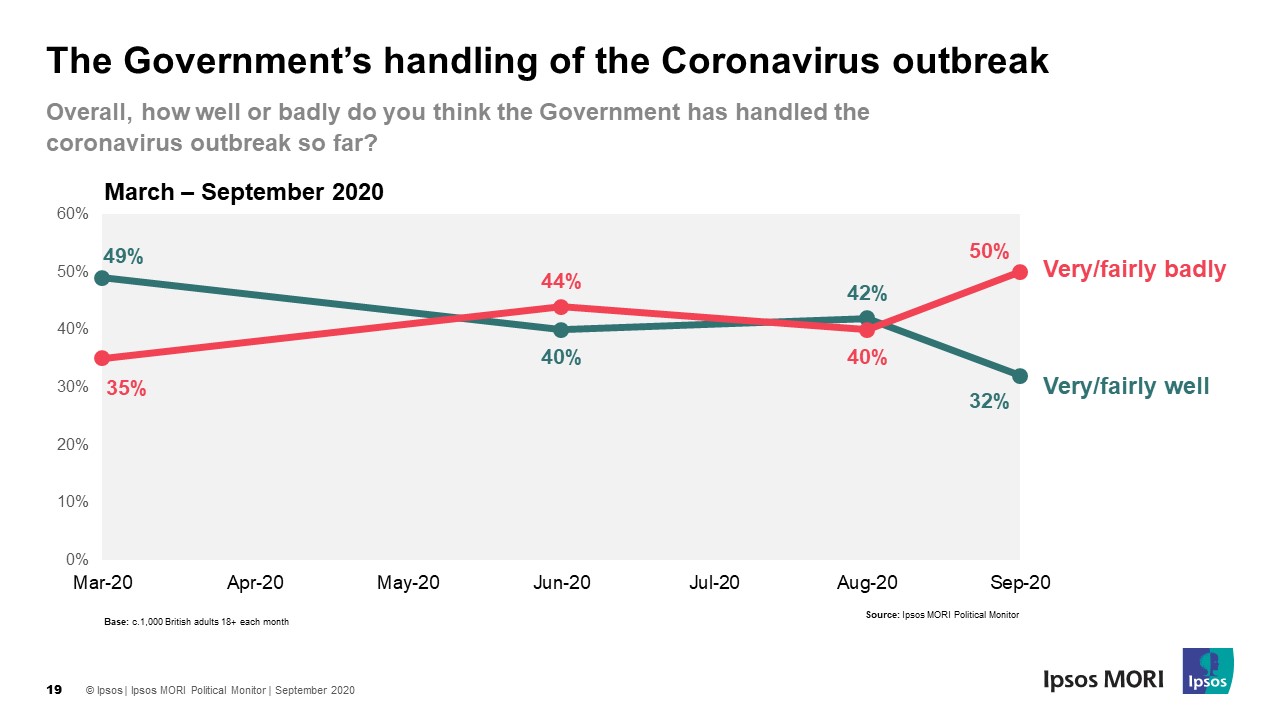 Evaluation of the Government's handling of the crisis is largely split along party lines with 60% of Conservative supporters saying they think the Government is handling it well, compared with just 15% of Labour supporters (of whom 72% are critical).
Commenting on the findings, Gideon Skinner, Head of Political Research at Ipsos MORI, said:
We have seen overall ratings of the government fall this month to their lowest this year, along with rising confusion about its communications over what to do in response to the coronavirus.  This is mirrored by a fall in public approval for the government's handling of the pandemic – even though many Britons still support a range of restrictions to control the virus. 
Technical Note
Ipsos MORI interviewed a representative sample of 1,013 adults aged 18+ across Great Britain. Interviews were conducted by telephone 11th September – 18th September 2020.  Data are weighted to the profile of the population. All polls are subject to a wide range of potential sources of error. On the basis of the historical record of the polls at recent general elections, there is a 9 in 10 chance that the true value of a party's support lies within 4 points of the estimates provided by this poll, and a 2 in 3 chance that they lie within 2 points.