Ipsos MORI's 2019 predictions poll finds that Britons do not expect the political landscape to settle down, with 72% of UK adults saying they think a general election is likely in 2019.  The poll, among UK adults aged 16-75, also found that 75% expect the UK to leave the EU this year, but 6 in 10 (58%, rising to 72% of leave voters) think it likely that other countries may follow suit by holding a vote on leaving the EU.
Sadly, it seems that whatever this year brings, people think a more harmonious Britain is unlikely, with 68% of us saying society will not be less divided by Brexit in 2019.  Remain voters are particularly pessimistic: only 17% of remain voters expect divisions to heal, compared with 29% of Leave voters.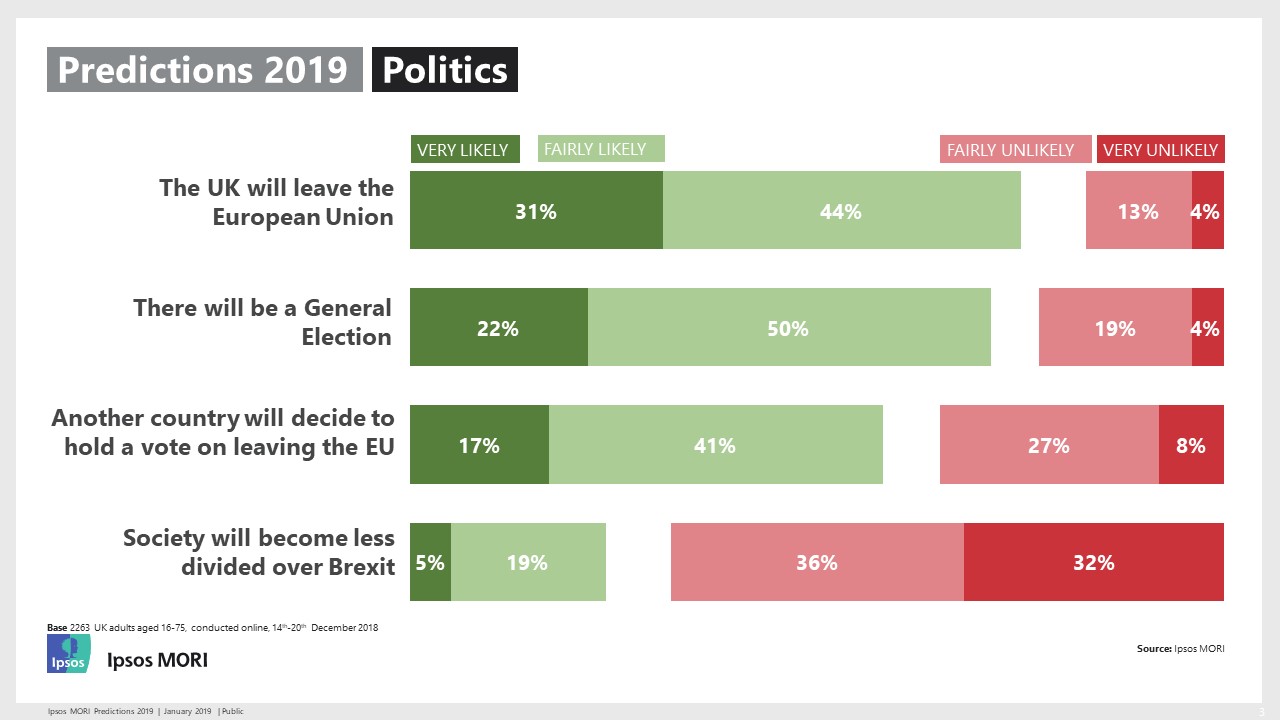 Economic concerns also play a part in Britons' predictions for 2019. Six in ten (57%) think that the pound will drop below the value of the euro. There is a clear division between these beliefs by opinions on Brexit: 73% of remain voters think the pound will fall below the euro, vs. 46% Leave voters. Seven in ten (73%) think that one of Britain's top 100 companies will move its HQ out of Britain because of Brexit (88% of remainers and 63% of leave voters).  Whilst 41% expect house prices to fall.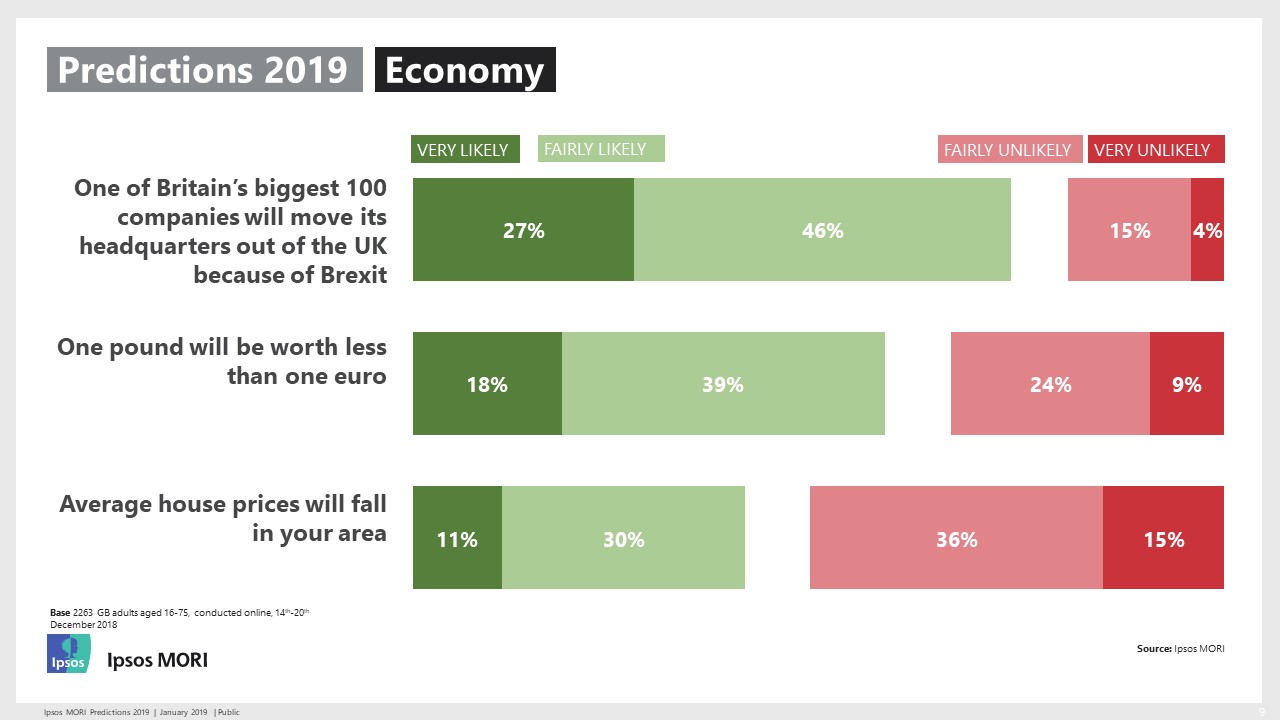 People also expect two themes from 2018 to continue in 2019.  The British predict the fallout from #metoo to continue, with 62% saying it is likely that the head of one of Britain's top 100 companies will have to resign because of sexual misconduct.  And after the 2018 heatwave, environmental concerns haven't gone away: half of us (52%) think that we will see the hottest summer on record in 2019.
On a lighter note…
The public still expect to see the Queen on the throne – less than 1 in 5 (17%) think it is likely that she will abdicate in 2019.
64% of us expect Duke and Duchess of Sussex's first child to be a girl.
When it comes to this year's Rugby World Cup just 30% of the English, and 17% of Scots think it is likely their team will raise the trophy, but the Welsh are more confident with 55% saying it's likely their team will win.
In music, the Spice Girls announced a reunion tour for 2019 and despite the announcement that Victoria Beckham will not be joining the tour, a quarter of Britons still believe she will take part.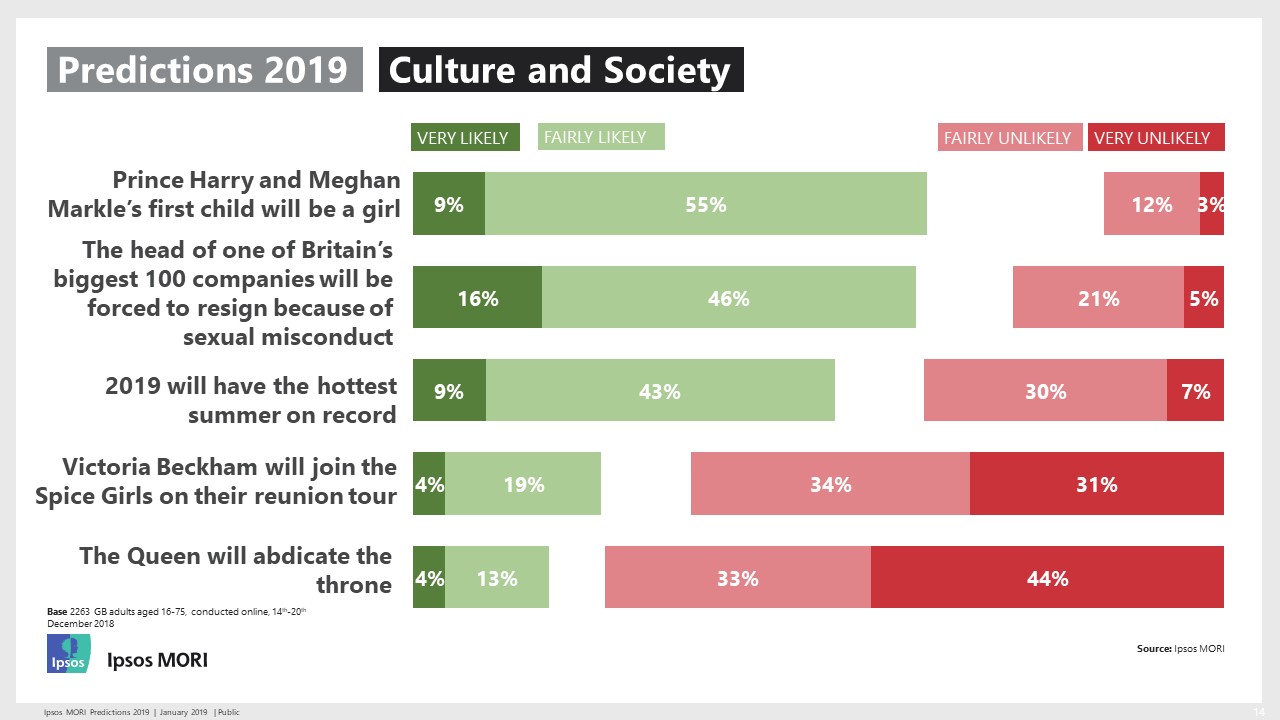 Gideon Skinner, Head of Political Research at Ipsos MORI, said:
Overcoming some of the divisions and differences in society was a theme of both the Queen's Christmas broadcast and the Prime Minister's New Year message.  Sadly, however, few people on either side of the debate expect British society to become less divided over Brexit in 2019, even though most think that the UK will leave the EU this year – suggesting the divisions the Brexit vote revealed are unlikely to be easily solved, whatever the outcome.  Meanwhile, although often overshadowed by other events, economic pessimism grew last year, and the results of this poll show that most expect the value of the pound to fall below the euro in 2019.
Technical Note
Ipsos MORI interviewed 2263 adults aged 16-75 across the United Kingdom. Interviews were conducted online on 14-20 December 2018.  Data are weighted to the profile of the population.