Ipsos MORI Research Highlights - 10 July 2020
In this week's Ipsos MORI Research Highlights include whether the British public think the coronavirus restrictions were taken too late, platforming progressivism and the ninth edition of Signals.
Perceptions of lockdown timings – too fast, too slow, or about right?
Despite some Britons making their way back to pubs last weekend, 60% feel that the relaxation of lockdown measures on the 4 July happened too quickly. The mixed views in Britain can be split into five groups, including 48% who say the March lockdown happened too late and the UK opened too quickly, as well as 18% who say the lockdown date was too late but reopening was right on time. As more Britons continue to return to normal, we will keep track of the changing attitudes towards the Governments response.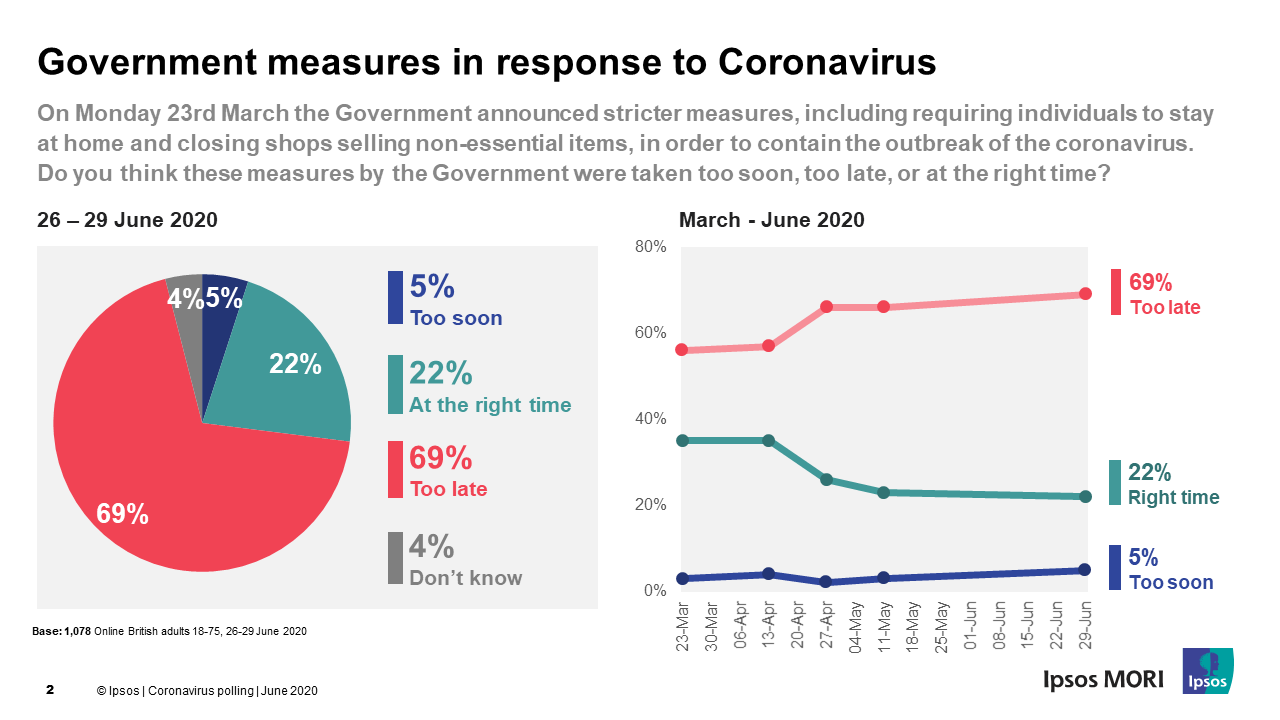 Signals #9: Understanding the coronavirus crisis
This is the final edition of the current series in this format; the forthcoming tenth edition will provide an index to the story so far. Our focus is on understanding the dimensions of the current situation as we start to adapt to new realities. We share the role of culture in a global crisis, research insights from the travel and hospitality industries, and we also give country spotlights on Australia, Saudi Arabia and the US. 
Was it really the Great British piss up? 
We've been following people since the beginning of March to see how habits and behaviours have changed over the crisis. We looked at how people balanced the risks associated with going to the pub, with the desire for life to go back to normal.
In other news 
As our Virtual Future of Research series continues, we will host webinars and bringing you regular bitesize content on a range of topics surrounding coronavirus. Join us to explore public perceptions of the social contract and priorities for the local and national public sector have all been disrupted during the last few months. Register for our next webinar The Future of Public Services to find out what where we are now as we begin to relax the lockdown period. 
Sign up for our next webinar  Business as (un)usual? Product, packaging & service post-COVID-19 on 5 August to examine how COVID-19 has impacted what we buy and what will change for brands, manufacturers, services and retailers. 
Our latest Pillars of Popular Culture article explores the role of media providers to shape audience's opinions and represent a progressive society during times of social change, using cultural analysis to weigh the pitfalls and gains of de-platforming content.
Britain's Financial Services sector is one of the strongest and most sophisticated in the world, but with this heritage comes a legacy sometimes at odds with consumer needs. This short film explores these issues through expert interviews and stories from across the country.
As ever, please do let us know what you think, and I hope you find something to interest you.
Ben Page
Chief Executive, Ipsos MORI
ben.page@ipsos.com