Ipsos MORI Research Highlights - 11 June 2021
In this week's Ipsos MORI Research Highlights we explore the surge in economic optimism, the latest leadership ratings and what is Britain's future role in the world?
Conservatives buoyed by positive public ratings on handling the pandemic
There's been a surge in economic optimism this month with 51% of Britons thinking the economy will get better in the next 12 months – the highest level we've seen since April 2015. The Government is also faring well – 41% think it has handled the pandemic well and the Conservatives have increased their lead over Labour to 9 points. However, there does appear to be appetite for an independent public inquiry into how the Government handled the pandemic and 56% say one should start this year.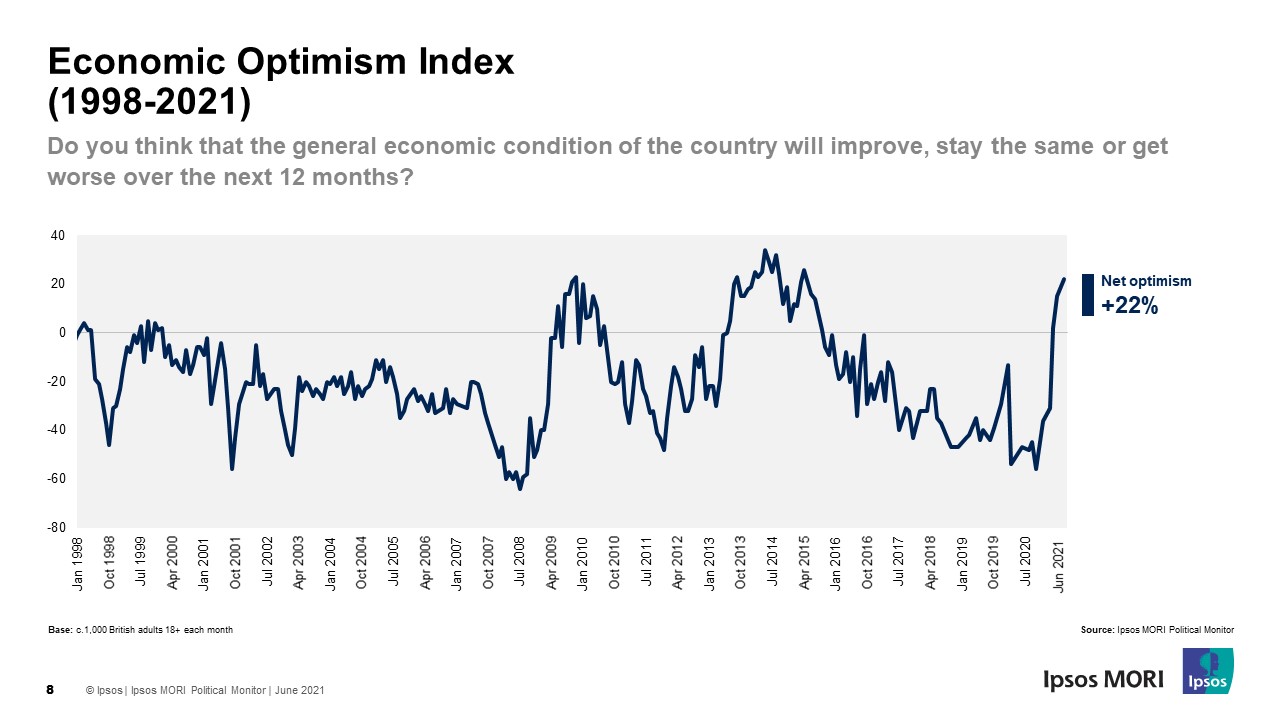 Starmer's ratings fall further, now at same levels as Corbyn 14 months in
While Boris Johnson has received his first net positive score since June 2020 as 43% think he's handled the pandemic well, Keir Starmer's ratings have dropped, just 17% think he's handled the pandemic well. His ratings are now similar to Jeremy Corbyn's 14 months in, only 24% think he 'has what it takes to be a good PM' and 51% are now dissatisfied with the Labour leader. Half of Britons and 48% of Labour supporters think it's time for a new leader as 37% think Andy Burnham has what it takes to be the next Prime Minister.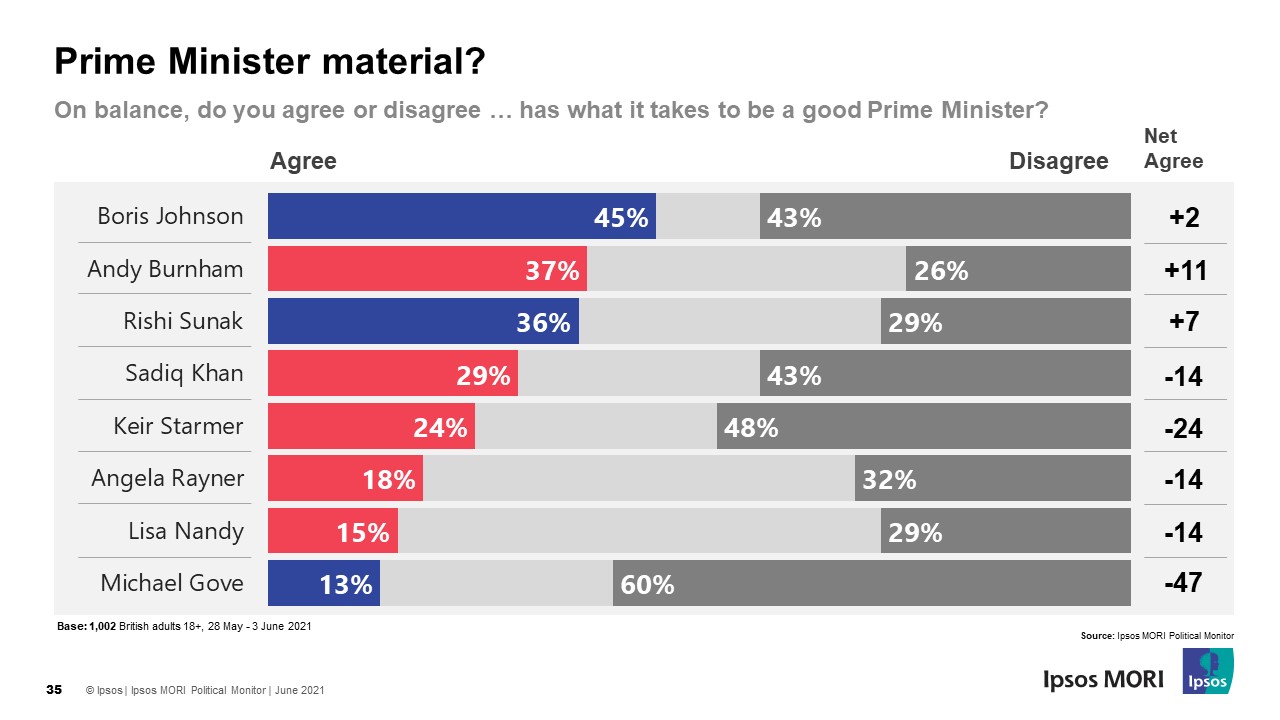 Small Island or Global Britain?
It appears the public are more optimistic about Britain's future on the world stage. Half of Britons 49% think Britain is a "force for good in the world" and 43% say we should "punch above our weight".  Two in five (40%) agree that Britain will play an important role in the world in 20 years, however this varies slightly across voting intention, with 59% of Conservative voters agreeing and only 31% of Labour agreeing.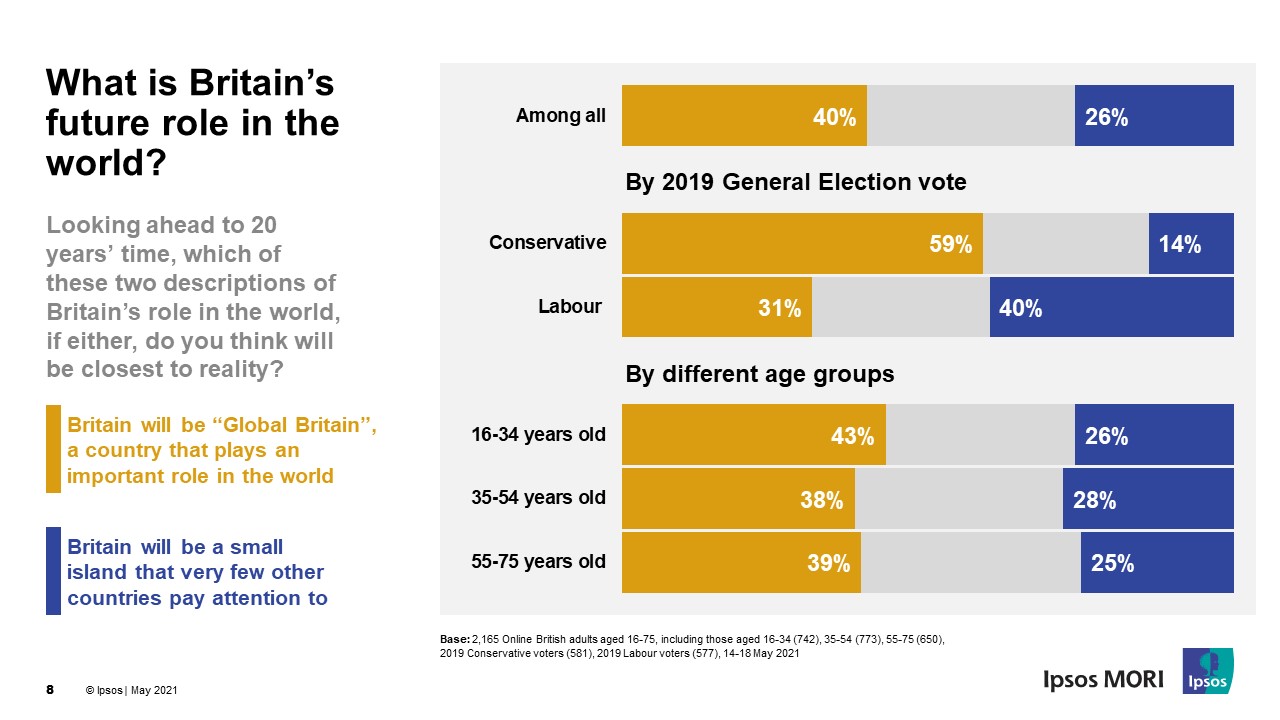 Police seen as best at providing advice and guidance by the British public, but much less effective at protecting people online
Two in five (42%) Britons say that local police are effective at providing advice and guidance to the public – but only 23% say they are effective at protecting those online. Overall, the public is fairly positive about the characteristics of local police – around half say they are trustworthy (52%), competent (50%). However, 31% of Ethnic Minority Britons think the police are racist compared to just 12% of white Britons.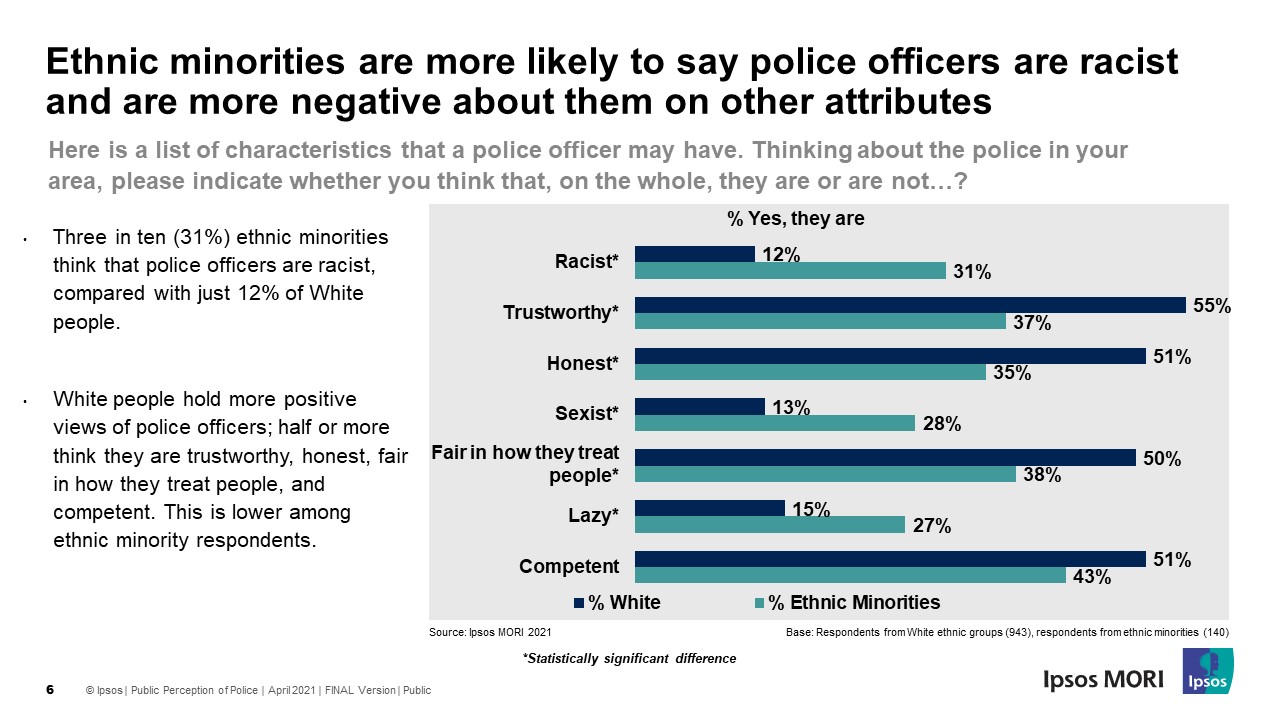 In other news
While a majority remain hopeful, a third say it is unlikely the lifting of restrictions will go ahead as currently planned. A third of Britons (34%) believe the Government is lifting lockdown restrictions too quickly while half say the easing of rules is coming at the right time, and only 1 in 10 (9%) believe it is happening too slowly. 
In Britain, seven in ten (68%) support laws that stop discrimination against LGBT people in relation to employment, access to education, housing and social services. This is compared to 55% globally. The British public are now largely in support of equality when it comes to marriage and adoption rights and one in six Britons (16%) say they have attended a public event in support of LGBT people, such as a Pride march.
We have continued our in-depth look at culture wars. People of a liberal disposition are more intolerant than those of traditional or right wing views – 35% of Labour supporters say it would be hard to be friends with people who vote Conservative. The majority of Britons would not feel reluctant to share their views on key culture war issues with colleagues or classmates – half of Britons disagree that "no-platforming" is the right response to speakers with controversial views. 
As ever, please do let us know what you think, and I hope you find something to interest you.
Ben Page
Chief Executive, Ipsos MORI
[email protected]