Ipsos MORI Research Highlights - 14 August 2020
In this week's Ipsos MORI Research Highlights we explore how pessimistic the British public are about the next 12 months, share our latest findings from the coronavirus home testing programme, as well as Britons' top concerns.
Largest home antibody testing programme for COVID-19 publishes findings
The first antibody testing programme for coronavirus with Imperial College London, which uses a finger prick test, found that 3.4 million people had already been infected by COVID-19. In London, 13% of people had antibodies while in the South West of England it was less than 3%. Overall, our antibody tests have found that around 6% of the population have already been infected by the virus, with people living in London, those working in healthcare and people from BAME groups the most likely to have been infected.
Largest testing programme for Coronavirus shows virus continued to decline in June
Our research with Imperial College London into the prevalence of COVID-19 show the infection rate has fallen to less than eight positive cases per 10,000 people between late June and early July. The results show that the virus continued to decline across the country even as restrictions began to lift with an overall reproduction number of 0.58. It is worth noting that the majority (81%) of people who tested positive reported no symptoms prior to the test.
Rishi Sunak remains popular for his handling of Coronavirus
Along with Chief Medical Officer Chris Whitty, three out of five Britons think Chancellor Rishi Sunak has handled the coronavirus crisis well and only 13% think he has done badly. Boris Johnson continues to polarise Britain. Forty-seven per cent are satisfied with the Prime Minister, 48% say they are dissatisfied. Fewer (14%) are dissatisfied with his opposition, Keir Starmer, but there is still work to do for the Labour party. Only 29% agree that they are ready to form the next government – little change from the 32% in November 2019 just before the last election when Jeremy Corbyn was leader.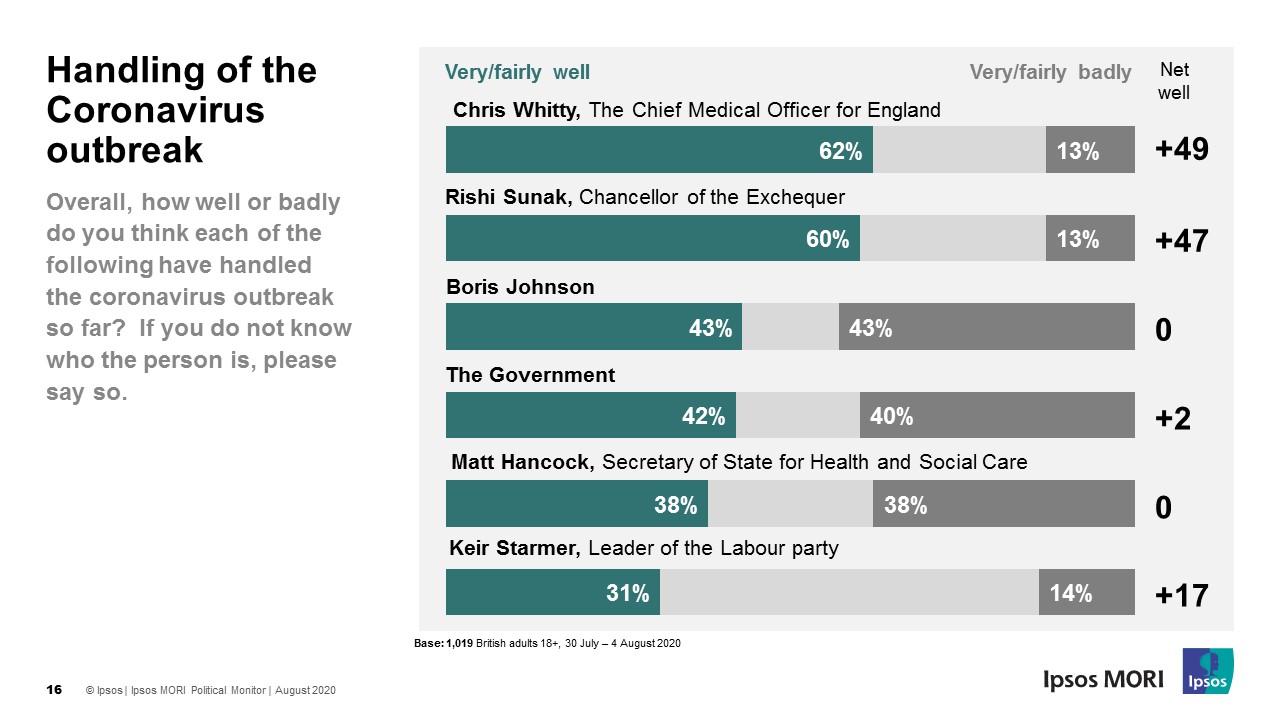 Ipsos MORI Issues Index: Concern about COVID-19 remains at record levels, despite falling infections
COVID-19 in still the number one concern with 75% of the British public viewing it as the biggest issue facing the country. This matches the level of worry found in June prior to easing lockdown (72%).  While concern about COVID-19 is still at record levels, concern about the economy (36%) and Brexit (30%) remain in second and third place. Worry about unemployment has risen to 16% and although this is relatively low compared to other issues, this is still the highest it has been in three years.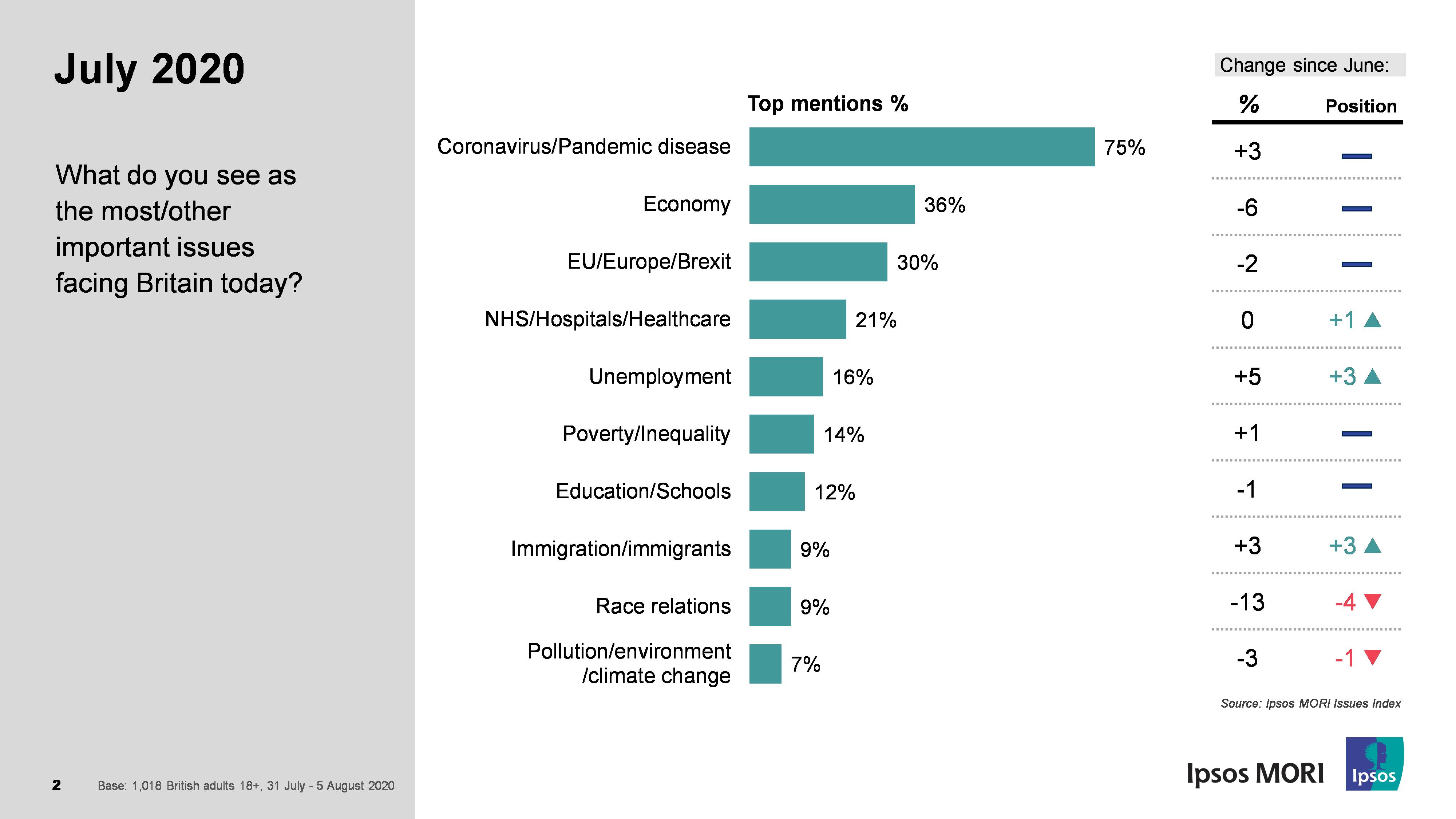 Who's least likely to say they'll get a COVID-19 vaccine?
Research with King's College finds that while 53% of Britons would get a COVID-19 vaccine if one became available, 16% say they are unlikely to. Of those who are unlikely to or definitely won't get the vaccine are more likely to be sceptical about science and authority and over concern about the COVID-19 pandemic. Thirty-six per cent strongly agree that too much fuss is being made about the pandemic.  And a quarter (27%) of those who get a great deal of information on COVID-19 from WhatsApp say they're unlikely to or definitely won't get a vaccine
Signals #10: Understanding the coronavirus crisis – the story so far
This special tenth edition of our Signals digest recaps on the content we have featured across the series and looks back at some of the defining moments of the crisis so far. We provide an index to the content we have featured across the series, including research insights, expert perspectives and much more. Building on our series of Signals webinars, a new Ipsos webinar series begins on September 10 and you can register for the first session now. Register here for Session 1 at 10am BST or Session 2 at 4pm BST.
In other news
Our Virtual Future of Research Series of 12 events this autumn will explore ways in which research has adapted to be stronger, smarter and fitter in adapting online – and some offline – techniques in the pandemic and beyond. 
We also look at British opinion on the US presidential candidates, 76% are unfavourable towards Donald Trump. Britons however have less strong feelings towards former Vice President and Democratic challenger, Joe Biden, 33% are neutral while 18% are yet to make up their mind.
With the UK officially in recession for the first time since 2009, Britons are pessimistic about the future: 68% think the economy will get worse in the next 12 months, and fewer than one in five think things will be back to normal by Christmas.
Three in ten (31%) favour avoiding any delay to tackling infrastructure problems, but, 37%, favour delay so that the public's views can be heard properly. Over half (56%), of Britons think we should prioritise maintaining and repairing existing infrastructure in Britain and only 16% have the opposing 'build, build, build' view.
As ever, please do let us know what you think, and I hope you find something to interest you.
Ben Page
Chief Executive, Ipsos MORI
ben.page@ipsos.com