Ipsos MORI Research Highlights - 14 May 2021
In this week's Ipsos MORI Research Highlights we explore we explore the latest findings from our REACT study, Keir Starmer's drop in favourability, and look at what Britons are most concerned about for the coming year.
Findings from latest COVID-19 REACT-1 study published
Our latest findings from the REACT study with Imperial College London show infections have halved since March, with just 1 in 1,000 people infected. The eleventh round of the REACT study estimates that there is an R number of 0.90 in England. Prevalence has fallen considerably in those aged 55 to 64. However, the latest round of the study has found some positive cases of the Indian variants in London, so vigilance will remain highly important even with restrictions lifted.  
Starmer's ratings fall with just one in five Britons favourable towards the Labour leader
Keir Starmer's favourability has dropped again to (21%) and now more than four in ten (43%) now view him unfavourably, which has risen from 37% in March. Over a third still 'don't know' or have 'neither' opinion to him. Opinion remains split on Boris Johnson, but almost half (47%) of Britons believe the country is going in the right direction. We've included Nicola Sturgeon in this tracker for the first time and, across Britain, 42% are unfavourable towards her while 25% view her favourably.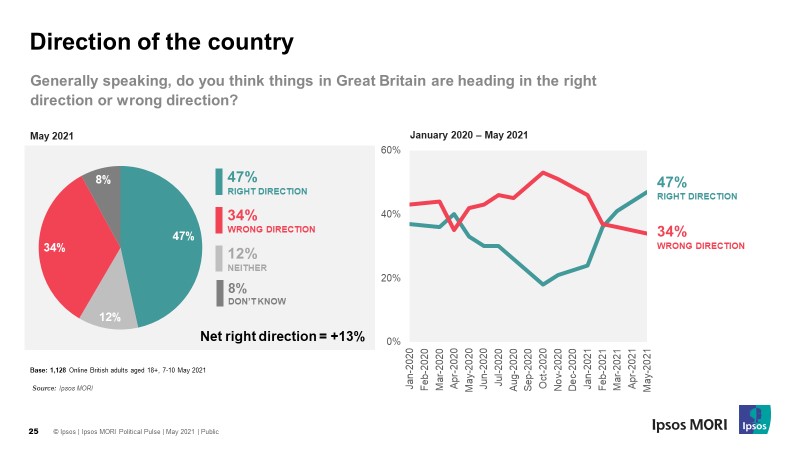 Despite concerns for the year ahead, majority of Britons are hopeful for 21 June end of lockdown
Three- quarters (75%) of Britons are hopeful that the 21 June will see the end of lockdown as planned and less Britons are finding staying positive harder day-to-day, there are anxieties about the year ahead. Those aged 18-34 are much more pessimistic – only 55% expect the roadmap to continue as planned, while 4 in 10 (39%) say it is unlikely. Unsurprisingly COVID-19 variants are top concern but concerns about the economy are high with 76% say they're concerned about a recession and 69% are worried about a tax rise.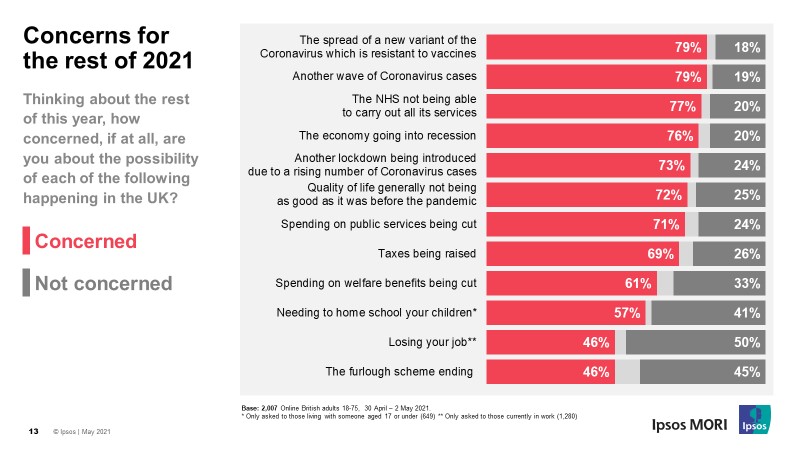 Majority of Britons are concerned about COVID-19 variants coming to the UK and support 2021 holiday ban
Concern for the risks COVID-19 poses to themselves has fallen to near pre-lockdown levels (58%). However, even with Boris Johnson giving the green light to some international holidays, 79% say they would support stopping people entering the UK from any foreign country in order to stop variants spreading. Britons are more likely to want to take whatever measures are necessary to control the spread of the virus, including stopping people holidaying abroad (58%) and making people quarantine in hotels (70%).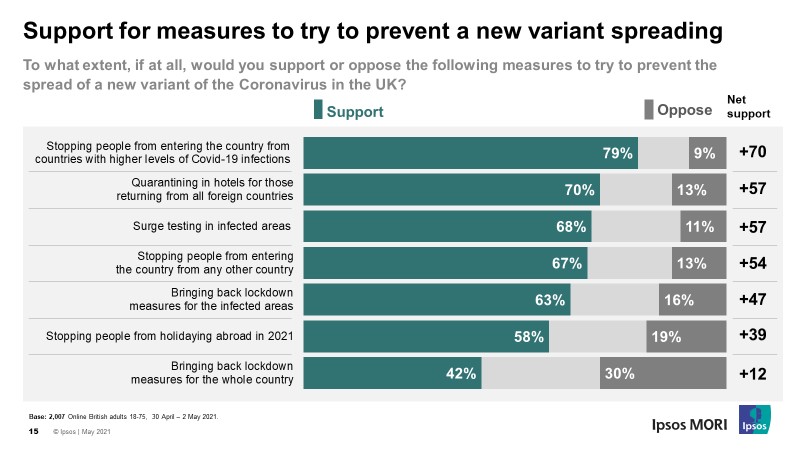 In other news
Looking at "building back better", nearly four out of five (76%) Britons supported more spending on health and social care compared with before the pandemic. 
More Britons are likely to say they are satisfied with their local council (40%) than dissatisfied (25%), but those in the North East are by far the most likely to feel the Government spends less there than on other local areas. 
While nearly half of Britons are savings more due to the pandemic, young people are more likely to have had to borrow money from family and friends, use credit cards more or access an overdraft. 
As ever, please do let us know what you think, and I hope you find something to interest you.
Ben Page
Chief Executive, Ipsos MORI
[email protected]